PROVO — BYU enters Week 2 of the college football season with a big potential piece of news hanging over campus.
No, it's not (just) the upcoming rivalry tilt with Utah at 8:15 p.m. MT Saturday on ESPN. The Cougars are reportedly in the process of applying for membership in the Big 12 Conference, along with Cincinnati, Houston and UCF.
And they already have at least one important fan: Mike Gundy, the Oklahoma State head coach who leads arguably the biggest brand remaining among the "Leftover Eight" once Texas and Oklahoma depart for the Southeastern Conference.
When asked about reports of expansion and the Big 12 during his weekly media luncheon Monday prior to the Cowboys' Week 2 tilt against Tulsa, Gundy pontificated at the end of a nearly 40-minute group interview streamed live by the Cowboys' athletic department on the four expansion candidates who have been reported to have the inside track to jump into the league when or if the Longhorns and Sooners head south.
And BYU received perhaps the most glowing review.
"The interesting thing is, coast to coast, people see BYU as a Power Five team," said Gundy, whose school is 2-0 against BYU — the last meeting coming in 1976. "They see that logo — and you would, too — because you've watch them forever. If you see that logo, they don't know they're an independent; they think they're tied into a Power Five conference."
Gundy stressed that he "doesn't know any more than you" to the group of reporters on campus in Stillwater, but said he has a meeting scheduled for Wednesday where he expects to be brought "up to par" with the league's future plans. That falls roughly in line with a report from Yahoo news breaker Pete Thamel that the Big 12 held a meeting Monday to informally gauge the impending applications of the American Athletic Conference trio and BYU for admission to the league.
The tentative projection remains that the four teams come in for the 2023 season. That means two more Big 12 seasons at 10 teams and two at 14 before OU/UT planned departure after '24 . The league could still consider another round of expansion prior to the new television deal.

— Pete Thamel (@PeteThamel) September 6, 2021
Thamel added that formal applications are expected to roll in over the next 48 hours, and a vote could be taken later in the week, likely Friday.
"We're heading toward adding four teams in the next short period of time," one source told Thamel, a college sports veteran and former reporter with Sports Illustrated and the New York Times, among other stops.
As far as Gundy, the 54-year-old Oklahoma native with a career record of 138-67 that includes a 10-5 mark in bowl games gave his own nod of approval to the four reported candidates, adding that adding a school like Houston to the fold is important to the Cowboys specifically to keep their recruiting prowess in that state.
"Central Florida has 71,000 students, and they're in a heck of a television market and have a heck of a recruiting base. They've played good football," Gundy said as he rattled off facts about the quartet. "You have Cincinnati, who has a big television market, a lot of people in that part of the country, and that logo has grown in popularity the last few years. They're winning, and winning is important."
Houston also received a positive review, but Gundy and the Cowboys "recruit a lot down there," so that should come as no surprise, adding that his opinion is part of Nebraska's downfall since leaving the Big 12 for the Big Ten was directly influenced by its inability to recruit in Texas as much as it did before.
"Houston has a huge market, has had success, and they're tied into a place in the country that is huge with high school football," he said. "There are good candidates out there. I don't make the decisions … but there are good candidates."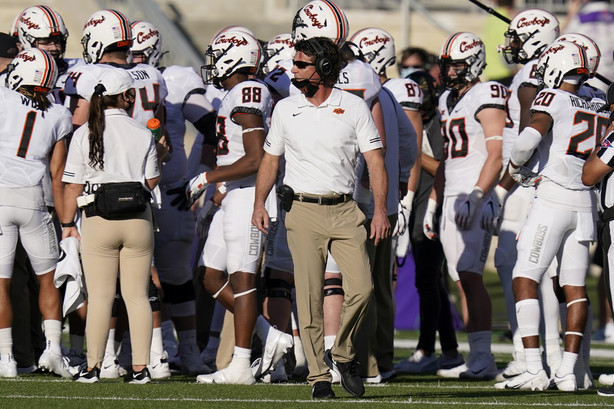 Previous reporting from The Athletic and other outlets has said that the Big 12 could extend an invitation to BYU, Cincinnati, Houston and UCF as early as this week, with the expectation that the group will join in 2023 and keep 1-2 years playing in a 14-team league alongside Texas and Oklahoma before reverting back to 12 teams when the grant-of-rights deal expires in 2025.
The American Athletic Conference requires that its schools give 27 months' notice and pay a $10 million exit fee for all schools who leave the conference. As an FBS independent, BYU does not have any such stipulations for its football program, but may be required to give notice to the West Coast Conference for departing in men's basketball and most other sports.
That means that BYU could join as early as 2022 as a football-only member — but that seems unlikely. BYU athletic director Tom Holmoe has scheduled 11 games for the 2022 season, a number that would cap at 12 if a reported neutral-site game with Notre Dame in Las Vegas comes to fruition, though the tenured athletic director told BYUtv that no contract has been signed as of Saturday evening.
BYU also has 12 games scheduled for 2023, 10 for 2024, and eight each in 2025 and 2026. Many of those games could be folded into the Cougars' Big 12 schedule in future seasons, postponed to a later date, or canceled altogether with buyout fees. Several of the game contracts also have language stipulating a reduction in buyout fees if the Cougars join a Power Five conference.
Whatever happens, Gundy believes the future of the Big 12 will be well for the Cowboys.
"I really feel like Oklahoma State is going to be just fine, whatever direction this goes," he said. "If they get to a point where they are going to bring teams into this conference that strengthen it, then that decision will be made."
Perhaps the same can be said of BYU in the new Big 12.
×
Related Stories