SALT LAKE CITY — Orem has been a juggernaut since moving to 5A and has not lost a game to a like-classification competitor since a 24-21 loss to Lehi on Oct. 16, 2019.
If the Tigers weren't invincible for the past 2 1/2 years, they were close to it.
Invincibility took a hit last Friday, though,
It's not just that Orem lost 36-0 to Skyridge, which moved up to No. 2 in the KSL.com Top 20+1 with its fourth-straight shutout, it's that the Tigers looked mortal in it.
Skyridge had nearly six fewer minutes in time of possession but collected more first downs, fewer penalties and ran nine fewer plays. The Falcons also poured in 225 yards on the ground and overwhelmed a rush offense led by quarterback McCae Hillstead, who scrambled for 104 yards and a touchdown, and Jeter Fenton, who ran for 85 yards and a score, in handing Orem its first shutout loss since 2016 — a school-record 65-game scoring streak.
Obviously, the Falcons might simply be that good. And the good news for Orem? The Tigers also lost to Skyridge last year 35-14 before winning six of their next seven to claim their fourth consecutive state title.
Can history repeat itself? Of course, and Orem isn't falling far. But for now, we're giving another team a slight edge in 5A.
Here's the rest of the top-20 teams after Week 4 of the Utah high school football season.
1. Corner Canyon (4-0)
Devin Brown threw four touchdown passes, including three to Jett Meine, as the Chargers stretched their state-best winning streak to 47 straight with a 70-7 rout of Jordan.
Corner Canyon can tie the all-time state record, 48 consecutive wins set by Duchesne from 2010-14, with a win Friday night at Lehi.
2. Skyridge (4-0)
The Falcons' fourth consecutive shutout is the most to start a season since Beaver opened the 1979 season with six consecutive clean sheets, according to Utah high school football historian George Felt.
Skyridge is the first team with four season-opening shutouts in Utah's top classification since American Fork pitched four in 1970. After hounding Orem, the Falcons face another 5A contender Friday at Timpview.
3. American Fork (3-0)
Before Friday's home date with Bingham, the Cavemen nearly dropped 60 in a 59-27 win at JSerra Catholic in California.
They'll return to in-state play Friday against the Miners.
4. Lone Peak (2-0)
After having a game canceled, the Knights have two weeks to prepare for Las Vegas' Bishop Gorman, the top team in Nevada for most of the past decade and one of the top teams in the western United States.
5. Timpview (3-1)
Liu Aumavae threw three touchdowns to lead the Thunderbirds to an impressive 24-12 victory over Bingham. It was Timpview's third straight victory after falling in its opener to Lone Peak.
The Thunderbirds will get yet another chance to prove their mettle this week when they welcome in No. 2 Skyridge.
6. Syracuse (4-0)
Syracuse continued its surprising start to the season with a 21-3 win over Salem Hills. It wasn't the cleanest performance — QB Jake Hopkins threw three interceptions — but the Titans were still able to pull away from the Sky Hawks, further proving they belong in the top 10.
The win sets up an intriguing matchup against Region 1 preseason favorite Weber on Friday.
7. Pine View (4-0)
The Panthers continue to prove they are the cream of the crop down south. Sawyer Woods threw for 365 yards and three touchdowns to lead Pine View over Hurricane 45-6. It helps that he has someone like Dominique McKenzie catching his passes. The senior speedster had 200 yards and two touchdowns receiving.
The Panthers play Dixie on Friday.
8. Orem (3-1)
The Tigers had arguably their worst performance in five years on Friday in a shutout loss to Skyridge. Orem failed to score a point for the first time since 2016. The loss made Orem, which has won four straight state championships, appear to be somewhat vulnerable. But it'll take more than a loss to the No. 2 team in the state to drop the Tigers from top contender status in 5A.
Orem will attempt to bounce back against Desert Pines (Nev.).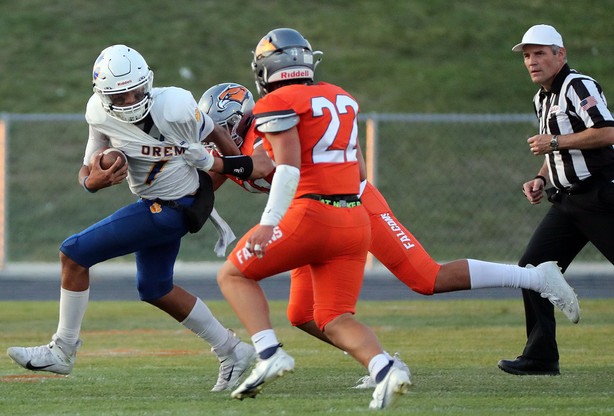 9. Bingham (2-2)
The Miners have had a rough couple weeks with losses to Corner Canyon and Timpview. And things don't get any easier next week against American Fork Friday. For those keeping track, that's three teams that are currently in the top 5 in three consecutive weeks.
That murderers row of games, however, could prove beneficial with Region 3 looking stronger than expected.
10. Mountain Ridge (4-0)
Speaking of that stronger-than-expected Region 3, the Sentinels improved to 4-0 with a 26-10 win over Sky View. Cade Uluave led the way for Mountain Ridge with three rushing touchdowns, including a 61-yarder.
The Sentinels will visit Westlake on Friday in their final tuneup for region play.
11. Springville (4-0)
Springville's 10-0 halftime lead proved to be the difference after Riverton outscored the Red Devils 21-13 in the second half before falling 23-21. Ryder Burton threw for a pair of touchdowns and Seth Rigtrup scored the game-winner on a 3-yard run with 4:50 left in the fourth quarter.
Springville hosts rival Spanish Fork to open Region 9 play Friday.
12. Brighton (3-1)
Since their lone loss of the season to Syracuse in the Charger Kickoff Classic, the Bengals have outscored their opponents 92-27, including last Friday's 51-21 win at Highland.
They'll get a stiffer challenge Friday against Olympus.
13. Ridgeline (4-0)
Quarterback Kaden Cox tossed four touchdown passes to help the Riverhawks to a 28-0 halftime lead before strolling by Woods Cross 43-12 for their third consecutive win with 42 points or more.
Ridgeline hosts fellow unbeaten Green Canyon in a pivotal game Thursday to open Region 11 play.
14. Fremont (3-1)
Cannon Kofford threw for 328 yards and two touchdowns, including 109 yards and a score to BYU target Hayden Hall to help the Silverwolves to back-to-back wins with a 41-14 victory over Clearfield.
Friday's matchup between Fremont and Layton is tantalizing, but is it the best on the Region 1 schedule?
15. Weber (2-2)
Tied at 28-all after three quarters, Farmington's Boston Reinhold scored his third touchdown of the game on a 23-yard run to give the Phoenix a 35-31 lead with 5:23 remaining.
But Utah commit Aisea Moa plowed into the end zone from 2 yards out that lifted the Warriors to their second consecutive victory and back to .500 on the season before a top-20 matchup at Syracuse on Friday.
16. West Jordan (4-0)
The Jaguars haven't faced the most daunting schedule, but 4-0 is still 4-0, and West Jordan has looked impressive in its undefeated start. Octavian Heflin scored four total touchdowns (three rushing, one receiving) last week as West Jordan topped Granger 52-24.
The Jaguars will face arguably their toughest matchup of the season this week against Riverton.
17. Olympus (3-1)
Olympus won its third straight game in commanding fashion over Murray 45-28. The Titans got a pair of rushing touchdowns each from Sam Seagle and Isaac Hodgson to start off region play with a win.
Now, Olympus will see if it can be a true contender in Region 6. The Titans get region favorite Brighton on Friday.
18. West (2-1)
The Panthers started region play with a dominating defensive performance in a 21-0 win over Cyprus. Quarterback Karson Lopati found Lava Vailahi for two touchdowns in the first half and that proved be plenty with West's defense clicking.
West will travel to Roy on Friday.
19. Sky View (2-2)
Sky View is now in a very unfamiliar situation: in the midst of a losing streak. Following a 25-game winning streak that spanned over two years, the Bobcats lost their second straight contest, falling to a suddenly surging Mountain Ridge team.
Will the return to 4A play get Sky View back to its regular winning ways? The Bobcats face region-rival Bear River on Friday.
20. Layton (3-1)
Layton won two games all of last season. Four weeks into 2021, the Lancers have already surpassed that total after picking up their third win of the year last week, topping Davis 24-21.
Are the upstart Lancers a threat in Region 1? They'll get a chance to prove just that against Fremont this week.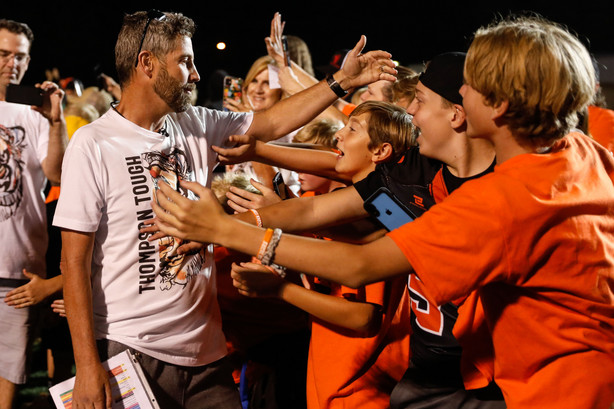 Plus-1. Ogden (2-2)
The Tigers improved to .500 with a 42-14 win over Grand County, but that's not the point of this recognition. Sometimes high school football is less about the football, and more about the community.
Ogden used Friday night's game as a show of support for head coach Erik Thompson, who was recently diagnosed with Amyotrophic Lateral Sclerosis, more commonly referred to as ALS or Lou Gehrig's disease. The longtime high school football coach was greeted by hundreds in the community, including past players, students and alumni, draped in a sea of orange and with shirts that read "Thompson Tough" as he faces the battle.
"He lifts up everyone around him, even though he's the one who's going through this right now," Thompson's sister Kalani Watson told KSL.com. "He is lifting us all up around him. He's motivating us and inspiring us to do better and to look for the good.
×
Related Stories