SOUTH WEBER — Inspiring. Charismatic. Protective. A big kid. Competitive. A role model.
Those are a few simple words shared about Ogden High head football coach Erik Thompson by his siblings and friends. And anyone who knows Thompson would likely agree those words describe him perfectly.
For the last four years, Thompson experienced struggles with his health. He began to lose function in his right arm, then in his left, and he did not know what the underlying health issue was. It was not until June 3, 2021, when Thompson received the heartbreaking news that he had been diagnosed with Amyotrophic Lateral Sclerosis, more commonly known as ALS.
"It was always in the back of my mind. I was always afraid that that's what it was," Thompson said. "Unfortunately, my fears came true and it was ALS, but we feel very grateful that it is a slow moving version and have the gift of time that comes with that."
He's been married to his wife Skye for 17 years and he's a father and best friend to his three boys; he's an older brother to three siblings and a favorite uncle to his nieces and nephews; he's been a coach and teacher to hundreds of football players and students for 26 years.
With all those roles, Thompson sees a bigger picture to it all and to the adversity he is facing. He has committed to living his best life by not allowing ALS to define who he is and what he can continue to do in life. Instead of questioning "Why me?" Thompson sees his trial as a calling and a continued way to influence the lives of others — because that's what he has always enjoyed doing.
"He lifts up everyone around him, even though he's the one who's going through this right now. He is lifting us all up around him. He's motivating us and inspiring us to do better and to look for the good," his sister Kalani Watson said. "He's turned this into something good when it's really a hard thing."
Jennifer Funk, another one of his sisters, said Thompson has the "real gift of making people around him feel really special." He's always focusing on others and their needs over his.
"Almost every time we talk to him he's talking about something and he's crying about his players, or his family, or his kids, or his wife, or whatever it is. … He's really transparent and he's really just real," Funk said. "I think that's one of the reasons why people are drawn to him so much."
He's not letting his diagnosis slow him down or take anything away from his ability to teach and love others. Following the 2020-21 school year, Thompson was even named Teacher of the Year for the Ogden School District. He's also not letting ALS take away his ability to coach, even if he's had to rely on his assistant coaches more than he previously had to before his diagnosis.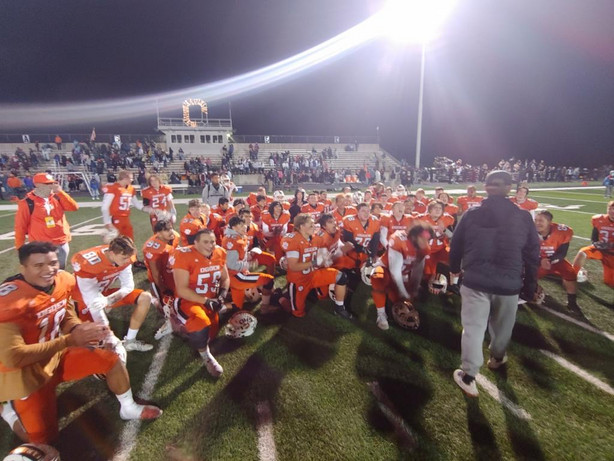 Above all, his top motivations are both family and football; it's something that's been with him since he was a child. His father was his coach, and he loved getting to spend that extra time with his father — building a unique bond through sports. And more than anything, Thompson said he wants to have that same experience with his three boys.
"One of the things he most looks forward to is coaching his kids," his brother, Bryant Thompson, said. "If we were to put some sort of a finish line out for him in terms of how long he can coach with ALS, he is very much hoping that he can continue coaching his boys."
That's going to take at least nine years, Erik Thompson said. "That's kind of the deal. I told the Lord I need nine (years) and we'll figure it out."
Throughout Thompson's coaching career he has been more than just a coach, but a mentor and friend. He understands that football eventually ends for his athletes, so he helps them grow by sharing life lessons through a sport he loves.
"His players know that he loves them," Funk said. "In his whole coaching career he's been able to pull the best out of kids because they know that he loves them. He's cheering for them and helping them do better, and it's just not about football.
"I don't know how to even put into words how much of an influence he has on his players."
In return, the players he's coached have supported him throughout the process. After Thompson received his diagnosis in June, he returned home to a coach a 7-on-7 tournament where Ogden, Roy, Farmington, and Tooele football players all wore shirts that read: "F.A.M.I.L.Y. Erik Strong." Roy coach Freddy Fernandes, a family friend, organized the support.
Funk said it was the first time Thompson saw anyone since his family learned of the diagnosis and he was taken aback by the support received. He's received texts, calls, messages and letters from past players and others who he has impacted over the years. All those messages keep him going.
A disease like ALS often brings fears and concerns. And for Thompson, that includes financial concerns for his family, missing out on opportunities to create lasting memories, losing hope and not knowing a timeline for what the future holds; however, he's found hope and motivation through what he loves most: his family, friends, faith and football.
Although hesitant at first, Thompson agreed to allow his siblings to create a website, Thompson Tough, where his story and updates are shared regularly.
On the website, Thompson writes, "ALS is a progresive neurodegenerative disease that affects nerve cells in the spinal cord and brain. This can lead to loss of function in the entire body — often starting with the arms, legs, and neck. This disease has already taken use of my right arm, use of some of my left arm, and is starting in on my neck. Eventually, it will likely affect my ability to write, grip, walk, stand, speak, swallow, and breathe."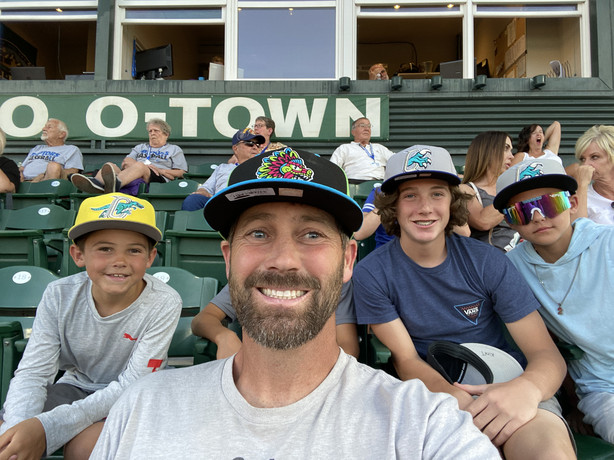 Thompson has been able to search for the good around him. He saw his diagnosis as a miracle — it progresses slower than normal, which means he has been granted more time. Instead of taking life's simple blessings for granted, he has grown a deeper appreciation for them. While he is uncertain of what comes next, he has seen his family grow closer, too, and there is a heightened appreciation for each day.
"I try to wake up every day and just be grateful," he said. "You know what, I can still use my left hand a little bit and I can walk. I have sight. I can see the mountains. I can still coach."
He says he doesn't claim to know how it all works, but even if he knew before this life that he could have everything on his checklist — a "smokin' hot wife" and three boys that loved sports in a "dream house," among many other things he has — he'd still take the challenges.
"If with that God would say, 'Well, it's going to come with this adversity,' then at that time I would've raised my hand and said: 'Heck yeah, I'll take it,'" Thompson said.
And even though he has a positive outlook on his future, he said one of the most difficult things is allowing others to help and serve him. Some of that includes donating or writing a memory to Thomson through his Thompson Tough website.
"The hardest part has been, for me, trying to accept help, because really I found that the joy that I get the most in life is serving others," Thompson said.
Ogden High will hold an "Erik Thompson Night" during the school's home football game on Sept. 3 in honor of their head coach. Memories will be shared from former players and there will be an opportunity to purchase Thompson Tough merchandise. All proceeds will go to the Thompson family.
"The world's amazing, full of amazing people," Thompson said. "… I see people from all walks of life and all political backgrounds stepping up and helping our family in different ways and it gives me hope and joy that the world's a good place"
×