Estimated read time: 7-8 minutes
This archived news story is available only for your personal, non-commercial use. Information in the story may be outdated or superseded by additional information. Reading or replaying the story in its archived form does not constitute a republication of the story.
SALT LAKE CITY — Corner Canyon's home tilt with Bingham Friday had all the makings of the best game of the year —so far.
The top-ranked Chargers hosted the No. 6 Miners: a battle of two of Utah high school football's deepest blue bloods with 14 combined state championships, including the last three.
Offense. Defense. This game had players headed to the Division I college football on both sides of the line of scrimmage in what was sure to be a classic contest.
And somebody forgot to tell the Chargers.
Corner Canyon ran away with another big win, scoring 35 unanswered points en route to a 35-7 win over Bingham, handing the Miners their first loss of the year — and possibly only defeat before the Class 6A state playoffs.
There's no doubt who the top team in the state is anymore; the Chargers have that on lockdown. Who follows them seems to get muddier by the day.
But perhaps the biggest question is: does it matter?
Region 4 again claimed the top four spots in the KSL.com High School Football Top 20+1, with Orem sneaking into a tie for fourth as the best team in 5A.
Here's how the rest of the top-20 teams (plus ties) stack up ahead of Week 4 of the Utah high school football season:
1. Corner Canyon (3-0)
The Chargers lost their quarterback to USC — where Jaxson Dart was recently named the No. 2 signal-caller for the Trojans as a true freshman — and kept on rolling under Devin Brown, Cody Hagen and a breakout performance from Jett Meine.
The Chargers face 1-2 Jordan before closing non-region play at Lehi. Then it's on to Region 4, including a Sept. 17 battle with No. 2 American Fork.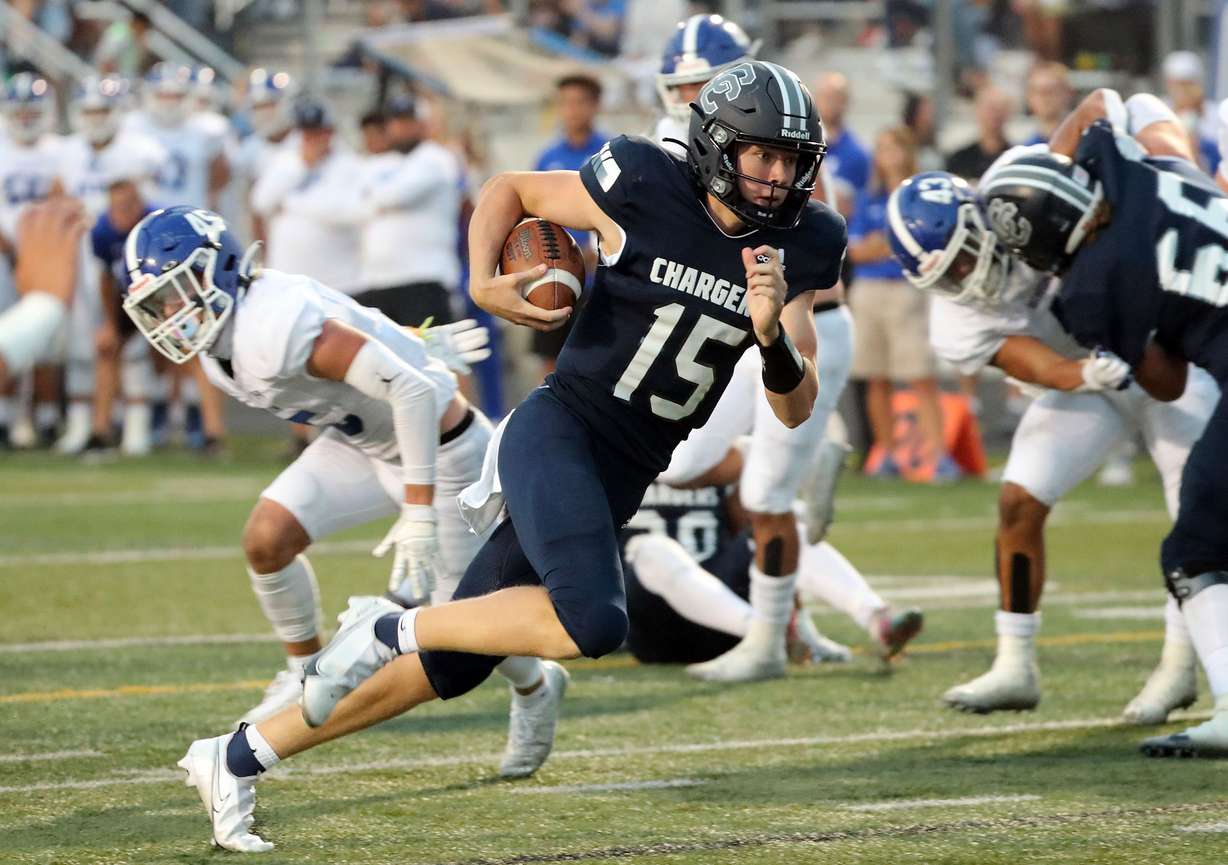 T-2. American Fork (2-0)
The Cavemen's game with West was canceled due to COVID-19 protocols, one of three games involving Salt Lake City School District teams to be declared a "no contest" a year after such infractions became almost weekly occurrences.
American Fork could use the extra days to prepare to travel to California, where they'll face Junipero Serra (1-1), whose only losses during last year's abbreviated CIF schedule came to powerhouses Long Beach Poly and Bishop Alemany.
T-2. Skyridge (3-0)
Another week, another defensive masterpiece for the Falcons, who shut out Herriman 23-0 on the road. McCae Hillstead threw for 159 yards and a touchdown in this one but also used his legs for 66 yards and a score for a Falcons team that intercepted Herriman quarterback Jack White twice and amassed eight tackles for loss.
Skyridge hosts arguably the best game of Week 4 when it welcomes four-time defending champion Orem to its Lehi campus Friday night.
T-4. Lone Peak (2-0)
The Knights' game against East was scrubbed by COVID-19 protocols, giving them a few extra days to prepare to face Nevada powerhouse Bishop Gorman in Las Vegas.
Already with a 31-24 win over California's Bishop Alemany, Lone Peak looks to improve its standing as a west power before turning its attention to Region 4 play Sept. 17 at Pleasant Grove.
T-4. Orem (3-0)
Sophomore Mack Hixson ran for a touchdown, caught another and set up another on special teams en route to 138 all-purpose yards in the Tigers' 42-16 romp at 6A Pleasant Grove.
The team to beat in 5A can make a big statement at Skyridge this week. Or will it be the other way it around?
6. Bingham (2-1)
The Miners took their first loss of the year at top-ranked Corner Canyon. How will they respond Friday against No. 7 Timpview?
7. Timpview (2-1)
The Thunderbirds were forced to rally on the road in St. George for a 30-25 win over Crimson Cliffs. Will that test help them get by Bingham in another big road contest?
8. Pine View (3-0)
The Panthers look like the team to beat after Sawyer Woods threw for 446 yards and five touchdowns with one interception in a 49-35 win over Park City.
Keith Adams added 115 yards and a touchdown on the ground for Pine View, which opens Region 10 play Friday against Hurricane.
9. Syracuse (3-0)
The Titans justified their hype-filled ranking with Jake Hopkins' 307-yard, three-touchdown performance that knocked Westlake out of the top 20.
Another tune-up with Salem Hills awaits before opening Region 1 play against Weber on Sept. 10.
T-10. Sky View (2-1)
The Bobcats took their first loss since Aug. 23, 2019, snapping a 25-game winning streak with a 43-6 road loss to Idaho 5A squad Rigby.
Can they come back against a suddenly confident Mountain Ridge team that is finding its footing in Year 3 of the program?
T-10. East (0-2)
The Leopards have a chance at their first win of the season Friday against Park City — or the Miners will snap their own season-opening, three-game skid. Either way, Friday night will be memorable for one of these schools.
12. Brighton (2-1)
Jack Johnson threw for 246 yards and four touchdowns, and the Bengals laid down 41 points in a rout of Woods Cross to rebound from their stunning first loss of the season.
More importantly, Brighton's stout defense only allowed 18 yards through the air and six total points before hitting the road to face Highland.
13. Springville (3-0)
The Red Devils improved to 3-0 on Seth Rigtrup's 15-yard touchdown run with three minutes to go, then sealed a 19-10 win over Bountiful with an interception on the next drive to survive the Redhawks.
Next up? Friday at Riverton before a rivalry clash with Spanish Fork.
14. Ridgeline (3-0)
The Riverhawks should cruise to 4-0 over Woods Cross like Kaden Cox completing 72% of his passes on the season.
T-15. Weber (1-2)
After brutal losses against top-10 competition to open the season, the Warriors dropped the hammer — 61 points — in a rout of winless Bonneville to collect their first win of the year.
Just in time to open Region 1 play Friday against Farmington, too, which also collected its first win of the season.
T-15. Fremont (2-1)
After being shutout in the season opener at Skyridge, the Silverwolves have allowed just 16 total points in wins over Roy and Highland. Can the defense keep it going Friday against Clearfield?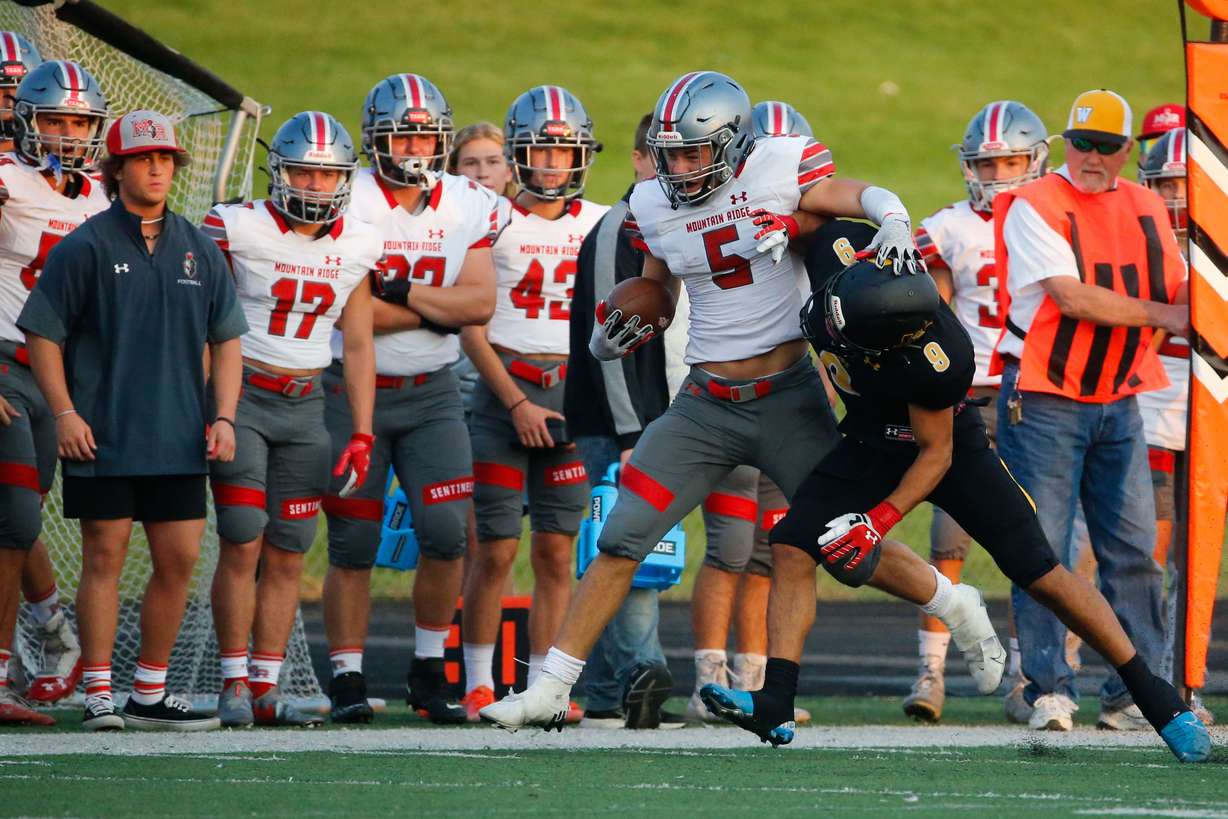 17. Mountain Ridge (3-0)
The Sentinels are 3-0 for the first time in the program's brief history after scoring 33 fourth-quarter points to edge Wasatch. Cade Uluave is rising to become one of the top prospects in the Class of 2023.
T-18. Olympus (2-1)
Since Olympus' season-opening loss to Mountain Ridge, the Titans have allowed 6 total points in wins over Hunter and Kearns.
Murray is next before a circled clash on Sept. 10 at Brighton.
T-18. West (1-1)
Best wishes to the West athletes recovering from COVID-19, while the rest of the team makes a return to the field against 0-3 Cyprus this week.
T-20. West Jordan (3-0)
The Jaguars, who average 180 yards on the ground per game, can run their record to 4-0 for the first time since 2009 with a win Friday over winless Granger.
T-20. Beaver (3-0)
Tyten Falls threw for two touchdowns and the Beavers jumped out to a 21-7 lead before holding on for a 21-20 win over Marsh Valley of Arima, Idaho, on a blocked PAT.
Beaver returns to the Wasatch Front — and the Salt Lake Valley — to play at Summit Academy on Friday.
Plus-1. Timpanogos (3-0)
It's hardly the most difficult schedule in Utah high school football. But the Timberwolves matched their win total of the last two years combined with wins over Millard, Grand County and most recently a 64-34 victory over Hurricane.
Led by quarterback Matu Holdaway and sophomore wide out Luke Livingston, Timpanogos is averaging 53.6 points per game in each of its first three contests and can move to 4-0 for the first time since 2018 with a win over Mountain View.
That itself would be a significant milestone for the Timberwolves, who have won four or fewer games in five of the last 11 years.
×
Related stories
Most recent High School stories