AROUND THE BEEHIVE — The football communities in Ogden and Grand County rushed to a special assist Friday night.
And it had little to do with the Tigers' 42-14 win over the much-smaller Red Devils.
Friday night was a night to honor Ogden coach Erik Thompson, who was greeted by a sea of orange, T-shirts that read "Thompson Tough" scrawled across each chest, and hundreds of friends and family during a special ceremony in his honor on the Ogden campus.
"It was exciting to have everyone be here," said Thompson's son Kire, who has three touchdown catches this year for the Tigers, to the Deseret News. "It's been a long week and I'm glad I had a good part in it."
Thompson was recently diagnosed with Amyotrophic Lateral Sclerosis, more commonly called ALS or Lou Gehrig's disease — a heartbreaking diagnosis for him, his wife of 17 years Skye, and their family, including the hundreds of players who have come through his football program.
So Friday night was a chance to give back. There isn't always much that can be said to those who struggle with ALS. But the Ogden community wanted to offer at least one simple phrase: We're here for you, coach.
"He lifts up everyone around him, even though he's the one who's going through this right now," Thompson's sister Kalani Watson told KSL.com. "He is lifting us all up around him. He's motivating us and inspiring us to do better and to look for the good.
"He's turned this into something good when it's really a hard thing."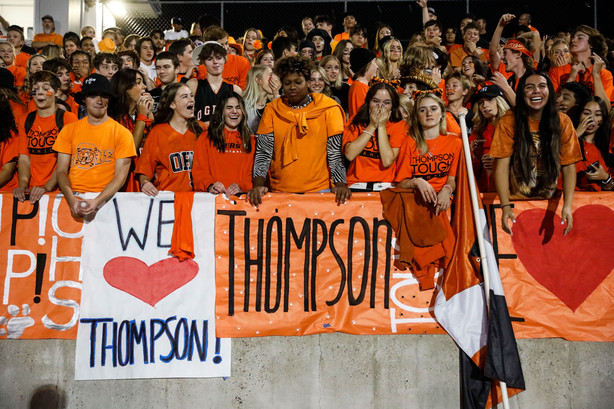 Friday was about more than a football game, more than Chet Colvin, Levi Wilson, Ayden French and Yahir Morales, who all scored on touchdown runs for the Tigers. It was even more than a game for Grand, a young group of Red Devils who dropped to 0-4 on the season.
Friday was about a coach, a diagnosis, and a family in need of support.
"It was an amazing night of love and support from the Ogden community and former players," Thompson said. "Our team was inspired by an amazing crowd and six different players scored in the Ogden win."
Each week, we highlight five special performances from Friday night lights. This week's started with a special night for a coach. But here are five players who also inspired their respective teams in big wins in Week 4 of the Utah high school football season.
Michael Falatea, DB, Herriman
Box score: Herriman 17, Westlake 14
Falatea returned an interception 80 yards for a touchdown with eight seconds left to lift the Mustangs to their second win of the season.
It was Falatea's first interception of the year, and sixth of his career for the 6-foot junior who moonlights at wide receiver and backup quarterback.
Chanse Miller's 25-yard pick-six gave the Thunder a 14-7 lead in the third quarter. But as Herriman coach Dustin Pearce told then Deseret News, "The game is 48 minutes; hats' off to our kids for believing."
PLAY OF THE DAY!

Westlake has a 14-10 lead over Herriman with 29 seconds left. Westlake has 4th and 10 at the Herriman 32 and they decide to pass for the 1st down. Watch Herriman's Michael Falatea win the game. pic.twitter.com/i8AjLOv9kC

— David James (@DavidDJJames) September 4, 2021
Garrett Gifford, QB, Layton
Box score: Layton 24, Davis 21
Porter Hansen was the hero of the Lancers' 24-21 win over rival Davis for his 22-yard field goal with five seconds left. But Layton scarcely would've been in such a position without the heroics of Gifford.
The senior quarterback threw for 248 yards and two touchdowns, in addition to running for a 6-yard score, to help the Lancers to their third consecutive win and a 1-0 start to Region 1 play.
"My coach just told me to look for mismatches," Gifford told KSL.com. "Call out the plays, look for mismatches."
Carson Tabaracci, RB, Park City
Box score: Park City 24, East 23
The No. 9-rated recruit in Utah by 247 Sports ran for a pair of scores, including a 50-yard touchdown to open the game, before the Miners blocked a PAT in the final two minutes to secure the win over East and open Region 6 play at 1-0 with their first win over the year.
"So proud of the boys tonight and how hard they played," Park City coach Josh Montzingo told the Deseret News. "Great job of playing the whole game and excited to get our first region win."
Iosepa Toia'ivao, QB, Kearns
Box score: Kearns 44, Taylorsville 0
Toia'ivao accounted for six total touchdowns as the Cougars shut out the Warriors for their second win of the year.
The 6-foot senior threw for four touchdowns, including a 50-yard strike to Kapeli Smith, and ran for two more as Kearns ran away for the 1-0 start to Region 2 play.
"Iosepa had a tremendous game, along with the rest of the offense," Kearns coach Matt Rickards told the Deseret News. "Just need to clean up penalties. Special teams had a blocked field goal and forced a lot of bad punts."
Matu Holdaway, QB, Timpanogos
Box score: Timpanogos 63, Mountain View 7
Holdaway threw for six touchdowns, including four to Luke Livingston, to help the Timberwolves turn a 22-7 halftime lead into a second-half rout over the Bruins.
Livingston hauled in TD strikes of 7, 23, 49 and 50 yards from Holdaway, who has thrown 15 touchdowns on the year.
"Proud of how the boys responded at halftime to make plays and capitalize on the short field we had a few times in the third quarter," said Timpanogos coach Austin Heaps, whose team topped their previous win totals from the last two seasons combined with the win.
×
Related Stories