SALT LAKE CITY — Kyle Whittingham could only muster a simple "it was awesome" response as he fought back emotions.
It was an uncharacteristic but real moment for the longtime head coach who isn't known for being too emotional. He's all about taking care of business and holding his players accountable as the leader of the football team.
But for a brief moment, Whittingham was overtaken with emotion by a question from a member of the media. The question was in reference to the in-house tributes and memorials made for the late Ty Jordan since his death on Christmas.
"It's just — I can't — if I think about it too much I don't do well," Whittingham said as he fought back tears. "It was great."
On Thursday night, Utah paid tribute to Jordan as his family watched from the field with the unveiling of a LLTJ — Long Live Ty Jordan — logo above Section 22 in Rice-Eccles Stadium. Below it, as fans walk through the portal, is Jordan's freshman season stats and a picture of him on the walls.
Following the end of the third quarter, a time when the team should have been preparing for the final quarter of the game, all Utah players stood in unison and watched the video board as Whittingham narrated a video tribute to Jordan.
Instead of a moment of silence, the head coach asked all in attendance to give the young running back the moment he deserved: a packed Rice-Eccles Stadium crowd cheering him on for his greatness on the field. The crowd erupted as the players celebrated their teammate in the season dedicated to him.
So today, in lieu of a moment of silence, we ask that each of you rise to your feet and let your voices ring from the mountains to the heavens in honor of the late, great…

TY JORDAN #LLTJ ♥️ pic.twitter.com/KG5XbftTbo

— Utah Football (@Utah_Football) September 3, 2021
Minutes after a raw collection of emotion where everyone cheered on their former teammate, friend and beloved athlete, Utah quarterback Charlie Brewer connected on a pass with Solomon Enis for a 22-yard gain — Jordan's jersey number with the Utes — almost as if the play was destined to be.
Even a double rainbow that overlooked Rice-Eccles Stadium following an hour and a half lightning delay seemed to be Jordan letting his Utah family know he was watching over the game. The night was more than football, it was a necessary moment of closure for Utah's tragic loss and a way for his legacy to live on forever with the team and those who support it.
It was a way to dedicate the season to Jordan.
"I thought that was amazing," junior linebacker Devin Lloyd said. "Credit to the university, they're amazing for setting that up. I thought it was beautiful."
Cheering for you today and every day!

You are always in our heart Ty! #LLTJpic.twitter.com/D0n9RFU8dN

— Utah Athletics (@utahathletics) September 3, 2021
For Ty #LLTJ@Utah_Footballpic.twitter.com/G2rynPG0rn

— Utah Athletics (@utahathletics) September 3, 2021
Charlie Brewer impresses in debut
It's not a stat line Brewer will look back on and think he did his best, but his debut as Utah's starting quarterback wasn't all bad, either. In fact, it's what Utah has been looking for in a quarterback.
The senior who used to call Baylor home embraced his new role with the Utes Thursday and managed the offense well against a good Weber State program. He finished the night throwing for 233 yards and two touchdowns on 19-of-27 passing, and commanded an offense that managed 450 yards of total offense in a 40-17 win over the Wildcats.
"I thought he did a good job. His numbers were good, not great, but good," Whittingham said of Brewer. "I thought he was very poised in the pocket, did a nice job keeping his eyes downfield, was accurate — it was close to 70% — and did a good job running the offense, so I thought he was positive."
The offensive playbook around him was catered to the passing game — seemingly more than in years past when Utah tried to establish the run game before opening it up to its pass catchers. But with Brewer, it gave Utah a diverse skill set where he could be under center or in shotgun and make the read for big plays.
Brewer also spread the ball around to eight different receivers and didn't get fixated on one way of doing things. He was the clear leader of the offense and someone that could pick apart Weber State with relative ease. His receivers didn't always catch his passes, including two easy touchdown passes, but he was accurate and knew how to find his open playmakers.
"If you want to be an elite team, you've got to be able to throw the ball with a lot of productivity and getting chunk yardage," Whittingham said. "It's hard to put together 10-12 play drive five, six yards at a time — you're gonna screw it up somewhere along the way. You've got to get those big chunk plays, which usually occur in the throw game, not always, but usually."
And to Brewer's credit, he did what he needed to do in a season-opening win. He's now 77 yards short of eclipsing the 10,000 career yards mark and has the experience to take Utah where it needs to go to compete for another Pac-12 South Division title. But just like his head coach, he's more focused on improving his game to help his team get better.
"I feel like I can play a little bit better," he said. "But I thought it was good. I thought it was a good start, kind of a good starting point, and now we can kind of figure out exactly what we need to do better at.
"We need to probably improve on finishing drives," he added. "It felt like we probably left at least 14 points out there that we could have had. We just need to watch the film and kind of dive into exactly what we need to fix. I know we will, so I like the path we're headed on."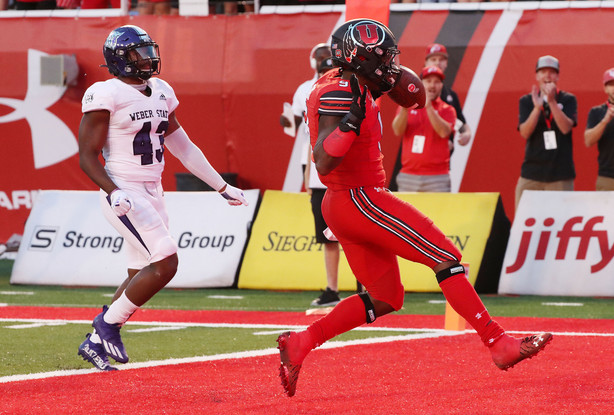 The RB room gets some clarity
Junior college transfer Tavion Thomas did a lot Thursday night to cement his spot as one of the best options moving forward in a crowded running back room. He's not Utah's only option, but at this point — which, admittedly, is still fairly young into the season — Thomas deserves to have a majority of the reps.
Thomas led the team with 107 rushing yards and two rushing touchdowns on 12 carries (average of 8.9 yards per carry) against Weber State and looked to be in the most control in an otherwise quiet run-game night. Micah Bernard, who deserves at least second-team reps, added 35 yards on six carries and could provide the team with a one-two punch in the run game.
And though Thomas played well in his Utah debut, he fumbled the ball deep in Utah territory and gave Weber State a chance for a score. It's the cardinal sin in a Whittingham-led program. But Thomas shook it off and built up a strong run game in the second half.
"My team, they lifted me up, so it was pretty good to have them by my side, telling me to forget about the play — just keep running hard," Thomas said.
The task ahead is only going to get harder, so Thomas has to build on his performance. But he made a case to be Utah's RB1, which is more than Utah had prior to Thursday night with four running backs splitting reps.
"He did show you a taste and a little bit of a glimpse of what he's capable of and what he's all about, so we'll look at the film, grade it hard and come up with a pecking order," Whittingham said.
TJ Pledger and Chris Curry certainly aren't out of the race, but they've got an uphill climb ahead of them to move ahead in the pecking order.
×
Related Stories