Estimated read time: 4-5 minutes
This archived news story is available only for your personal, non-commercial use. Information in the story may be outdated or superseded by additional information. Reading or replaying the story in its archived form does not constitute a republication of the story.
SALT LAKE CITY — The list of mistakes was long for No. 24 Utah head coach Kyle Whittingham after Thursday night's season opener against Weber State.
Whittingham said he got tired of writing it down at one point because there were so many issues — dropped passes, not enough players on the field, allowing a kickoff return for a touchdown, and a missed PAT, among a cadre of others. In the end, the 24th-ranked Utes pulled away for a 40-17 win over the in-state FCS powerhouse, but it was anything but a solid showing for the home team.
"We've got a whole laundry list of stuff to work on for this week; it'll keep us busy," Whittingham said after the game. "As players and coaches, we've got to be better next week."
That challenge won't get any easier a week from Saturday when Utah (1-0) travels to hostile territory to take on a BYU program ready to break a nine-game losing streak. But that can wait for another week; on Thursday, it was about Weber State (0-1).
Thursday's game was far from flawless, but Utah showcased an offense capable of moving the ball and scoring points with senior quarterback Charlie Brewer under center. The Baylor transfer threw for 233 yards on 19-of-27 passing, with two touchdowns and an interception — though Whittingham said he was doing what "he was coached to do" on a Hail Mary attempt at the end of the second quarter that led to the pick.
"I thought he did a good job. His numbers were good; not great, but good," Whittingham said when evaluating his starting QB. "I thought he was very poised in the pocket, did a nice job keeping his eyes downfield, was accurate — it was close to 70% — and did a good job running the office, so I thought he was positive."
Brewer put his team in a position to score points, but his team didn't always follow through.
In the team's opening drive after the defense forced a three-and-out for Weber State, Brewer marched the team down field on a mostly pass-heavy offensive scheme and had the Utes in scoring position on the 7-yard line. But running back TJ Pledger dropped a walk-in touchdown pass on the 2-yard line and the Utes were forced to settle for a field goal.
Later in the quarter, Brewer connected with tight end Cole Fotheringham in the end zone for another score, but Fotheringham dropped the pass and Utah — again — was forced to settle with a field goal from Jadon Redding.
But not all was bad in the opening quarter. Brewer found tight end Dalton Kincaid, who Whittingham called the "best kept secret in the Pac-12," for a 17-yard touchdown strike to give the Utes their first offensive score of the season. Kincaid caught his second touchdown of the game — an 11-yard strike in the fourth quarter — from Cam Rising two plays after the backup QB checked into the game.
Brewer also found junior wide receiver Solomon Enis for an 8-yard score in the third quarter to put some distance on a Weber State team that refused to back down to the Utes. Enis finished the game as the second-leading receiver with 62 yards on four catches, just behind Kincaid's 75 yards on four catches.
The Utes also got some help from junior college transfer Tavion Thomas, who led the way for the Utes in a mostly quiet run game with two touchdowns and 107 yards on 12 carries. Thomas had his own miscue to start the second half with a fumble that was recovered by Weber State. But the sophomore did enough to likely win a spot atop the running back depth chart.
"Well, we'll see. He put the ball on the ground — you can't put the ball on the ground," Whittingham said of Thomas. "And so that was the big downside of it, but he did show you a taste and a little bit of a glimpse of what he's capable of and what he's all about, so we'll look at the film, grade it hard and come up with a pecking order."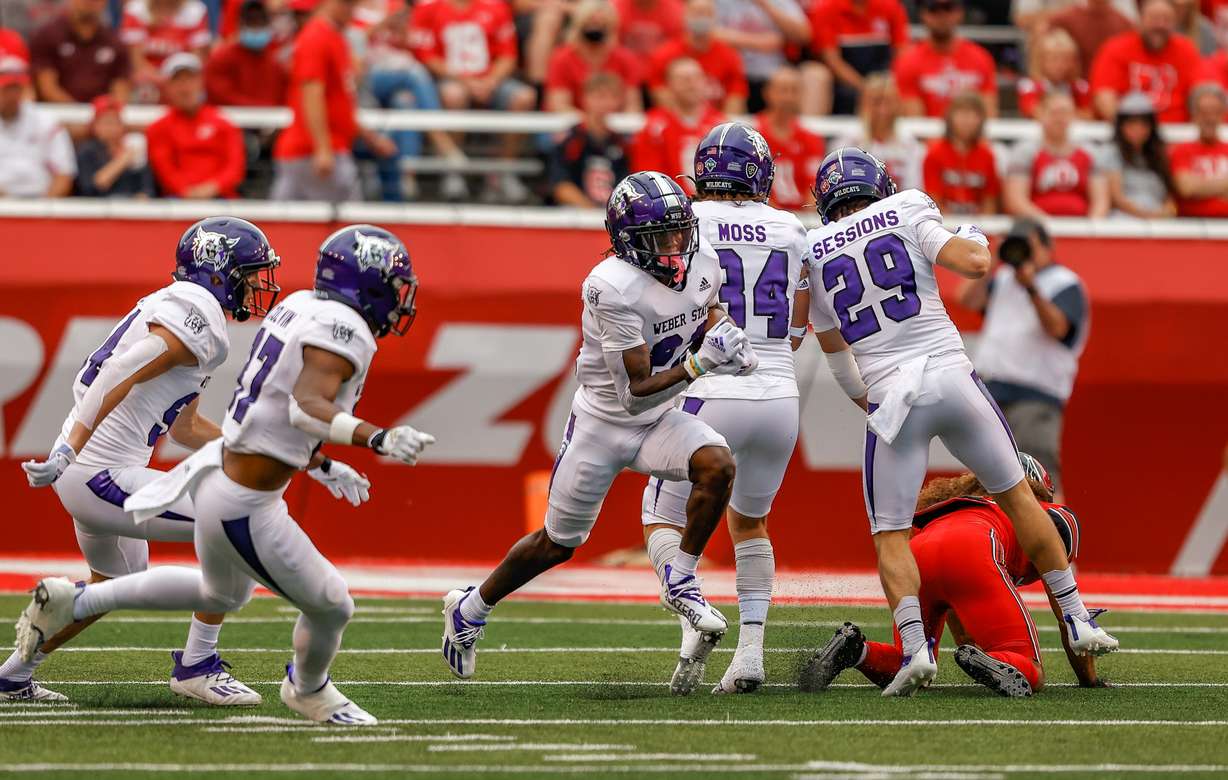 Utah's defense held Weber State's offense to only 3 points for most of the game until a late-game touchdown. The defense managed an interception and forced fumble — both by Devin Lloyd — against a talented Weber State quarterback in Bronson Barron, who finished the night throwing for 213 yards and a touchdown on 21-of-33 completions.
But the highlight play for the Wildcats came in the first quarter when Utah's special teams unit kicked to dynamic returner Rashid Shaheed, who returned it for a 99-yard touchdown to give the Wildcats an early 7-3 lead just as lightning caused a delay in the area.
Whether it was Whittingham calling for a favor from Mother Nature or simply a coincidental break right after Shaheed's score, the game was postponed for an hour and a half.
Weber State nearly cut into the lead in the first half on a drive to Utah's 1-yard line, but Utah's defense stuffed the Wildcats to avoid the score and the Utes began to pull away for good. Lloyd led the Utes with 12 total tackles, including two for loss, and one sack, interception and forced fumble.
Justin Malone caught five passes for 50 yards for the Wildcats, and Ty McPherson added five catches for 48 yards.
×
Photos
Related links
Related stories
Most recent Utah Utes stories