AROUND THE BEEHIVE — In three years as a program, Mountain Ridge football has never won three games in a row — yet alone three to start a season.
Until Friday.
The Sentinels are 3-0 for the first time in the history of the school on the west end of Herriman, thanks to an incredible rally and a little trickeration.
Cade Uluave caught a touchdown pass, threw for another, and ran for the go-ahead score during a 33-point fourth quarter to help the Sentinels rally by host Wasatch 40-30 Friday night in the Heber Valley.
Uluave scored the only touchdown — via a 65-yard strike from quarterback Ayden Helm — in the first three quarters for Mountain Ridge as Wasatch (2-1) jumped out to a 24-7 lead in the quarter that included a 24-yard touchdown catch by BYU commit Jarinn Kalama.
The Wasps held the Sentinels scoreless in the middle two frames before the visitors' offense came alive down the stretch — starting with Uluave's 42-yard halfback pass to Jordan Day that started a 33-6 run to end the game.
"We set it up well," Uluave told the Deseret News of the trick play. "We repped it, we practiced it all the time. The time came, I got it and just had to do my job. Shout out to my receiver for catching it and getting the touchdown."
It's not the first time Uluave has come up big for the Sentinels, who went 0-11 in their inaugural season of 2019. The junior who also plays middle linebacker opened the season with a 100-yard kick return for a touchdown in Mountain Ridge's 37-19 win over Olympus in Week 1.
Through three games, the 6-foot-1 Uluave has scored 12 touchdowns on offense and two more on special teams to help a Sentinels squad to wins over Olympus, Granger and Wasatch.
It's hardly a murder's row of opponents, but the Wasps took their first loss of the season Friday before Mountain Ridge will closeout non-region play against Sky View and Westlake.
Can the Sentinels make waves in a Region 3 recently dominated by Bingham, and depth from the likes of Riverton, Herriman and a resurgent West Jordan program that also improved to 3-0 with a 19-7 win Friday over Hunter?
Time will tell. But if anyone tells the story for Mountain Ridge, it will likely involve Uluave.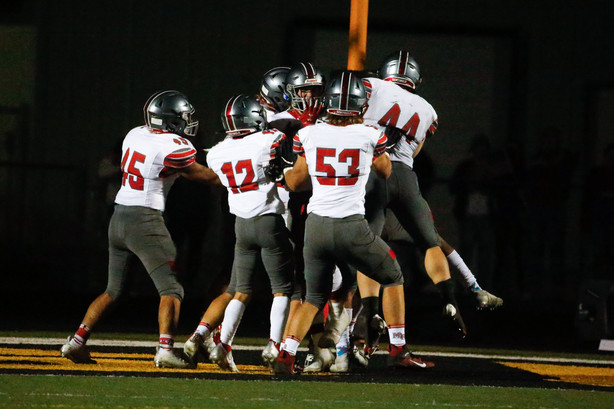 Here are four other breakout performances from Week 3 of the 2021 high school football season, in addition to Friday's KSL.com Game of the Week between Corner Canyon and Bingham.
Kaden Cox, QB, Ridgeline
Cox threw for 336 yards and four touchdowns to help the Riverhawks stay undefeated by blowing by the Warriors.
Noah White carried the ball 23 times for 262 yards and two touchdowns for Ridgeline, giving the 18th-ranked Riverhawks a 1-2 punch that should have them contending for 4A titles (alongside two-time defending champion and Region 11 rival Sky View).
Maximus Fonoti-Maikui, QB, Northridge
Fonoti-Maikui threw for 424 yards and four touchdowns — and ran for another score — to help the Knights bounce back from a loss to rival Layton with the win.
With 5:21 left in the fourth quarter, Fonoti-Maikui hit Zach Smith with a 59-yard touchdown strike that gave Northridge just enough to get over the finish line and walk away from Murray with the victory.
Jaelin Hoth, DB/RB, Logan
Hoth caught a 47-yard touchdown pass, recovered a fumble 32 yards for another score, and added a 51-yard pick-six score to help the Grizzlies pull away from the Stallions in a game played at Utah State.
Logan's defense forced six turnovers to go along with two touchdowns in the second half, scoring 21 points in the third quarter to turn a 19-9 halftime deficit into a 30-19 lead.
Jace Palmer, QB, San Juan
San Juan 34, Bayfield (Colo.) 3
Palmer threw three touchdown passes to three different receivers, bringing his season total to eight scores through the air, while the Broncos shutout Bayfield's offense in a home win.
×
Related Stories