PROVO — BYU football put the finishing touches on fall camp Tuesday with a few scuffles, a couple of questions, and one final conference call with the media before moving on to preparation for the Sept. 4 season opener against Arizona in Las Vegas.
Not a moment too soon, either.
"You can tell the guys are just ready to move on to Arizona," head coach Kalani Sitake said. "I think we had our scuffles to a minimum. But the guys are just ready to play anyone else."
After nearly three weeks of training camp and a pair of scrimmages, the depth chart has also begun to take shape, as well. While few questions will remain through the final week of the offseason — mostly among the split between second- and third-string, defensive coordinator Ilaisa Tuiaki said — the quarterback battle will come to a close Wednesday when the Cougars crown who among sophomores Jaren Hall and Baylor Romney, as well as freshman Jacob Conover, will line up under center for the first snaps against the Wildcats.
After a competition that stretched back to the spring — and even beyond that, in many cases, since Zach Wilson announced his intention to forego his senior season in favor of the No. 2 overall pick in the NFL draft by the New York Jets, the highest selection in BYU history — the deadline has reached Sitake's desk.
Plenty of other teams are in a similar boat; Kyle Whittingham declined to formally name a starting quarterback at Utah between Cam Rising and Charlie Brewer when he met with reporters Monday, but sources confirmed to KSL.com that Brewer will get the starting nod for the Sept. 2 home opener against Weber State.
The Cougars' opening game opponent Arizona will go with two quarterbacks for the first game of the season, with freshman Gunner Cruz taking the first snaps and rotating with fellow Arizona native Will Plummer against the Cougars.
"'Gunner will be out there first, and we'll take it from there," first-year Arizona coach Jedd Fisch told reporters in Tucson.
Sitake had an inclination after Saturday's second scrimmage but wanted to speak with the team, run through the tape, and review every key decision for the program with his assistants, including first-year offensive coordinator Aaron Roderick, who will make the quarterback decision.
What they learned over the weekend, though, was that BYU — despite all the production it lost from a year ago, mostly centered around Wilson — still has plenty of talent returning.
"Sometimes we lose sight that a lot of the guys returning have improved their game from last year. That was the most surprising and revealing thing," Sitake said. "Everyone keeps reminding us how many people we lost to the NFL and to graduation, but you start to see the guys who returned and they've actually upped their game.
"Those guys worked extremely hard in the offseason, and we saw a lot of improvement all through camp — from guys like Neil Pau'u, Gunner Romney, Harris LaChance and Blake Freeland; James Empey has changed his body, and he's leading at a different level right now. I want to make sure we don't take those guys for granted, because they're a big part of our team."
The quarterback decision will be confirmed and finalized through the rest of Tuesday, in position-group meetings and team meetings, before it's finally announced to the team — and the public — by Wednesday afternoon, the sixth-year head coach added.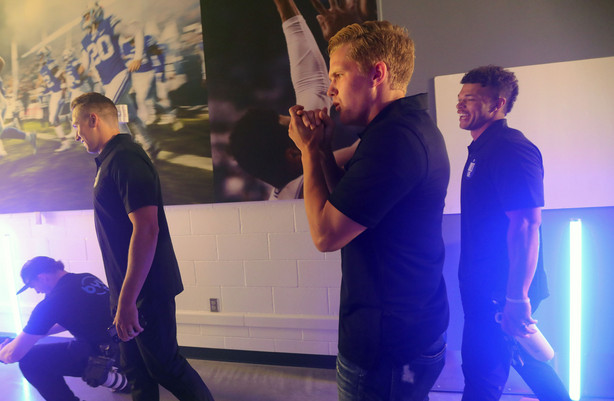 "The players have come out and competed; the decision-making process is pretty much up to them," Sitake said. "In every spot, whether it's quarterback or any other position, that's what it comes down to.
"We're going to go with the player who once we talk to them, we'll be ready to have that known to everyone else."
Hall appeared to take the lead in the competition early in training camp, but Romney surged by the middle of the first week. Conover, the four-star freshman who turned down offers from the likes of Alabama, Arizona State and Ole Miss prior to serving a two-year mission for The Church of Jesus Christ of Latter-day Saints, has remained thickly in the competition as the ultimate upside player — with limited experience — as well.
For the players, the starting quarterback decision barely registers. All three are capable signal callers, and all three have taken the lions' share of reps through the spring, through player-run practices in the summer and through training camp.
Even Empey, the returning starter at center and the only player who touches the ball more than the quarterbacks, hasn't noticed at times when one thrower is in over another.
Half the time, the American Fork product doesn't even know to whom he snapped the ball until he watches it back on film, he said.
"Those guys are playing really well right now," Empey said. "We're excited about any one of them. But it doesn't change anything for us; we've still got to get the job done, got to give them time to throw or make running lanes for any of them."
Next man up
The remainder of the quarterback depth chart will filter down from the starter, Sitake added, as primarily determined by Roderick. That includes the scout team, a position Conover ran last year that will likely be in the hands of backups such as freshman Sol-Jay Maiava-Peters, the fourth man out during the QB competition in the spring; Nick Billoups, the Utah transfer who was a face of the much-publicized walk-on deal with Built Brands that offers tuition to every non-scholarship player on the roster and $1,000 to each scholarship athlete; Cade Fennegan, the recently returned missionary from Texas who transferred from Boise State; Jake Jensen, the former standout from Pleasant Grove; and Rhett Reilly, the sophomore left-hander from Valley Center, California, whose cousin Trevor was known as a hard-hitting linebacker at the University of Utah.
That decision may not even have the same player each week as the Cougars prepare for a variety of different offenses on a loaded schedule that features seven Power Five programs along with regional rivals Boise State and Utah State.
"There are a number of guys we can use there, even a left-hander with Rhett Reilly," Sitake said. "We have a bunch of guys who can give us a different look, different skill sets. We're going to use all of those guys. And then we'll figure out who will be the quarterbacks to travel, as well."
Cosper out for season
The team's overall depth — and most specifically, at wide receiver, which rivaled any other position for deepest on the team — took a hit Tuesday when Sitake revealed that Brayden Cosper will miss the 2021 season with an injury suffered a few days ago in camp.
According to Sitake, the Bingham High product leapt to make a catch and came down wrong on his foot, suffering an undisclosed injury that will keep him out for the season.
Cosper has already had surgery to repair the ailment, Sitake noted, before adding that he is the only season-ending injury out of fall camp. He also said that no players have been placed in quarantine or isolation under COVID-19 protocols as of 11 days before the season opener.
"There are some guys who got banged up; we had a physical camp," Sitake said. "But right now, they're all in play for Arizona."
×
Photos
Related Stories