Estimated read time: 5-6 minutes
This archived news story is available only for your personal, non-commercial use. Information in the story may be outdated or superseded by additional information. Reading or replaying the story in its archived form does not constitute a republication of the story.
PROVO — Plenty is changing under new rules of the NCAA's amended name, image and likeness policies, which allows college athletes to receive compensation for endorsements for the first time in the game's modern era.
BYU just upped the game again Thursday.
In partnership with American Fork-based Built Bars, the Cougars have signed a multi-year NIL package that includes compensation for every member of the football team — including the walk-ons — in the first-of-its-kind agreement in collegiate athletic history.
As part of the agreement with the local protein bar and energy supplements company, every player will wear Built branding on their practice helmets and participate in "experiential events" on behalf of the company, while walk-ons will be expected to promote the product on social media and other appearances.
The deal essentially puts all 123 players on the football team on scholarship, with the walk-ons agreeing to a deal that covers the cost of tuition for the entire academic year.
"We are excited to partner with BYU and all 123 players on the football team. We are making history together," said Nick Greer, co-founder of Built Brands, in a statement from the university. "Cougar players know success happens when every player invests in each other to do what's best for the team. That's what we believe at Built too, and we're excited to support every player of the BYU football team. Games are won when every single player lifts and supports each other with everything they've got. That is how we will all win. That is how we unite as one!"
The agreement allows BYU to essentially place "every player on scholarship," a goal that has motivated head coach Kalani Sitake for years, as he's recently discussed with local media during the first week of training camp.
"I have this love for walk-ons because they sacrifice the most, they're willing to pay for it in so many different ways — and definitely out of their pockets," said Sitake, a former BYU fullback himself, when meeting with the media during the first week of fall training camp. "They're always going to have a special part of my heart when it comes to this football program."
That dream became a reality, thanks to the fastest-growing protein bar company located in Utah County.
"From the beginning of the NIL discussion, my hope was that changes to NCAA rules and regulations would provide a pathway forward for all players to benefit more fully from their name, image, and likeness, especially walk-ons who sacrifice so much to make our program great," Sitake said. "When Nick Greer called to tell me that Built was committed to entering into NIL deals which would pay our walk-ons enough money to cover their tuition for the full academic year, I could not hold back my emotions.
"I love these boys, and I am overwhelmed with gratitude to be partnering with a company that is equally committed to assisting BYU football in building a culture of love and learning while enhancing the experience for all players."
Built Bars has long been a corporate sponsor of the BYU athletic department, but enhanced its deal with the groundbreaking partnership with individual players. Greer called each of the walk-ons "employees" of the company, as he'll treat them in paying their way through college as members of the football team.
But the partnership doesn't end there. Built will add two "fueling areas" in the team's recently remodeled, state-of-the-art locker room in the Student-Athlete Building, as well as another in the older locker rooms at LaVell Edwards Stadium, inspired by the company's signature Built Bar wall near the entryway of its American Fork headquarters.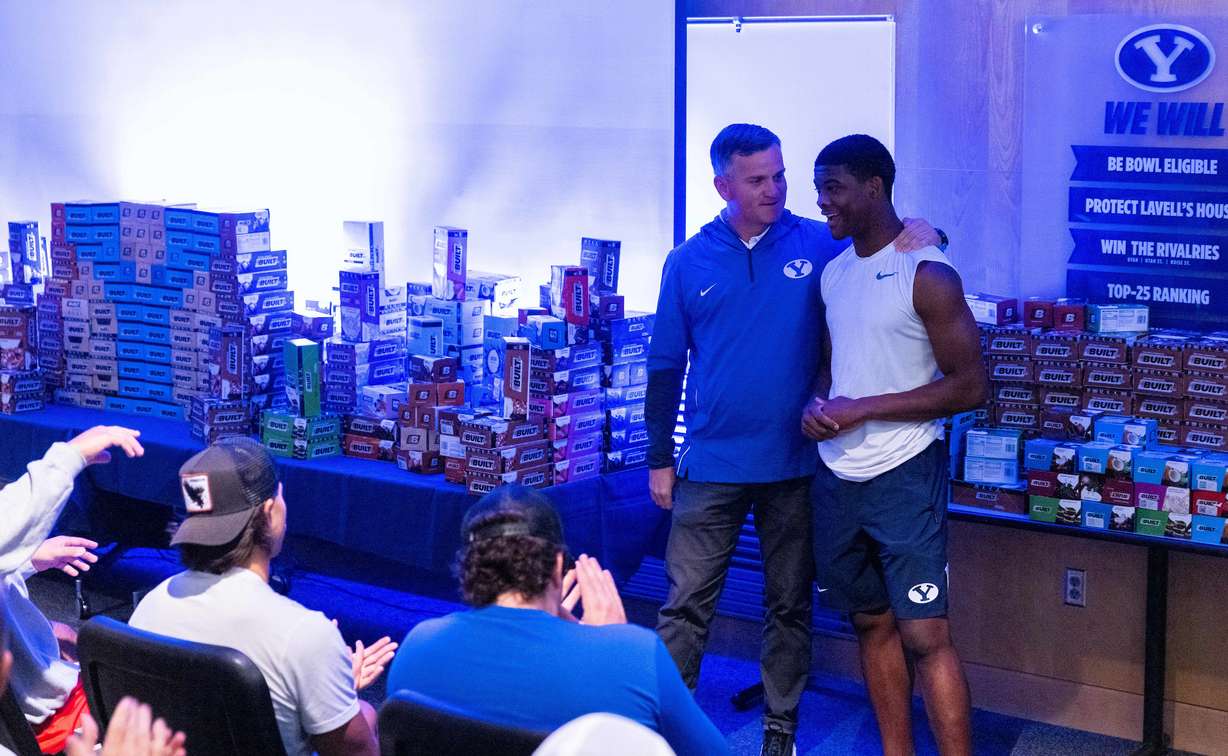 "I'm super grateful to Nick Greer and Built Brands for providing a mechanism for hard-earned compensation for our student-athletes and for making it possible for all of our football players to be able to compete without having as much of a strain on their finances," said BYU athletic director Tom Holmoe in a statement. "With the changes in the NIL space, we have embraced the role of advocates as our student-athletes involve themselves in quality opportunities to use NIL to help earn additional income. Our newly launched Built4Life program has been instrumental in helping educate, support, and find creative and permissible ways for our student-athletes to maximize their potential. We look forward to many years of success in this area."
BYU defensive end Tyler Batty and long snapper Austin Riggs became the first BYU football players to sign NIL-based endorsements when they partnered with Eagle, Idaho-based lip balm company Balmshot in July, just a few days after the NCAA informed schools not to hinder an athlete's ability to seek financial compensation for endorsements and other advertisements during their time in college.
That partnership grew to include other players, including star running back Tyler Allgeier, who partnered with Balmshot to endorse the company's mission to fight cancer.
The school launched the new Built4Life career development program to help facilitate NIL deals across its athletic department, and a recent $250,000 donation from Utah-based Gigg, whose founder Scott Warner is a Utah Valley University alumnus and long-time BYU fan and supporter. The Built4Life program also includes partnerships with the Utah Valley Chamber of Commerce and the Salt Lake Chamber, both headed by BYU graduates, including former Utah Gov. Gary Herbert.
"Right now, there are more questions than answers about NIL," Holmoe said when the school rolled out Built4Life. "But I like how Kalani and his team have stepped forward and said, 'this isn't just about money.' We're OK with our athletes making money off their name, image and likeness, but we also feel that there is more to life."
×
Photos
Related stories
Most recent BYU Cougars stories