Estimated read time: 5-6 minutes
SALT LAKE CITY — In what has become nearly a guarantee every season with Kyle Whittingham as head coach, the defense dominates fall camp.
The defense consistently ranks high nationally and has sent a number of players to the NFL from that side of the ball over the years, so it makes sense that it performs at a high level. But on Saturday, Utah's offense got the best of the defense in the team's first live-action scrimmage of the season.
Whittingham said there was "a lot of good things" from the offense, which had the "better day." Utah held out some of its top defensive players, like Devin Lloyd and Mika Tafua for precaution and not as a result of injury, but it was the high-level execution from the offense that made for the standout day, even if receiver Britain Covey was also held out on the offensive side of the ball.
"I haven't been around many scrimmages, especially first ones, where the offense gets the better of the defense," Covey said. "I don't know if I was not expecting that today, but just to be out there and see that — we weren't wide eyed when it came to real tempo.
"When you have the first two groups just executing when the first time you go real game speed, it's really impressive. I was pumped."
Whittingham said one of the reasons for the good day was the level of play from quarterbacks Cameron Rising and Charlie Brewer, who are no closer to being named starters two weeks into fall camp and remain "neck and neck." Whittingham said the "throw game" was the "highlight of today's production" on the offensive side of the ball.
Covey agreed with his coach's assessment of the first scrimmage.
"I think I attribute it mostly to the quarterbacks," Covey said. "Their confidence level rubs off on people and you're able to open the playbook in a way that makes it really hard to key on any one part of the offense. As you're searching for your identity, if you have a great quarterback your identity can be a plethora of things.
"When you can get one-on-one opportunities because they have to stack the box or when they have to go Cover 2 because you've got such a great quarterback, that's when you start getting other position groups confidence," he added. "When the receivers aren't getting hardly any passes, it's hard to build that confidence and that trust. But you've got the ability to do all these things, and that's why I attribute it to the quarterbacks."
The quarterbacks will continue to battle it out for QB1 for at least one more week, Whittingham said Saturday, with a starter likely named sometime after next Saturday's scrimmage, though there's no guarantee that will be the set timeline. Whittingham added the team will "take as much time as we need" to make the best decision for the team.
"Cam and Charlie right now are good; they're very, very similar in terms of controlling the offense," offensive lineman Nick Ford said of the quarterback competition. "It was a couple of days ago when I was watching film and I was like, 'Wait.' I didn't even remember Cam just had surgery, like he was slinging the ball all over the place."
That bodes well for an offense that hopes to involve all of the offense more than the 2020 season where it was primarily a run-first mentality, mostly due to the ineptitude of the passing game behind Jake Bentley. Covey said the decision to name a QB1 remains stiff, but it's a good problem to have.
"I'm glad I don't have to make the decision because they're both playing so well," Covey said. "I've said this many times before, but it's just wonderful knowing that it's not a competition where we're searching for a quarterback — you know, you're just desperate to find one. It's one where you've got two great guys and they are both performing at a high level.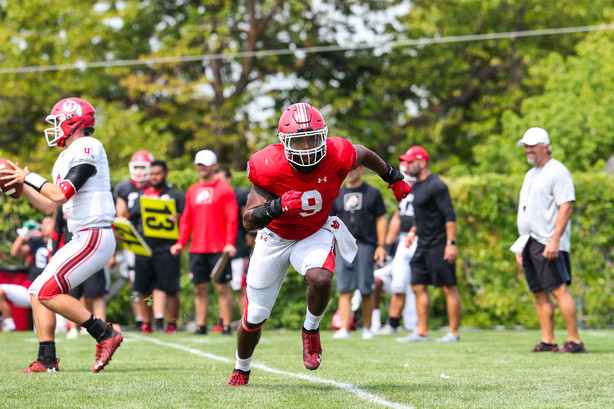 "We're gonna have one of the best backup quarterbacks in the country — that's all I know," he added. "I don't know who the guy is gonna be yet, but I know that we're gonna have two great options."
The ability of the quarterbacks to control that offense will depend largely on an experienced offensive line that expects to return several veteran players capable of cracking the five-man lineup that will be tasked with protecting whomever trots out as starter on Sept. 2 against Weber State. But two weeks into camp, Ford said the offensive line is better in pass protection settings and the offense as a whole has improved.
The progress made there, specifically in pass protection, is an offensive line emphasis this season as the team hopes to make the passing game a bigger aspect of the offense. Ford said there was no question the line could run block and help the team's talented backers, but now there is more an emphasis on pass protection.
"We've got to take the pass game as serious as we do the run game right — same mentality," Ford said. "Just instilling that mentality every day, and I think one of the biggest thing is really just that mentality. ... So we're just taking a lot of pride in making sure that it's applied every single day and every single down that our boys in the backfield don't get touched."
The run game will still be a big focus of the offense, especially with guys like Micah Bernard, TJ Pledger, Chris Curry and Tavion Thomas, who Ford says is "really blossoming" as of late, in the backfield to help Utah continue its tradition of talented running backs exploding on offense. There's no clear starter here, either, but Ford said all four will be "scary" good.
"I have no idea, and I'm not lying to the media on this on," Ford quipped. "They all have their own little quarks. ... They all can really play — that, I think, the scariest part is going to be the same situation when we open up and say, 'Alright, well who's gonna make the plays more.' Our backfield is scary."
The offense was the standout group in Week 1, but there's still several weeks before Utah's season opener. But the positive for the Utes is that "veteran leadership," as Covey called it, on the offensive side of the ball is poised for a strong start to the season.
×