SALT LAKE CITY — It's hard to miss Van Fillinger in a crowd.
Sure, his 6-foot-4, 260-pound frame is easy to spot, but there's something else about him that sets him apart from the rest. He's got a fully grown mullet that's been around since his days at Corner Canyon High in Draper that makes him unique — even if the hairstyle is making a comeback.
But Fillinger isn't just playing around with a current fad like many kids and teenagers, it's as much of who he is as the game of football he plays. He admits he needs a bit of a haircut, but he also wants to add color and "get weird" — maybe blonde, or red, or maybe a streak of pink. Really, anything is on the table at this point.
Fillinger's hair may distinguish him in the crowd but he hopes to be known more for what he's able to do on the football field. The former four-star defensive end and top recruit signed from the state of Utah to the Utes' 2020 recruiting class is making the most of his opportunity to claim a starting role on an always stout defensive line.
He's known as a "COVID freshman" due to starting his collegiate career during a global pandemic. And because of that, Fillinger was given the opportunity to be a freshman for a second season as the NCAA granted an extra year of eligibility to all athletes as a result of a delayed, abbreviated and otherwise difficult 2020 season.
It's a season Fillinger called "terrible," even though he was able to get experience and acclimate to the Division I level without much risk or consequence. But the season was anything but fun or like what he imagined the college experience to be. Daily COVID testing and no fans in the stand, among many other reasons, made it difficult to look back fondly on the year.
"Honestly, I love college football and I love the environment; I love the atmosphere and stuff," Fillinger said. "I love the things that go into it that we were just missing last year, which made it kind of weird. I mean, I'm excited for this season because full capacity (stadium), everything is gonna be real cool."
And with less than two weeks to go before Utah kicks off a 12-game season that begins at home against Weber State on Sept. 2, Fillinger finds himself as a freshman competing for a starting spot with fellow COVID freshman and friend Xavier Carlton, a legacy four-star recruit from Juan Diego High that was just behind Fillinger in the state's recruiting rankings at No. 3.
The duo have been there for each other since the beginning and have pushed each other to get even better, even though they're competing for the same starting spot at defensive end opposite of veteran Mika Tafua.
"We've seen what it's like for each other," Fillinger said. "Whenever we're struggling, we help each other out to try to get better. It's been a similar experience for both of us, so, I mean, it's been good having him and working hard and challenging each other to get better and competing and just working hard out here."
"The competition has been really good; it's given all of us time to get better as a unit and as players, individually," Carlton added. "And like Van said, me and him constantly, every day try to get each other better, trying to coach each other up. But competition is competition. I mean, we're still brothers, but he's right, we're fighting for a spot and we're constantly trying to get each other better for the season this year."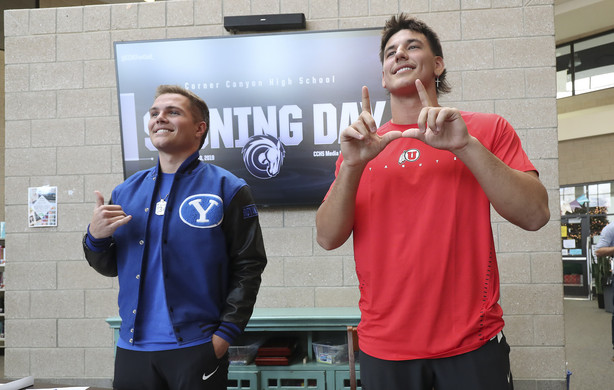 Despite the onboarding struggles of joining the program during an unprecedented season, the undisputed truth is Fillinger and Carlton are the future at defensive end for the Utes. Carlton has been the favorite to claim the starting job opposite of Tafua since spring, according to defensive line coach Lewis Powell, but Fillinger and redshirt freshman Miki Suguturaga will get playing time, too.
"Xavier had a great spring. He was our guy that we thought was going to be our guy. And now he still could be," Powell said. "All three will play in some time, alongside with Mika. I like to rotate four to five guys anyways — it keeps guys fresh. ... But they should all see time."
"Van and X use their length to their advantage — long-lever guys that do a great job with technique," defensive coordinator Morgan Scalley said. "So, we're excited for that group."
And while the two are certainly talented and worthy of a starting spot, they're both different in how they approach the game. Fillinger thrives on the environment and the vibe of the game — the crazier the better — while Carlton puts his head down and goes to work. "That's been my MO since I was 6 years old," Carlton said.
The different styles of play — one that's more reserved and the other full of life — compliment each other and provide great depth and versatility to the defensive front seven. Regardless of how they approach the game, they're both physical and ready to disrupt opposing offenses on the edge.
"I mean, shoot, I hope it's freaking as rowdy as it can be," Fillinger said, speaking about the game environment. "I hope it's energetic because that's what I feed off of. I love hearing people go crazy for the game and just loving it as much as I do and just cheer me on — boo me, do whatever, I just love hearing it. It's going to be fun."
"I wouldn't say I feed off the environment," Carlton added. "I actually feed off my coaches' advice and also my parents advice because my parents are like my, I want to say, my second coaches. They give me that feedback, that honest and sometimes hard feedback."
The two had several offers from Power Five programs but found a home at Utah, the hometown school. It wasn't a guarantee, but the pair both found a fit with the Utes. And now the local athletes have a chance to put a stamp on the position that has been littered with NFL talent.
Both admit they hoped to make a bigger impact in 2020 but knew it would take time, especially given that neither got a lot of preparation time before the season started.
"Last year, I don't think I was where I wanted to be for a season — like I definitely wasn't ready," Fillinger said. "My mind really, my technique, like I didn't feel like I was really comfortable on the field last year. But, I mean, it's been a year and I feel like I've worked pretty damn hard to get better and to try to up my technique and up my — just knowing situations and knowing what to do in certain situations I feel like I've gotten a lot better.
"It was really hard last year to produce and to get on the field and actually start doing stuff for the defense, but this year I feel like I'm a lot more comfortable and I feel like I'm a lot more ready to actually be a part of the defense."
Carlton, too, knew he could have an instant impact, but was frustrated by not being able to do the "little things" right.
"I knew it was gonna take some time because new playbook, new schemes, and also the coaching staff, they coach us real hard and they're very big on the little things. And coming from last year that was kind of like my biggest pet peeve was just focusing on the little things," Carlton said. "But now that I'm in my second year as a freshman and getting that chance to improve and grow strides, it's actually helped me out."
If the two can put it together this season, like they're projected to do, Utah is set to once again disrupt on the edge.
×
Related Stories