SALT LAKE CITY — Unmasked and with in-person interviews afterward, Utah football kicked off its first day of fall camp Wednesday. Almost as if nothing unusual happened in 2020.
Whatever the situation, Utah was happy to be back at it for a full season under mostly normal circumstances. With a 92% and climbing team vaccination rate, according to Kyle Whittingham, the team is hoping there will be no disruptions like in 2020 — at least to a major degree.
And like a normal year going into fall camp, the primary focus will be on the quarterback as Utah looks to solidify arguably the most important position on the team.
For Whittingham, this year's team has a 2019 feel to it. But for Utah to sniff any amount of success like its 11-1 regular-season campaign that year, it has to hit a home run on QB1.
The battle, which will come down to veteran signal-caller Charlie Brewer and incumbent starter Cam Rising, will be fierce with two worthy competitors who have developed a strong relationship in the year the two have been together — that's to say nothing of Texas transfer Ja'Quinden Jackson and freshman Peter Costelli who are in the wings playing the backup role.
Rising, who is now in his third year with the program, is coming off a shoulder injury sustained in the first quarter against USC last season and has only one quarter of starting experience after winning the job over Jake Bentley. Whittingham, though, said Rising is 100% and cleared for all competition. Rising also knows the system better than anyone in the quarterback room.
The sophomore QB joked Wednesday there isn't much of offensive coordinator Andy Ludwig's playbook that he doesn't know. "I'm sure there's little nooks and crannies that I haven't been exposed to yet, but for the most part, I think I've got a good idea of it all."
Knowing the playbook is half the battle, but Rising has been here before and has already claimed the starting position, though the competition is more stiff this year against a quarterback with a proven record. But from Rising's standpoint, his past injury shouldn't limit him in his ability to win the starting job.
"He looked great today — looked like his old self," Whittingham said. "And I detected no lack of arm strength. He took every rep that he was supposed to take and said he felt great."
That's good news for Rising and for Utah, who has one of its deepest and most talented quarterback rooms in Whittingham's tenure. And while the job won't be decided on the first day of camp, it's a good start to the rest of the season.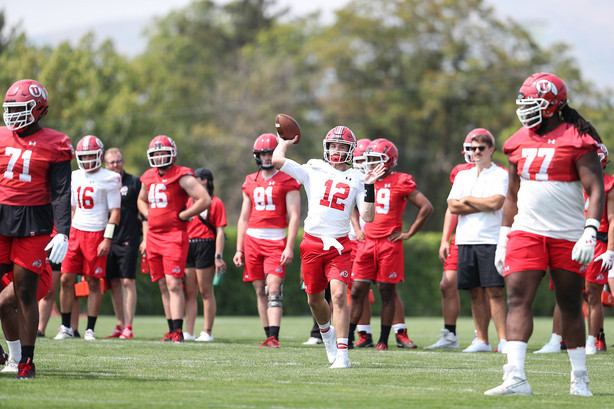 Despite Rising being the incumbent starter and it being his job to lose, Brewer is the perceived favorite to win the job. He has 9,700 career passing yards under his belt and he's orchestrated a Baylor team to a top-10 ranking and near College Football Playoff appearance in 2019. For Brewer, though, it's about learning a new system after four years at Baylor.
Brewer had a strong showing in spring, which gives him an early jumpstart to the season. But whether that will translate into being named QB1 remains to be seen. There's knowing the playbook and executing the plays at a high level. His past experience should indicate an ability to pick up a system well, but will it be as the starter or in a backup role to Rising?
"I watched him play when I was at Texas," Rising said. "He's a great player. He does some very good things and just taking little pieces that he does well and applying it to my game, that's pretty much what he's been able to do."
The 1st #CampKyle update of the season and it's a relief that's it's all in person.

Kyle Whittingham said roughly 92% of the players here are vaccinated. A few more are waiting to be "fully vaccinated."

— Josh Furlong (@JFurKSL) August 5, 2021
Brewer hasn't been in a quarterback battle since his freshman season, but he gave up his role at Baylor because he felt Utah was a place he could win.
"I just thought it was a really good situation and a really good team — a team that's gonna win," he said. "I wanted to be a part of a winning team. I thought the coaching staff was really good, so I'm glad I made the decision, for sure.
"Great football teams have competition everywhere, and that's the make of a championship team — having competition everywhere," Brewer added. "You've just got to go out and compete, just worry about yourself, do as well as you can, keep improving each day, and that's all you can do really."
The two know what's at stake. Competition breads better athletes.
QB1 will be Utah's best option, and the early signs are Utah is in a good spot to have a successful season with a quarterback room up to the challenge.
"Every day you're just going in to compete and making sure that you're as good as you can for the team; that's pretty much how it is," Rising said. "We're competing against each other for that No. 1 spot, but it's all about the team at the end of the day."
Notes from Day 1 of #CampKyle
Defensive end Maxs Tupai is not on the roster and will not be with the team this season. Whittingham did not elaborate on why Tupai will not be with the team, but freshmen Xavier Carlton and Van Fillinger are expected to fill that role. Miki Suguturaga is another candidate for playing time at defensive end.
Whittingham is ready for a running back by committee approach — at least until someone breaks away from the rest and claims the No. 1 spot. That could be midway through the season or during fall camp; but at least on the first day of fall camp, the competition is on equal footing for Micah Bernard, TJ Pledger, Chris Curry and Tavion Thomas.
Ben Renfro and Caine Savage, who spent some time on offense in spring, will move back to defense in fall. Renfro will workout with the safeties and Savage with the cornerbacks.
At the safety position opposite Vonte Davis, freshman Cole Bishop has taken a leading role. Whittingham singled him out as a starting-caliber player, with Washington transfer Brandon McKinney and Kamo'i Latu in the mix.
×
Photos