Estimated read time: 9-10 minutes
Editor's note:This article is a part of a series reviewing Utah and U.S. history for KSL.com's Historic section.
PROVO — As David Amott, the executive director of the nonprofit organization Preservation Utah, explained the detailed history of the Amanda Knight Hall to a crowd inside the building's amber-lit foyer, a man in a tan shirt and hat signaled for his attention.
Stevens Nelson, illuminated by daylight in the doorway behind him, felt compelled to say something.
"My grandfather was the architect who built this building and I want to thank you especially for preserving it," he said, as others in the room erupted in applause.
That's because it wasn't long ago that the 82-year-old structure was slated for demolition; in fact, it's a building that was under the possibility of being torn down over the past three decades.
But on Thursday building preservationists and community members like Nelson came together for an open house event to tour the building and celebrate its recent restoration before it returns to its original purpose back when it was built in the 1930s.
"Looking around, it's hard to believe that this building was once very, very threatened, but it was," Amott said. "And it was saved and subsequently beautifully restored and preserved in perpetuity by generous now-building owners."
The story of Amanda Knight Hall
When BYU tabbed legendary Utah architect Joseph Nelson in the 1930s to design what became Amanda Knight Hall, located at 800 N. University Ave., Nelson had already completed the Utah County Courthouse, Nephi High School —now the Utah Juab County Courthouse — and what was originally the Heber J. Grant Library on BYU's campus, among many other buildings of homes in the area.
He learned his craft on the East Coast under the tutelage of Paul Philippe Cret, who among other things designed the Federal Reserve Board Building in Washington, D.C., that is now named after the famous Federal Reserve chairman and Utah banker Marriner Eccles. Cret was, as Encyclopedia Britannica describes, "a late adherent to the Beaux-Arts tradition." And Nelson brought that, collegiate gothic and Tudor architecture styles with him back to Utah County, Amott said.
The buildings he drew up stand out to this day because of how drastically they contrast to other structures in Utah in architectural style. Stevens Nelson said his grandfather also found inspiration in the landscapes around him.
"(Joseph Nelson) believed that the community needed to reflect the mountains," he said.
Construction of the Amanda Knight Hall began in 1938. Amott explained BYU leaders at this time had lofty ambitions of turning the university from a local and regional university into a national and global institution and wanted buildings that mirrored their aspirations. Many of the buildings at that time, such as the Amanda Knight Hall, were constructed in the collegiate gothic style much like buildings found at Princeton University in New Jersey and Bryn Mawr College in Pennsylvania.
"They wanted a grown-up style so they adopted this collegiate gothic to say 'we've arrived,'" he said.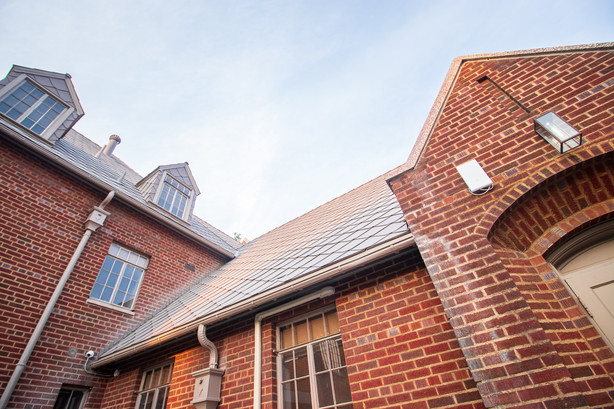 Meanwhile, the project was funded by the Knight family, a major donor to the university at the time. Jesse and Amanda Knight were philanthropists at the head of the family — although neither lived long enough to see the building themselves.
Amanda Knight left funds after her death that went toward the building. Amott added that the couple practically kept the university afloat during times of financial hardship and also times of growth through their donations. It's why he credits them as influential reasons for the university's existence today.
Crews completed the building in 1939 and it became the school's first all-girls dormitory. It remained a dormitory up until the 1960s, which is when it was converted into serving other purposes. It became a Mission Training Center in the 1960s and 1970s for missionaries from The Church of Jesus Christ of Latter-day Saints called to serve in German and Scandinavian-speaking areas. It then turned into an office space and also a center for students learning English as a second language in more recent years.
The building, however, started to show its age and began to fall into disrepair. It seemed as if it was destined for destruction like what happened to a similar building in the area and many historic buildings.
The fight to preserve the building
The building had been considered "threatened" off-and-on since the 1990s, as there were multiple times it was nearly torn down. A spokesman for the church told the Deseret News in 2002 that the building was "unsafe and obsolete." By that point, the Utah Heritage Foundation — now Preservation Utah — remained locked in a battle over the future of the building, and church officials learned that it was placed on a local historic register without their knowledge, which prevented it from being demolished.
The building was successfully removed from the register but the demolition plans at that time fell through. The debate, however, resurfaced again in 2018 when BYU announced plans to tear down the building and rebuild it with a replica of the original structure.
Preservation Utah and a Facebook group called Save Amanda Knight Hall at BYU were among those who pushed back against the plan. BYU ultimately placed the building on the market, where the Utah firm Mountain Classic Real Estate purchased the property in 2019 and reverted it back into a residential space. Per the company's website, all 57 spots are reserved for women who will move in there shortly.
David Phipps, a partner at Mountain Classic Real Estate, said he understands why BYU wanted to tear down the building but he believes that it would have been been a "travesty." While he said the firm has experience in historic renovation across the Wasatch Front, he hadn't seen a historic building where a community cared as much as Provo residents did with Amanda Knight Hall. He listed off local and state organizations and councils that helped in the process of purchasing the building and getting everything needed for restoration and preservation.
"It was incredible to see how much support we had in helping us get involved; and within three days, we were able to come in, do a full review of the project, and be able to say 'this is something that could be saved,'" he said. "And just to think this building almost didn't exist anymore and almost became a parking lot like its sister building did just around the corner is still, I'll say, frustrating."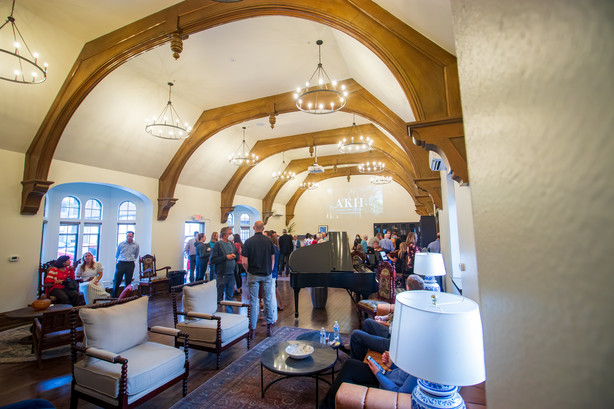 Thursday was the celebration of the end of the company's multi-year restoration project and also the battle to preserve the building.
"What's really wonderful about this story is (that it's) sort of the perfect save, where the community came together, the city was behind this, nonprofits were behind this, the neighborhood was behind this," Amott said. "All these parties played such a role in saving this building."
The benefits of keeping a historic building
Advocates of historic buildings argue there are benefits to preservation. For instance, Preservation Utah, which was founded in 1966, contends that preserving historic buildings can "inspire and provoke a more creative present and sustainable future" while also saving pieces of the state's past. In addition to touting the environmental benefits of preserving a historic building, they point out that choosing to preserve a historic building has financial incentives.
Owners of buildings designated as historic can be eligible for federal and state tax incentives if they decide to rehabilitate the building. In this case, Mountain Classic Real Estate chose to renovate the Amanda Knight Hall for a residential business purpose, which makes them eligible for both credits once the building is added to the National Register of Historic Places. Amott told KSL.com that the application was accepted and it's likely to be added to the register in the near future.
The project qualifies for credits equivalent to between 20 percent and 40 percent of rehabilitation costs, according to Amber Anderson, the historic tax credit coordinator for the Utah State Historic Preservation Office. Mountain Classic Real Estate didn't disclose the cost of its renovation project, but Amott said BYU had estimated renovation costs in the millions before it sold the building.
Any renovation project of a historic building in Utah can qualify for those incentives. Apartments, condominiums and even some houses can end up with the maximum credit, which is 40 percent.
A story with a happy ending
As the event concluded, Amott stood outside a courtyard at the back of Amanda Knight Hall. He found himself awestruck by the details put into the building, from the scale-like roof to a fumed oak finish on the doors that can't really be recreated because the process used then was essentially outlawed for safety reasons.
---
It's just a happy ending all around and we've love to see more of this happen.
–David Amott, Preservation Utah
---
He's not used to seeing stories like the Amanda Knight Hall end the way it did. Given Utah's growth and the need for space, there are many discussions happening across Utah, especially along the Wasatch Front, about what to preserve and what to demolish for something new. Even with financial benefits on the table, Amott said most historic buildings either get torn down or left to rot because nobody wants anything to do with it and the land the building sits on.
This, on the other hand, is the rare third option. He helped fight for the building, won and got to see it turned into a valuable piece for the community. Ultimately, value is what determines what does and doesn't get saved.
"What is someone's trash is someone's treasure. And this was BYU's trash but, to the community, it was a treasure," Amott said. "And it's a building that everyone fought to save and happily has been saved. ... It's just a happy ending all around, and we'd love to see more of this happen."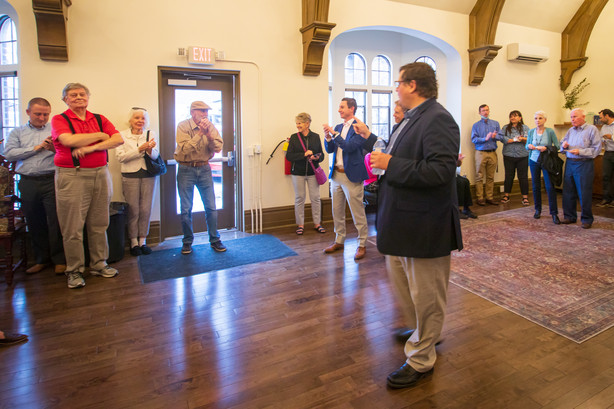 But perhaps nobody was excited about Thursday's celebration more than Stevens Nelson. After living most of his life in California, he wasn't as aware of the drama surrounding the fate of Amanda Knight Hall over the past three decades.
For him, the event went beyond the fight to save it. The open house gave him his first opportunity to step inside the building his grandfather designed and helped construct. He was impressed not just with what his grandfather was able to accomplish but also with the work to preserve the original structure.
"It's a real honor to think what my grandfather created has stood the test of time," he said, as he admired the building's facade. "In fact, most of the buildings in Provo with the same type of architecture like this were built by my grandfather. ... It's hard to explain it, but it's exciting to have the heritage. I mean, this is my grandfather, you know. What a tribute to him and what he's done."
×
Photos