HIGHLAND — Ask him about it and it will be like asking a grown man who has favorite child is.
Luke Hyde isn't sure if he likes scoring touchdowns on offense or special teams more, so the dynamic wide receiver and return specialist for Lone Peak will do them both.
Special teams, it turns out, are … well, special for the Knights.
Hyde scored a pair of touchdowns, including a 53-yard punt return, and Lone Peak had two scores on special teams to pull away from Timpview 44-31 to open the 2021 season at home Friday night.
"I loved the catch and the punt return," Hyde said. "Both were fine.
"We harp on special teams big. We go over special teams for the first 20 minutes every day. We polish it as much as we can."
Lone Peak quarterback Easton Comer threw for a touchdown and ran for another in his first varsity start for the No. 3-ranked Knights, who got touchdown runs from Luke Durfey and Jaxson Willits in the win.
Liu Aumavae threw for four touchdowns to lead Timpview (0-1), including three to Pokai Haunga.
But for as good as Lone Peak found its offense — especially in the first half — or its defense in securing the win, special teams put the Knights (1-0) over the top.
"We emphasize special teams just as much as we do offense and defense," Lone Peak coach Bart Brockbank said. "We feel like if you steal one or two on special teams a game, or even just flip the field, it's just as important as what the offense does. Coach (Ryan Denney, defensive coordinator) and the special teams coaches do a great job of just pointing stuff together."
After Micah Beckstead's touchdown plunge gave Timpview a lead on its first drive of the game, the Knights rattled off 28 underanswered points to take a 28-6 lead on Hyde's 53-yard punt return touchdown — his second score of the game.
Durfey opened the scoring for Lone Peak on a 3-yard TD plunge with just over four minutes left in the first quarter, and Comer doubled the score with a quarterback sneak of his own to go up 14-6 with 1:45 left in the opening stanza.
Comer found Hyde for a 10-yard strike in the corner of the end zone to open the second, and Hyde capped off the scoring spree on special teams after an all-but scoreless second quarter.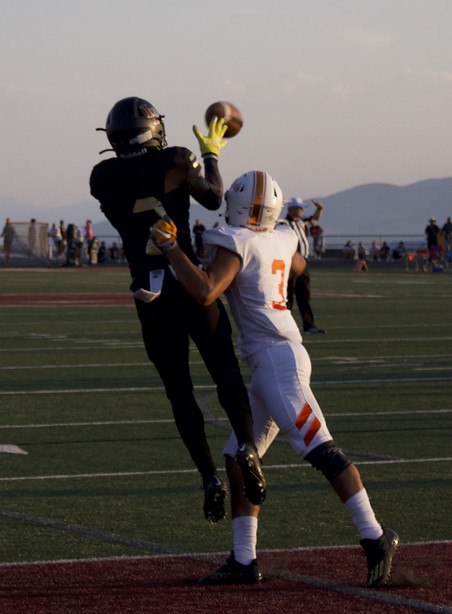 "All my boys were blocking for me, so that's how it happened," Hyde said. "If my boys didn't block for me, that wouldn't happen. Shout out to them."
Haunga broke the scoreless drought on the final play of the first half for Timpview, reeling in a 28-yard pass from Aumavae to pull one back at the stroke of halftime.
"I'm happy with our effort," Brockbank said. "But at times, our secondary wasn't thinking very good. You don't give up two 40-yard touchdowns when they need deep balls. That's something we've got to look at and figure it out.
"It's just silly to give this up."
Willits took a screen pass 34 yards for a touchdown to open the third quarter, breaking a pair of tackles en route to a 35-13 advantage as the Knights looked to pull away.
But the Thunderbirds rallied, first through Aumavae's 48-yard TD strike to Haunga with 17 seconds left in the third and then through a pair of late TD tosses to Haunga and Tei Nacua in the final period.
In between them, though, Lone Peak put the game away — thanks to another special play on special teams.
Clinging to a 38-25 lead with 3:36 remaining, Takeao Hansen scooped up an onside kick attempt at midfield and rumbled 50 yards into the end zone to give the Knights all the room they would need.
"When I saw Keao catch it, we were yelling get down. Keao just had a different idea," Brockbank said. "He just saw the end zone. Keao's a special player, so we'll give him a lot of leeway."
Defensively, Lone Peak forced four turnovers, including interceptions from Matt Brown, Christian Arrington and Mason Patane. Connor Kelley added two sacks, including a stripe sack with just under three minutes left in the half, and the Knights did just enough to stay in front of Timpview to extended their winning streak to four-straight in the nonregion series.
"Our defense goes out there and forces three-and-out, so as an offense, we've got to harp on that momentum," Hyde said. "We've got to match their energy and put points on the board."
Atuaia and 2 Foster each secured an interception for Timpview, which plays at Kearns next Friday in a four-game road swing to open the season.
Lone Peak hosts California's Alemany next week in the first game of a home-and-home series.
×
Photos
Related Links
Related Stories