LEHI — In the first game of the 2021 season, Skyridge's offense needed a jolt — something to wake it up.
The offense got that jolt from the defense.
McCae Hillstead threw a pair of touchdown passes, including one to cornerback Smith Snowden in the second quarter that changed everything, as the Falcons blanked Fremont 31-0 Thursday night to kick off another high school football season across the state.
"The energy changed, and energy is everything," said Snowden, a three-star cornerback and No. 4 recruit in the state's Class of 2023, per 247Sports. "I think that was a big part of the game, the way it changed the energy."
After a scoreless first quarter, Hillstead found Josh Davis for a 44-yard gain that set up Jeter Fenton's 1-yard touchdown plunge to go up 7-0 with nine minutes left in the half.
The Falcons (1-0) outgained the Silverwolves 193 yards to 56 in the first half, capped by Hillstead's 13-yard strike to BYU target Snowden with 6:44 to go to take a 14-0 lead into halftime.
"We started a little slow, but it came together," said Snowden, who has offers from BYU, Arizona, Arizona State and interest from Ohio State, among others. "I was just on the sideline, and the coach threw me in and told me where to run. I think that really helped us out with the game flow.
"I'm a willing player — willing to do anything for my team. If my coaches need me, I'm willing to do."
The son of former BYU running back Will Snowden is known as a lockdown cornerback, and he did plenty of that Thursday night. But give him a chance on offense, and he can make use of that, too.
"He's really fast," Skyridge coach Jon Lehman said. "He's got tremendous, great speed, and it changes the geometry of the defense because he can really push the field.
"It doesn't matter how fast you are if you can't come down with the ball, either. He's got great hands, too."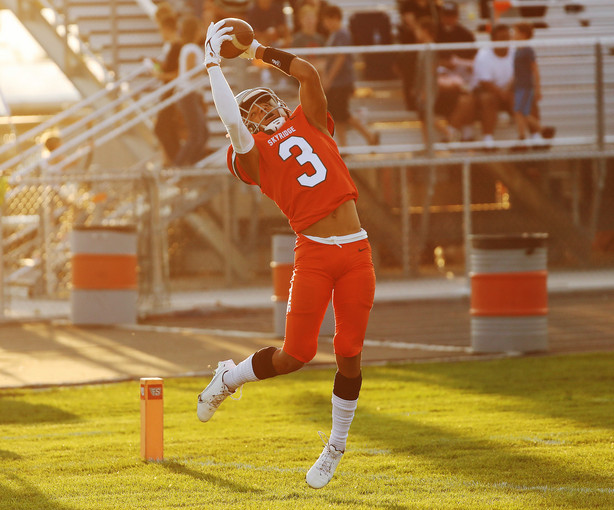 Skyridge's offense eventually woke up, including Hillstead's 80-yard bomb to Teagan Calton in the third quarter. But the Falcons' defense was ready from the jump and through Koen Ericksen's pass breakup in the final minute to preserve the shutout. Skyridge sacked Fremont quarterback Cannon Koford, with drops from Matt Taylor, Stanley Raass, Collin Sheffield, and Jackson Fenton.
It all wrapped up with Sheffield's fumble recovery in the end zone with 9:16 remaining, putting the finishing touches on a Week 1 shutout.
"This feels good," Snowden said, before pausing, "but we're not done. We're definitely not done."
Hillstead completed four passes in the first half, but the biggest was perhaps the 44-yarder to Davis to set up the Falcons' first touchdown.
In the first competitive game of the fall, Skyridge's offense fell flat in the opening quarter, including fumbling the ball on the 1-yard line on the second drive of the game.
"I thought McCae was incredible early, but we had a couple of drops and some first-game jitters that stagnated us in the red zone," Lehman said. "So that touchdown coming back to Smith was a big play, and it created a lot of energy for us."
Fremont's Hayden Hall caught seven passes for 58 yards to lead the Silverwolves (0-1).
Skyridge travels to Woods Cross next week on Friday, Aug. 20 at 7 p.m. Fremont opens its home schedule next Friday against Region 1 rival Roy.
×
Photos
Related Links
Related Stories