SALT LAKE CITY — It's been 262 days since Corner Canyon wrapped up its third consecutive state title with a 45-7 win over Region 4 rival Lone Peak in the 6A state championship game, and expectations have never been higher for the Chargers.
The Chargers open the 2021-22 season in a familiar spot in the state's two biggest high school football polls at Deseret News and KSL.com — at No. 1 in the combined classification rankings.
Despite losing record-setting quarterback Jaxson Dart (USC), all-state offensive lineman Jackson Light (Oregon), and all-state receiver Noah Kjar (Weber State), the Chargers return five starters on offense, nine on defense, and are primed to build on a 40-game winning streak. If Corner Canyon can make it through the regular season unbeaten, it will top the state's longest winning streak of 48 games.
The team in Draper hasn't lost a game since New York Jets quarterback and former BYU star Zach Wilson was committed to Boise State.
But first things first: the Chargers' season opener Friday against Farmington and a brutal grind through Region 4, which will likely present the biggest tests on Corner Canyon's schedule.
The season starts Thursday night when Skyridge hosts Fremont at 7 p.m. The game will be broadcast on KJZZ.
Follow KSL.com's Prep sports coverage here.
Below are the first rankings of the KSL.com high school football Top 20+1. Plenty of movement should be expected in the first few weeks, but most Region 4 teams are equally expected to provide Corner Canyon with optimal resistance to another unbeaten season.
1. Corner Canyon
It's not easy losing major talent like Dart, Light, Kjar and running back Austin Bell. But the Chargers reloaded by bringing in Arizona transfer quarterback and USC commit Devin Brown, the state's No. 1 prospect in the Class of 2022 by 247Sports. He has been splitting reps with sophomore quarterback Isaac Wilson, the younger brother of Zach and another BYU target.
Corner Canyon's success this season, though, may be more contingent on the Chargers' defense, a side that allowed just 16.4 points per game in 2020 and returns No. 5 prospect in the state Harrison Taggart at linebacker to lead nine returning starters.
2. American Fork
Returning state finalist Lone Peak or offensively explosive Skyridge could be the next-best contenders to the Chargers' dynasty. But it's hard to look past the overall talent of American Fork, which brings back six returning starters from the second-best offense in 6A a year ago that averaged 41.9 points per game.
Led by Boise State commit Maddux Madsen at quarterback, the Cavemen brought in Carsen Ryan from Timpview after the state's No. 8 prospect committed to UCLA in the offseason to pair with tight end Noah Moeaki, the No. 9-ranked prospect who has committed to play linebacker at BYU.
Keep an eye on two-way ace Fisher Ingersoll, the all-state baseball player who counts BYU among his offers, who will suit up at wide receiver and cornerback on the gridiron.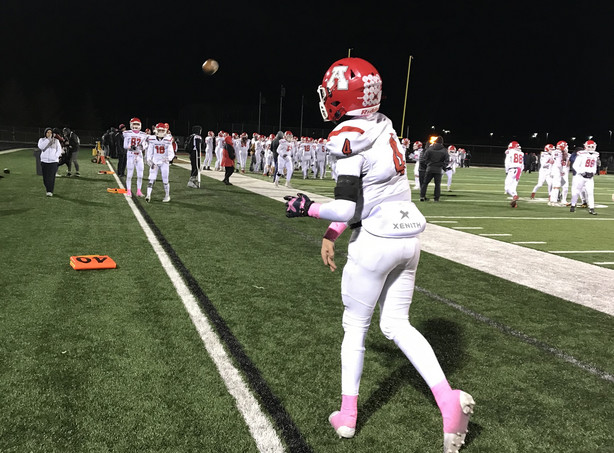 3. Lone Peak
The strength of the Knights for several years has been in the defense, led by defensive coordinator Ryan Denney, who brings back five returning starters on that side of the ball. That includes middle linebacker Luke Durfey, who racked up 129 tackles, five sacks and an interception while helping the Knights to a 12-2 season a year ago.
How soon new quarterback Easton Comer steps into the starting role will likely determine the early success at Lone Peak, but he'll have weapons in running back Jaxson Willits, wide receiver Crew McChesney and tight end Max Bateman to help power an offense that averaged 34.9 points per game a year ago.
4. Orem
Winners of four consecutive state titles, the Tigers are the clear favorite in 5A. If Orem can secure the bag for a fifth-consecutive season, it will join the most elite company — only three other schools have a streak at least as long, and the last one was Skyline from 1995-99.
5. Skyridge
Perhaps the most explosive returning offense in 2021, the Falcons boast seven returning starters in their spread formation, including second-year starting quarterback McCae Hillstead. He's got a number of weapons at wide receiver (Jack Hadfield, Conner McCallister), tight end (Teagon Calton) and running back (Jeter Fenton), as well as an offensive line anchored by Tapuvae Amaama, the 6-foot-4, 340-pound guard with offers from BYU, Colorado State and Miami, among others.
6. Bingham
Once a dominant power in Utah high school football, Bingham will shift to a spread offense in 2021 with the addition of new coordinator Les Hamilton, who previously coached at Alta and Pleasant Grove before his most recent stop at 2A Summit Academy since 2016.
Can the shift lead the Miners to their first state title since winning the program's fourth in five seasons in 2017?
7. Timpview
Circle Thursday, Sept. 30 on the calendar when Timpview and Orem will face off in another Region 8 rivalry game that will likely play a critical role in deciding the region (and perhaps even state) title. Until then, the Thunderbirds, who lost three Division I starters from a year ago, face plenty of stiff competition early, including Friday's opener against Lone Peak.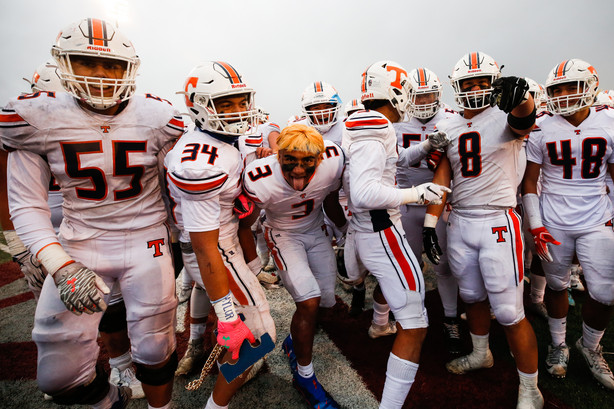 8. East
The Leopards are back in 5A after spending the past four years in 6A, but they'll continue to test themselves against a brutal non-region schedule. East starts by hosting Orem in the season opener Friday, continues next Saturday at Corner Canyon, and includes a game against Lone Peak a week later before opening Region 6 play.
9. Pleasant Grove
Head coach Taylor Walkenhorst inherits just one returning starter — lineman Kort Wilkinson — on offense and four on defense in his first season with the Vikings.
10. Brighton
The Bengals have a lot of holes to fill, but Lander Barton is back on both sides of the line of scrimmage to make up for plenty. The 6-foot-4, 215-pound four-star linebacker is the No. 2-rated recruit in the state, with offers from Utah, Texas, Arizona State and Michigan, among others.
11. Weber
The reigning Region 1 champion Warriors return seven starters on offense, including Utah-bound defensive lineman Aisea Moa and athletic wide receiver Cannon DeVries, who has committed to BYU.
12. Fremont
The Warriors will be pushed by Fremont, which parlayed a young team a year ago in a 5-6 season that ended with a first-round forfeit in the playoffs into one of the most-experienced in 2021.
13. Pine View
The reigning 4A runners-up, Pine View has been viewed by most coaches as the team to beat this year in a classification that shrank dramatically with the latest realignment cycle.
14. Olympus
The Titans have plenty to prove — both to themselves and others — after last year's 6-5 season that ended with a loss to Timpview in the second round of the 5A playoff.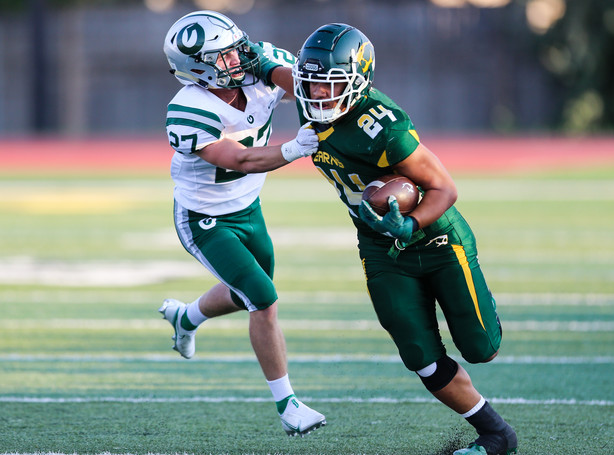 15. Kearns
The Cougars return six starters on both sides of the ball from last year's team that saw its run of three consecutive unbeaten seasons in region play upended by West in the regular-season finale, and ended 8-2 with a postseason forfeit due to COVID-19.
16. Sky View
The Bobcats will be breaking in a new quarterback following the graduation of Kason Carlsen, but they haven't lost since Week 2 of the 2019 season and will still be among the teams to beat in 4A.
17. West
Navy commit QB Karson Lopati returns to lead the Panthers who are coming off a region-championship campaign in 2020. On the defensive side of things, West will be led by linebacker Liutai Kinkikini, a BYU commit, and defensive end Dallas Vakalahi, whose offers include Utah, BYU, Stanford, TCU and UCLA.
18. Lehi
Jackson Brousseau takes over at quarterback for a team that is low on varsity experience. The Pioneers return just three players on offense and only four on defense. Still, expectations remain high for Lehi.
19. Herriman
The Mustangs have finished above .500 just once since winning their last state title in 2015, but they won four of their final six games in the regular season — including a 29-15 victory over West Jordan in the first round of the playoffs — to finish 6-6 in 2020.
20. Alta
Quarterback Ethan Jackson returns to lead an experienced offense that averaged 31.8 points per game last season (5th in 5A). Linebacker Maika Kaufusi, a BYU commit, will headline the defense.
Plus+1. Beaver
Beaver enters the season riding a 26-game winning streak after dominating the 2A classification over the last two seasons. With the new realignment, however, they should have some tougher competition this season, especially considering Beaver will be breaking in plenty of new starters.
The Beavers, who rolled to 13-0 in 2020, will contend with San Juan, South Summit, Summit Academy and Delta in the newly reconfigured 2A — schools that finished in the top half of 3A a year ago.
×
Related Links
Related Stories