Estimated read time: 4-5 minutes
This archived news story is available only for your personal, non-commercial use. Information in the story may be outdated or superseded by additional information. Reading or replaying the story in its archived form does not constitute a republication of the story.
LEHI — As the No. 5 pick in the preseason coaches' poll in Region 4, Skyridge may be one of the more underrated high school football teams on the Wasatch Front.
The only thing more underrated? Their sophomore quarterback McCae Hillstead, who is less than a week shy of his 16th birthday.
Neither will be underrated for much longer.
Hillstead threw for 201 yards and four touchdowns, and ran for another score to help the Falcons roll to a 35-7 win over perennial power Bingham in the KSL.com Game of the Week on Friday night at Skyridge.
And if you believe Skyridge coach Jon Lehman, many more nights like Friday await Hillstead, who connected with Mitch Adamson, Jeter Fenton, James Palmer and Kiai Keone for touchdowns in leading the Falcons to a 2-0 start.
"There's no ceiling for him. He's quick, he's smart, he's talented, he can throw the ball, and he's athletic," Lehman said. "The test of a quarterback is if you can stay focused under pressure when the stakes are high.
"We have a really tough schedule … and to throw a sophomore into that is a great test. What takes the ceiling away is how cool he is in the moment. A lot of talented guys can throw and run, but he never gets rattled."
Whether facing a senior linebacker on blitz-after-blitz in fall camp or staring down the barrel of the Miners' massive defensive line, Hillstead was as calm as when he talked to reporters after the game, praising his teammates — including that same defense that runs him down every day in practice.
Of course, it helps to have a team like Skyridge he can trust, he said.
Fenton ran for 56 yards, and also caught three passes for 48 yards and a 15-yard score from Hillstead for the Falcons, who sacked Bingham quarterback Troy Mehn three times and added another four tackles for loss.
But like any good sophomore, Hillstead was quick to shift the credit for his success in a region that features reigning 6A champion Corner Canyon, Lone Peak, American Fork, Pleasant Grove and Westlake — a group that improved to a combined 12-0 after Friday night.
"We have a really good coaching staff, and really good game plans every week," he said. "We're executing the game plans, our O-line is doing their job, and everyone is doing their job. I'm just there to get the ball to them."
Hilstead completed 14 of 20 passes for 159 yards with three touchdowns in the first half, and ran for another 43 yards, including a 20-yard score.
The Falcons wasted little time in jumping out to a 7-0 first-quarter lead on Hillstead's 26-yard strike to Adamson. The sophomore then added a 20-yard score to open the second quarter, just moments before the Falcons forced a fumble on the ensuing kickoff.
"It's good to get a touchdown, but it's important to stay grounded," Hillstead said. "So after we go score, we just had to move to the next drive.
"With a team like Bingham and a solid defense, you just have to be on top of your game."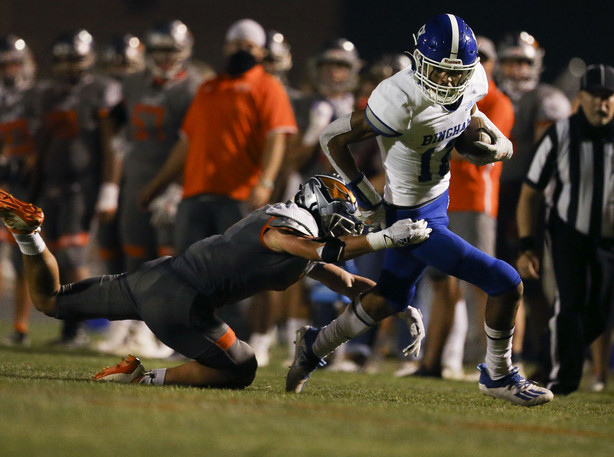 Skyridge converted the turnover into Fenton's score en route to a 28-0 start to the game before the Miners pulled one back through Mehn's 27-yard strike to Isaiah Glasker with just 27 seconds left in the half.
"Our defense and special teams were making big plays tonight," Hillstead said. "We were stoked, and just went and scored."
On their first seven defensive possessions, the Falcons forced three fumbles, forced punts on four occasions, and added a missed field goal before the Miners scored their lone touchdown when Glasker cashed in just before the half.
It was the only time the Miners found the end zone, though.
"Great win for the guys, who really played hard," Lehman said. "They've handled a lot of uncertainty in a good way. They love playing football, they love each other, and they just want to keep it going."
Mehn threw for 126 yards and a touchdown, and Glasker caught four passes for 54 yards. Saia Lomu ran for 47 yards to lead Bingham on the ground.
Skyridge hosts reigning 5A champion Orem next Saturday, Aug. 29. Bingham, which played its season opener Friday after its first game was canceled due to the COVID-19 pandemic, plays next Friday, Aug. 28.
×
Photos
Related Links