Estimated read time: 4-5 minutes
This archived news story is available only for your personal, non-commercial use. Information in the story may be outdated or superseded by additional information. Reading or replaying the story in its archived form does not constitute a republication of the story.
AMERICAN FORK — Maddux Madsen's 6-yard touchdown strike to American Fork teammate Fisher Ingersoll wasn't the most important touchdown of the night.
Maddux, the Caveman catcher who moonlights at quarterback, had run for more, thrown for more, and done as much with plenty of teammates before that strike with 2:04 left in the third quarter.
But for all that Ingersoll had done to spark the Cavemen, that touchdown meant a little more.
Madsen scored three touchdowns, including that backbreaker to Ingersoll to end the third up 28-7 to help the Cavemen hold off Timpview, 31-21 and improve to 2-0 in the 2020 season Thursday night.
"It definitely sparked us," Madsen said of Ingersoll's touchdown. "We came out with a goal to get a nice stop, and then go down and score. When we didn't we needed something going.
"That was huge for us, a momentum carrier — and then we started playing solid offense and wasted clock."
Spike Adams added a 12-yard scoring run, and Noah Moeaki hauled in an 8-yard strike from Madsen to aid the Cavemen, who have combined for 86 points in their first two games of the season.
"We've come a long way, for sure," Madsen said. "We've worked extremely hard, and we've got a good game plan. We'll take shots, and sometimes it won't work. But we can always come back.
"Then being able to run the RPO, to run and pass at any time, is nice."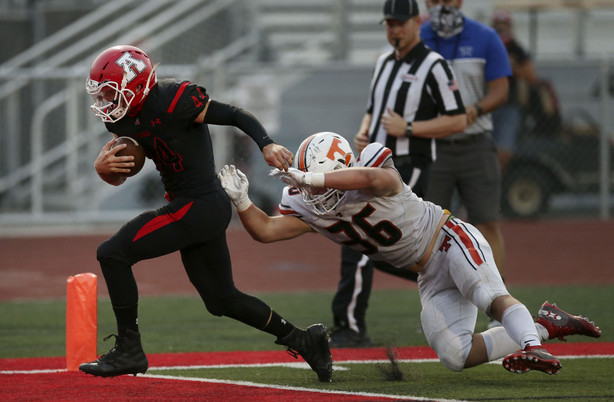 After a scoreless opening quarter, Madsen opened the scoring with his legs, scampering in for a 9-yard touchdown run that put the Cavemen up 7-0.
"I feel like I can pass all day long, and then (defenders) start dropping," Madsen said. "So if they want to drop, I'll take off. We get great blocks from our receivers."
The junior quarterback set up Adams' 12-yard touchdown run six minutes later with a 16-yard strike to Garrison Grimes and a long play to Ingersoll just before it.
After Gabe Shipley pulled down an interception in the final minute, Madsen threw for a touchdown to Noah Moeaki, connecting for an 8-yard TD strike with 46 seconds left in the half to give American Fork a 21-0 halftime advantage.
Pokai Haunga scored his first of two touchdowns on a 1-yard dive to pull the Thunderbirds (0-2) with 21-7 to open the third quarter. But that was as close as they'd get until the final moments of the game due to Ingersoll's touchdown to end the third.
Haunga added an 89-yard sprint off a fourth-quarter pass down the west sideline from Liu Aumavae, who added a 21-yard strike to Daniel Kahio in the fourth. But it was too little, too late for the Thunderbirds.
PJ Nettesheim added a 24-yard field goal in the fourth quarter to help American Fork stave off Timpview's late rally.
Puna Alatini had an interception for Timpview.
The near-comeback proves the Cavemen aren't a finished product. Nor should they be, with a Region 4 schedule ahead of them that includes defending state champion Corner Canyon, Pleasant Grove, Skyridge, Westlake and crosstown rival Lone Peak — a region that is a combined 7-0 to start the year.
"We love challenges, because we know they make you better," said American Fork coach Aaron Behm, whose team shut out Lehi 55-0 in the season opener. "Lehi was a great challenge, Timpview was a great challenge. We just want to get these things to help us prepare for that region schedule."
Apart from delays involving usual timeouts, officiating calls and TV ads, the game was delayed several times as American Fork administrators called attention to mask-wearing and social distancing. The quarter-break midway through the first half was delayed several minutes as athletic director Jeremy Lewis took the mic on the field and required fans in the American Fork stands to move to their properly assigned seating section to allow for adequate social distancing — including in the student section.
If the crowd was seen to disregard mask rules, play was also stopped until compliance was guaranteed. Lewis, whose school had at least one confirmed positive case of COVID-19 over the summer that shut down workouts on the girls soccer team, reminded the group of mostly parents and family members that playing football during a global pandemic requires steps taken by everyone to allow the students to keep playing.
American Fork High School AD Jeremy Lewis stopped his school's football game due to fans not following mask and social distancing requirements.

He would not allow play to resume until fans followed the guidelines. pic.twitter.com/RCq3Jt8nRM

— Stadium (@Stadium) August 21, 2020
Likewise, players from both teams waited on the field while fans were prodded to replace their face-coverings. Regular reminders were also enforced from the public-address system, strongly encouraging the guidelines established by the Utah High School Activities Association and agreed by every school on the Wasatch Front in order to play the fall season.
×
Photos
Related Links