Estimated read time: 4-5 minutes
This archived news story is available only for your personal, non-commercial use. Information in the story may be outdated or superseded by additional information. Reading or replaying the story in its archived form does not constitute a republication of the story.
EAGLE MOUNTAIN — As Orem's Paxton Skipps sat hobbled on the sideline in the final moments of the state championship final with Timpview, all he could do was hope and pray as he watched his defensive players try to get one final stop before that.
Before one drive from the 4-yard line, he had done plenty to help his team earn a win.
But with 1:44 on the clock and the Thunderbirds on the 4-yard line, he just waited. Watched. Hoped. Prayed.
And trusted.
Trust secured.
Playing with a pulled groin, Skipps ran for touchdowns and added an interception on defense as the Tigers held Timpview to 6 points for most of the night and put the game away with one final goal-line stand, 26-13, to clinch a fourth-straight title in the Class 5A state championship Friday at Cedar Valley High School.
"We preached all year trust: trust in your teammates, trust in your preparation, trust in your ability, in your eyes — and at the end, they trusted each other," Orem acting head coach Gabriel Sewell Sr. said. "I am my brother's keeper, so if something happens, we have to be there to pick them up. The defense did just that."
The championship marks the first four-peat in Orem High history, the fourth run of four-straight in state history, and the first four-peat since Duchesne's run from 2010-13.
The key to the season for the Tigers (8-4) has been trust: trust in the line, trust in the teammates, trust in a coaching staff that was thrown into upheaval when former head coach Jeremy Hill stepped down midway through the season.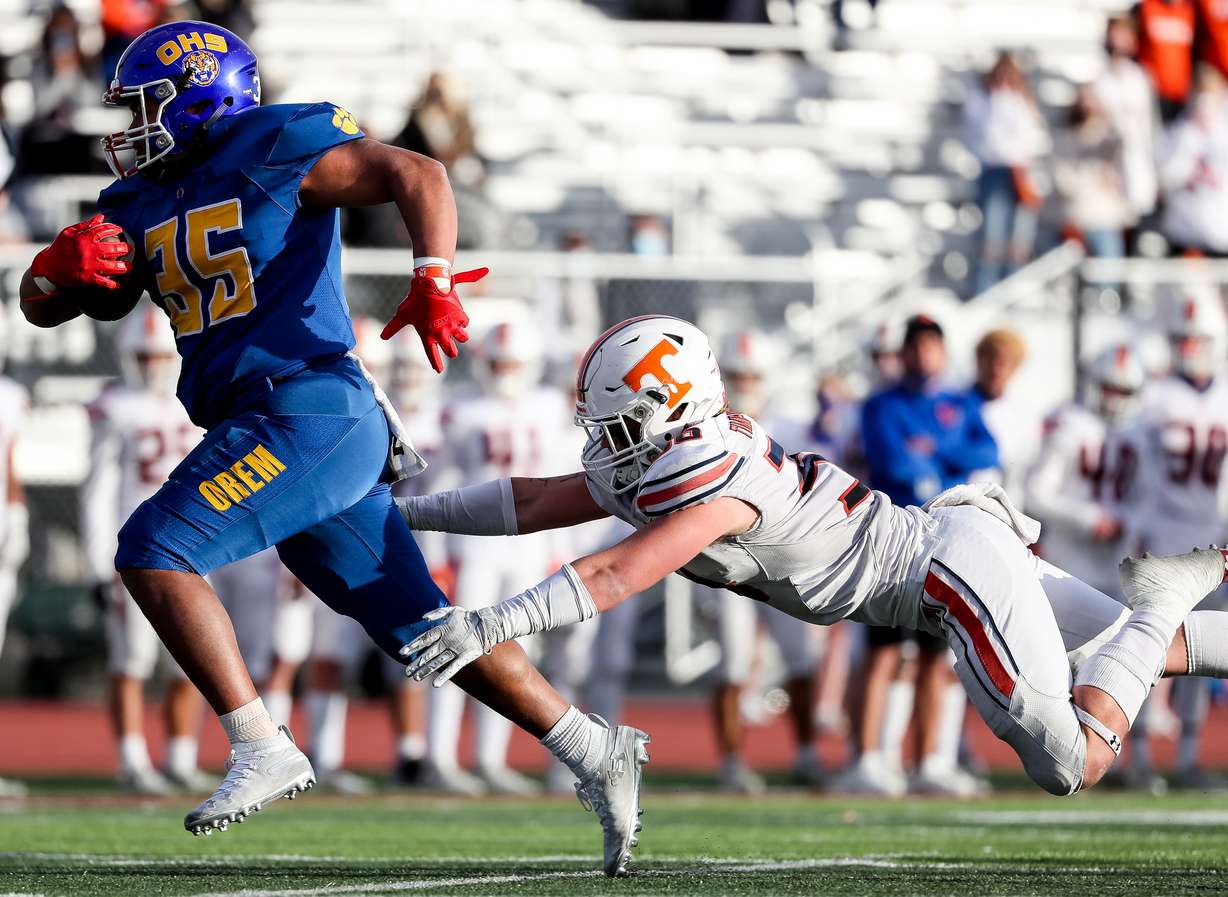 Trust in playing during the COVID-19 pandemic, when as many as four-straight games were canceled.
Through it all, they trusted. And on Friday night, that trust paid off.
"The kids, this is all about them," Sewell said. "It's our job as coaches to funnel that energy the right way. In life, you have to overcome things and persevere. They did that tonight."
When Orem's much-ballyhooed matchup with Region 7 rival Timpview (7-5) was canceled due to COVID-19 concerns during the regular season, Skipps admits he was upset — or disappointed, at least.
But he didn't panic. He had a feeling they'd see the Thunderbirds again. Much like a year ago, that rematch came with a title on the line.
"We knew we were going to get Timpview in the end," Skipps said. "Timpview is a hell of a football team, so we have to prepare for them, and for us to do that, we were able to win another one.
"It was definitely worth the wait. It would've been fun to play them in the regular season. But the wait? It makes it feel just a little bit better."
Timpview took a 6-0 lead after the first quarter when Liu Aumavae hit Ammon Key with a 37-yard touchdown strike just 90 seconds before the end of the quarter. Skipps tied up the game on the Tigers' next drive, skipping in from 36 yards to open Orem's scoring.
The senior who has won two titles in two years at Orem doubled the advantage with a 2-yard run with 11:51 left in the third, finishing off Tyson Ngaya's 16-yard sprint inside the five.
That unlocked Orem's offense, particularly in the run game.
"It was beautiful," Skipps said. "I've never scored a touchdown like that before; this was a first. But I couldn't do anything like that without my O-line and my fullback. Without their blocks, I can't take all 11 by myself.
"They were saying I kicked it in second gear. But I just felt all those other past football players pushing me out."
Fellow running backs Joe Smith and Kolton Brown-Dye each plunged as Orem controlled the game for the next 1 ½ quarters, including Brown-Dye's 23-yard run that gave the Tigers a 26-6 advantage.
But Aumavae hit Key with a 15-yard strike with 5:07 left to pull within 13 and set up a frantic finish that didn't settle down until the Tigers' front stopped the Thunderbirds on four-straight run plays from the 4-yard line in the final two minutes to seal the victory.
To end it on a goal-line stand with the Tigers (8-4) taking a knee just a few yards from the end zone was the perfect way to celebrate.
"I was emotional on the sidelines. I tried to run in, and they told me to stay out," Skipps joked. "Really, I couldn't stand. I was held up by my boys, and I started crying. I just had to rely on my brothers to do my job for me.
"With that defense in, that was beautiful. It was a statement. You only had a few yards, and the defense stopped you. It's a testament to the work we've been putting in, to stop that."
"I'm happy with two. But I bet you my team is really happy with four."
Scoring summary
First quarter
1:32 TV: Ammon Key, 37-yard pass from Liu Aumavae (run failed)
Second quarter
11:51 OR: Paxton Skipps, 36-yard run (kick failed)
Halftime — Tied 6-6
Third quarter
10:19 — OR: Skipps, 2-yard run (run failed)
4:11 — OR: Joe Smith, 6-yard run (Fe'a pass)
Fourth quarter
8:30 — OR: Kolton Brown-Dye, 23-yard run (kick failed)
5:07 — TV: Key, 15-yard pass from Aumavae (Taylor kick)
Final — Orem 26, Timpview 13
×
Photos
Related links
Most recent High School stories