Estimated read time: 6-7 minutes
PROVO — When the BYU football team opened practice for the first day of training camp Thursday, the look was mostly normal — a sincere attempt to put the wild season that was 2020 fully in the rearview mirror.
But the sometimes apocalyptic-feeling year continues to rear its ugly head, with the reminder of another potential surge in COVID-19 infection rates as the state reported 1,096 new cases and seven deaths attributed to the virus on the same day.
The "pandemic of the unvaccinated" continued its grip on the state, the nation, and much of the world — and even on a campus that has often been described as a "bubble" in other regards, the weight of the pandemic was still firmly felt.
Which is why head coach Kalani Sitake, many of his assistants, the program's sports medicine department, and even several players have taken an active approach of education and messaging with hopes that the COVID-19 vaccine can end the current surge and protect the upcoming season, in addition to health and lives.
"We've been communicating really well with them, from the sports medicine department and also our administration," Sitake said. "I think it's important to educate the players, as well as the staff.
"The coaches need the education just like the players do. All of us do, right? I'm concerned about the well-being of everyone. But that's not my expertise. My expertise is to get these guys in position for a game."
Sitake wouldn't say how many vaccines have been administered among his players and coaching staff, but those reports will have to be submitted to the university in order to make preparations for the upcoming fall semester, BYU announced Tuesday. So even as a pair of videos of two assistant coaches posted on Instagram showed a less-than-enthusiastic Preston Hadley and Kyle Griffitts — hesitant for whatever reason — receiving the vaccine, the plan is to vaccinate as many as possible.
One caption from Hadley said, "Brother Brigham made him do it," while graduate assistant Griffitts received his shot. A follow-up video from Griffitts' account shows Hadley receiving his own shot, with eyes closed, lips pursed, and the caption: "the look of a defeated man."
No one wants to derail the season, especially not the follow-up to the 11-1 campaign of 2020 that has been deemed the Cougars' most successful since 1996.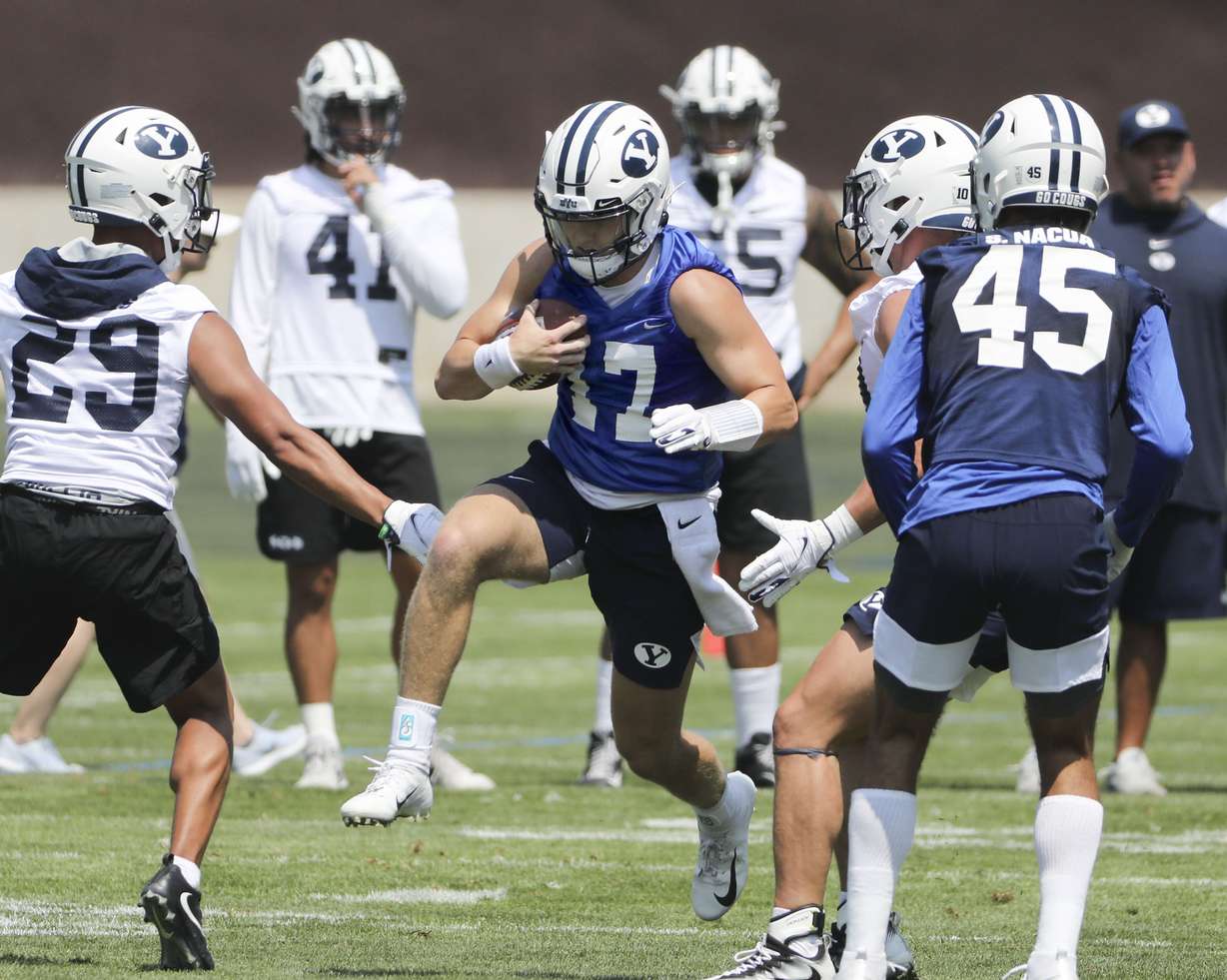 A BYU spokesperson confirmed the athletic department does not plan to release numbers of vaccinated individuals, adding that the school recommends vaccination for students and faculty, when possible. The video is proof, however, that at least some of the coaching staff is being vaccinated, and players are also signing up for their own dose.
Most of the players have received or begun to receive the vaccine, which is usually administered in two doses, BYU wide receiver Puka Nacua told KSL.com. While not required, the campaign of education has steadily convinced plenty of players to get vaccinated — even while the program implements other CDC-recommended protocols such as masking in indoor spaces and continued social distancing where possible, in many cases, regardless of vaccination status.
"We've had a little bit of talk about it — nothing too crazy. We had a few meetings about it, and I'd say a majority of the guys are vaccinated already," Nacua said. "So I think we're a little bit ahead of schedule. But there hasn't been an issue that has caused us to talk much more about it.
"Guys are wearing masks again, we're spacing out a bit more, but I think a majority of guys are vaccinated."
Some universities around the country are requiring students (and athletes) to be vaccinated in order to return to campus, but BYU isn't one of them. Only Westminster, a private college, will do so across the state's higher-education institutions, but BYU is asking students and faculty to self-report their vaccine status by Aug. 19. After that, the school will begin restricting access to myBYU, the university's student management system, until the report is received.
"Data about the BYU community vaccination rates will help inform policy decisions for the upcoming semester, such as mask requirements," the university said. "Personal information submitted in the survey will be kept private and secure. Only authorized BYU personnel with a need to know will have access to this personal information."
The NCAA also released a "resocialization of collegiate sport" document Wednesday that aims to provide guidance for vaccinated and unvaccinated individuals. While not requiring the vaccine, the top oversight committee of collegiate athletes will provide several incentives for athletes and coaches to receive the dose, be it from Pfizer, Moderna, Johnson & Johnson or any other approved source.
"Current vaccination rates remain inadequate to provide community-level immunity," NCAA chief medical officer Brian Hainline said as the organization released the report. "It is essential that member schools work in concert with federal, state and local public health officials to develop COVID-19 prevention and management strategies that make sense for them."
Those who have been fully vaccinated will not be required to test for COVID-19 unless they exhibit symptoms of the virus; unvaccinated individuals must submit to a single polymerase chain reaction test within three to five days of arrival on campus, followed by weekly PCR testing during the season or thrice-weekly antigen testing when competition is scheduled.
The NCAA and most conferences, including the Mountain West, will no longer subsidize testing, either. Those costs will be deferred to individual institutions and, if necessary, could be deferred to the coach or athlete.
"Last year, there was no vaccine," Mountain West commissioner Craig Thompson said in unveiling the league's updated protocols. "Last year, there was not a choice to be made. This year, there is. We will not mandate as a league vaccination, but there will be consequences if you are not able to participate as a team."
If a team is unable to play during a given week due to virus cases and quarantines, that team will forfeit to their upcoming opponents. No more "no contest," but a loss instead.
"It's everybody's choice, right? Obviously we want to play and we want to have the opportunity to get through a full schedule healthy," BYU quarterback Jaren Hall said. "That's our focus — keeping everyone healthy. But at the end of the day, it's everyone's personal choice.
"With regards to playing football, we know what certain conferences and people might request. It's just kind of a decision to make when the time comes."
That is, perhaps, the biggest incentive for BYU, as well as other schools: the chance to play football. The Cougars were once the only program west of Texas playing the 2020 season, and one game on the schedule (against Army) was canceled due to a large number of cases within the program.
Whether for safety, for football, or for both, they don't want that to happen again.
"I don't know the details of it all, but I know that it's important for us to get on the field," Sitake said. "We've done a great job as a program working with our sports medicine department to get on the field, and we're continuing to do that now.
"It's important to educate our players, and to work with our sports medicine department to get our guys on the field and help protect the community."
×
Related Stories