LAS VEGAS — College football players won't be required to receive the COVID-19 vaccination in order to play this fall.
But in one local and regional conference, the consequences of continuing unvaccinated will be significant.
In his annual state of the league address at Mountain West media days, league commissioner Craig Thompson said the conference will no longer subsidize virus testing at its 11 member schools. But if a coach or athlete remains unvaccinated, he or she will still be required to test frequently — at least weekly — in order to continue to participate in competition.
The move comes as more schools contemplate a full reopening for the fall, including local Mountain West member Utah State. The university recently said it plans to offer at least 75% of classes on an in-person basis.
"Last year, there was no vaccine," Thompson said. "Last year, there was not a choice to be made. This year, there is. We will not mandate as a league vaccination, but there will be consequences if you are not able to participate as a team."
Moreover, if a college football player tests positive, he will be suspended from competition until a full recovery is complete. If a team cannot field a full roster of play, games will be forfeited — not deemed a "no contest" like last year.
"Individuals will either be considered vaccinated or unvaccinated," Thompson said. "Vaccinated can play on — no testing required. For the unvaccinated, testing will still be required, with at least a weekly cadence, as determined at the expense of the school."
Each institution may also pass on the expense of testing to the athlete requiring testing, though no such policy will be in place for the conference, which ranges between Utah, Colorado, Wyoming, New Mexico, Idaho, Nevada and California.
Utah State first-year coach Blake Anderson didn't have exact numbers, but said his team is around 60% vaccinated, including himself and the coaching staff. He's unsure if the team will be 100% fully vaccinated by the season's start date on Sept. 4 at Washington State, but he said the numbers are rising thanks in large part to recent campus events emphasizing vaccines.
"Kids are going to have to make decisions based on what they think is important and what they think they can do. All we can do is encourage them and then manuever around whatever protocols are in place, at that point," Anderson said. "After watching last year, I think it would be hard to maneuver the season unvaccinated. I would tell them that the chances of getting through the season without gaps — without missing games — without the vaccine are small."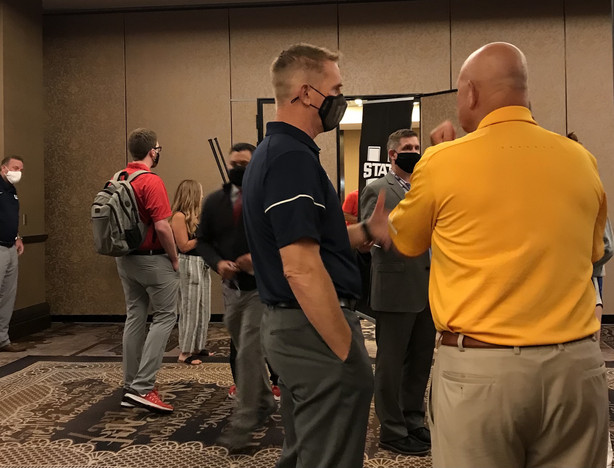 Thompson said seven of the conference's 11 team's are upwards of 88% vaccinated. The average vaccination rate across the conference is 74%.
"We're getting close, and coaches are diligently trying to convince their teams to get vaccinated," Thompson said. "It's the best defense against the virus.
"There is science to support being vaccinated. We're trying to create a consequential situation. You have a choice, but if you choose not to be vaccinated there may be a consequence."
Requirements for fans will remain up to each individual school, in consultation with local, state and regional health authorities.
Boise State coach Andy Avalos declined to say how much of his team has been vaccinated. But he did say his staff has worked to educate the players on the vaccine, including bringing in team doctors, athletic trainers and other medical professionals to speak to them about the importance of vaccination.
Part of their efforts have also involved preaching the importance of playing — and winning — to accomplish their goals, both personally and as a team. One positive test could knock out several teammates due to contact tracing, and schools could be required to recoup lost television revenue, ticket sales and other financial compensation from the forfeiting school.
"Now that we're really getting to it, we're having real conversations," Avalos said. "This is why we've provided the opportunity to get vaccinated.
"It's real now. There are so many unknowns, and a lot of things can change. We've seen masks, being required, then taking them off and coming right back. So is this going to change by the time the season comes? At this point, we understand that it probably isn't. And if we don't want to put ourselves at a disadvantage competitively, they want to be able to play without these distractions."
Conference expansion is back
Moments after the Houston Chronicle dropped a bombshell report that Texas and Oklahoma has reached out to the SEC about joining the league, Thompson approached the podium for his annual address.
The report, and another from The Athletic stating that Texas has been "exploring other options for some time," illustrates the fickle nature of college football, conference expansion, and could throw new ammunition into the next expansion cycle. Thompson was asked about the hypothetical expansion, and what it might mean for his league, but he declined to comment nearly 10 years after the latest round where the Mountain West was a key player.
"I'm not a hypothetical guy, and I don't even know the validity of the report," Thompson said, before adding, "My pocket has been buzzing. I've had several commissioners and athletic directors call, 'What does this mean?' That's the nature of the world we live in today. Anyone can say anything, true, factual or otherwise, and it goes far.
"On this one, I'm not even going to speculate if it's accurate or not. No offense to the Houston reporter who has his sources."
Playoff expansion, too
Thompson was on the College Football Playoff working group that presented the option of expanding the current four-team playoff to 12 teams by or before 2025. He said the CFP's working group will "in all likelihood" vote on the current proposal in December and will then decide how soon to implement the new playoff structure.
But the expansion — tripling the number of participants in size and granting automatic bids to the six highest-ranked conference champions, regardless of Power Five or Group of Five affiliation — can only be seen as a positive to the Mountain West from the current system, Thompson said.
"What it will mean is that a 1-2 loss Mountain West team has a very strong possibility of being in the playoff," he added, "with one of the six highest-rated spots with a conference championship. It's going to bring a new meaning to our conference championships."
It could also lead to a change in the conference calendar, including the abolition of division play or playing in "quasi-divisions" that preserve geographic rivalries but do not separate conference and divisional wins. Those conversations would be held at a later date, pending what most consider to be the likely approval of the 12-team playoff.
"In full candor," Thompson said, "we spent about two minutes on it this morning."
×
Photos
Related Stories