Estimated read time: 8-9 minutes
LEHI — Lindsay White hated every second of breastfeeding her first baby. Nine years later, she has an entire business and online community dedicated to breastfeeding.
Despite many people telling her that it is a natural function, it definitely did not come naturally to White and her daughter Allie. And then there was the isolation.
As a new mom, she already felt so alone. When she did manage to get out of the house, the time always came when her daughter was hungry. White would excuse herself to a different room, where her daughter spent an average of an hour and a half nursing. By the time the baby was done, the fun would already be over and any chance for social interaction was gone.
When she got pregnant with her son, Koda, four years later, she promised herself that she would have the confidence to feed him in public so she could meet her baby's needs and still meet her own social needs.
"Making that one mindset change changed everything for me," she said. "I fed him when he needed to be fed, and life went on as usual. Most people didn't care at all. It was more of an issue in my mind."
At the time, she had started her own business sewing baby leggings and selling them on Etsy. Being creative and being able to embrace her lifelong desire to be an entrepreneur was fantastic, but the business wasn't turning out a large enough profit to live off of, and she was the breadwinner for her little family.
Then one day, an interaction at a wedding she was attending led her to a new business idea that would eventually place her on Forbes' "Next 1,000" list of entrepreneurs, raking in a five-figure profit in a single day:
"Shouldn't you go to the bathroom to do that?"
White was breastfeeding her son, Koda, without a cover at a wedding when her mother came over, disapproving.
"No thanks," she responded. "We're comfortable here."
Five years before, she would have been mortified if someone had confronted her like that and would likely have retreated to the bathroom, crying. Now she stood her ground, and her mom left for the dance floor.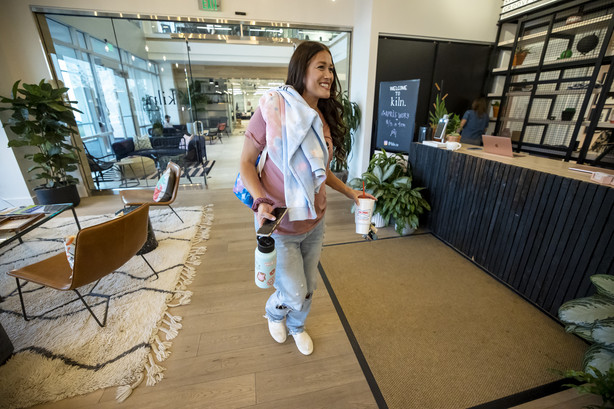 "I thought, 'I wish someone had told me that I could say that with Allie,' that my life could go on like normal, that I didn't have to go to Target and feed my baby in a dirty bathroom stall," White recalled. "I thought, 'I want to be that person, that best friend for everyone out there.'"
In April 2018, she went home and sat at her kitchen table and started her business — the Little Milk Bar. For her first photo shoot for a product, she decided to be bold, even if she was terrified. She strode down SoDa Row in South Jordan with a coat on and no shirt, feeding her baby. Because of the placement of her baby and the coat, the majority of her skin is covered in the photos. When she got the photos back, she showed them to her mom.
"I remember being terrified of what she was going to say," White said. "One of my mom's friends said, 'I think I've seen more of Lindsay's boobs in the last week than I have of my own.' With that comment, I almost scrapped the whole thing. I thought, 'Maybe I am being too loud about this.'"
But then her husband, Pete, reminded her that getting over this fear was exactly the point of her business idea. If she was going to help others to get over it, she needed to get over it first. So she posted the photos, and the response was very positive, even garnering a fair amount of press coverage.
She had done the research and knew that breastfeeding without a cover could actually be very beneficial for babies because infants like to look at their parent as they nurse and make eye contact in order to feel safe. Babies under covers can also get hot and sweaty, and newborn mothers can struggle to get a latch while using a cover.
"When mothers are anxious, the baby isn't going to relax and eat. It's nearly impossible," she said. And being forced to eat in a dirty bathroom is "like going into a restaurant and ordering a grilled cheese, and then your chef goes and prepares it in an unsanitary bathroom stall."
Babies grab things and are always touching things, and newborn babies are still developing immune systems and building antibodies to fight infections, so feeding a baby in a bathroom stall just isn't healthy, she continued.
So White began using the hashtag #DroptheCover to inspire parents to nurse without a cover, if they choose to. Though she added that she supports people feeding their babies in whatever way they want or need to.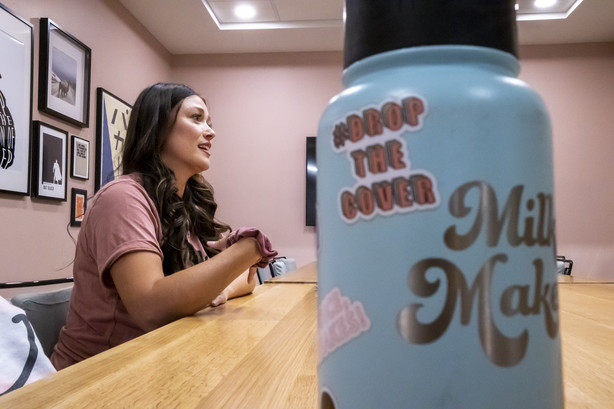 She designed T-shirts with the words "Milk Maker," and ordered the minimum quantity, trying to play it safe. They sold out in 24 hours. So she ordered double quantity. That batch sold out in 48 hours. The orders showed that there was definitely a need, and her products were filling it, but there was still a fair amount of controversy surrounding a brand that promoted public breastfeeding, especially in Utah.
When White reached out to other local small businesses that focused on parenting and children, to collaborate or help promote for her first big launch, a lot of them declined.
"These businesses and influencers gave us a lot of nos. They said, 'I don't believe in it,' or 'that's disgusting,'" she said.
But that didn't stop her success. Soon she expanded her products into mugs, stickers, water bottles, sweatshirts, jewelry and shirts with slogans like, "Milk on tap" or "Milk bar open 24/7."
She also began building an online community through Instagram that focused on educating and empowering other breastfeeding parents and normalizing breastfeeding.
Every year White, who is Latina, visits her family in Mexico and is inspired by the way people just breastfeed wherever they need to, even taking your order at a taco stand, and no one bats an eye. She uses her platform to introduce diversity and representation into the mostly white online lactation community.
The Little Milk Bar account now has over 111,000 followers on Instagram and over 139,000 on TikTok, but they were hard-won. The controversy surrounding breastfeeding made producing online content and marketing products online challenging. Any ads and some posts featuring pictures of women breastfeeding were flagged as nudity or sexual content and taken down.
"We weren't even allowed to run ads the first year," White said. "How can we empower women when our pictures keep getting taken down? Why are ads allowed that show women in swimsuits and lingerie that show far less (coverage) than a woman breastfeeding? I mean, I support women wearing whatever they want, but it is a double standard."
She put together a petition that gained 20,000 signatures in the first 24 hours. Instagram did not directly respond to the petition, but they have allowed more ads that feature breastfeeding. To "clap back" at this stigma, in her latest launch featuring a pink and blue tie-dye sweat set, White put together a campaign of mothers nursing their babies while wearing cat masks.
"Why is it that when we see an animal like a cat feeding her kittens, we immediately tilt our head — 'Aw, that's so cute' — but as soon it's a human mother feeding her baby that that instantly changes to, 'Ew, that's so gross. That's inappropriate. She needs to cover up.' We're here to change that," she says in the video.
The video ends the way that almost all of the captions on the account end: "Use your voice, even if it shakes. We have your back."
The "we" is referring to the large community supporting lactation and breastfeeding or "lactivists." Even though White runs almost all of the business herself, while outsourcing customer service and fulfillment, she frequently used the pronoun "we" throughout the interview because of all the people she engages with online. White describes the Little Milk Bar as "a community first that just happens to sell merchandise on the side."
She frequently offers free coffee, hair blow-outs or dinner to her Instagram community because that is what drives her to do well with her company. If she sells more merchandise, she can give back more to her online community.
"I wish I could give (free coffee) to every single mom that reaches out to me because they deserve it, but I can't. If I was Jeff Bezos, I would," she quipped.
This latest launch for World Breastfeeding Week has been the most successful to date, and her press boxes sold out within the first four minutes. She encouraged people to set their alarms so they wouldn't miss out on the merchandise.
And since the beginning, White has maintained her initial purpose: to let new mothers overcome that fear and discomfort and know that they should be able to feed their baby however they comfortable doing it.
"I would tell a mom breastfeeding in public for the first time two things: One, no stranger's opinion ever comes before your baby's hunger. This baby is the most important thing. And two, use your voice, even if it shakes. We have your back," White said.
×
Photos