SALT LAKE CITY — With Utah's surge in COVID-19 cases sparked by the highly contagious delta variant not expected to slow until this fall, public health officials are calling on Utahns to mask up in addition to making sure they are fully vaccinated against the deadly virus.
"We need to normalize wearing face coverings again," Salt Lake County Health Department spokesman Gabe Moreno said Monday, shortly before the Utah Department of Health reported 2,244 new COVID-19 cases and 15 additional deaths from the virus since Friday.
"We know that with the delta variant produces higher viral load in vaccinated people and therefore making them more contagious than other variants did," Moreno said. "We need to make sure we're wearing masks in indoor spaces and around other people whose vaccination status we do not know."
The state health department's advice is less sweeping.
"We recommend unvaccinated people choose to wear masks in indoor settings. Of course, we're always watching how the virus and the pandemic are evolving, but at this point have not changed our guidance regarding masks for these two populations (vaccinated and unvaccinated)." state health department spokesman Charla Haley said.
Later, the state health department released a "strongly recommended" list of "layered prevention strategies" for K-12 schools, including wearing a mask when indoors, social distancing, good hygiene and encouraging vaccinations.
The federal Centers for Disease Control and Prevention recently reversed a previous recommendation that the fully vaccinated no longer need to wear face masks, saying now that all Americans in COVID-19 hotspots should mask up in public regardless of their vaccination status. The same goes for everyone in K-12 schools.
But in Utah, state lawmakers lifted the statewide mask mandate in April and passed new laws limiting the power of other entities to impose COVID-19 restrictions, including mask mandates in schools, a situation that leaders of the GOP-controlled Legislature have made clear isn't likely to change despite the latest surge.
Han Kim, a professor of public health at Westminster College in Salt Lake City, said the situation in Utah is likely to get worse before it gets better, especially since the state has the nation's youngest population and the vaccines are not yet approved for those under 12.
"We have slightly better vaccination numbers than Arkansas, but we do have a younger population that can't get vaccinated," Kim said. "Numbers, how high will they get? The models that I've seen indicate that this surge won't peak until September or October because the big concern is, in a few weeks, kids go back to school."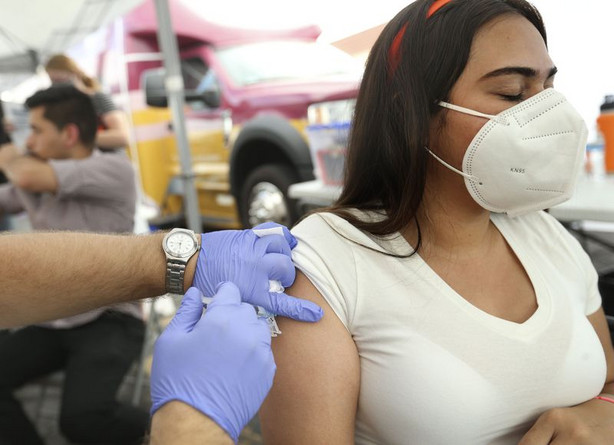 Dr. Eddie Stenehjem, an infectious diseases physician at Intermountain Healthcare, the region's largest health care provider, warned last week the coming school year could be worse because of the dominance of the delta variant first reported in India, believed to be as easily transmissible as the chickenpox.
"You're going to see this virus transmit in schools. And then those children are going to take the virus back to their homes and transmit it to susceptible parents and susceptible grandparents. That's just a fact. We know that if you put 30 people into an enclosed room, you're going to get transmission," he said. "This is a different virus."
Stenehjem said he's "skeptical" measures like separating students and encouraging hand-washing will be enough to slow the spread. "We know that masking works," he said, adding that if his children were old enough to be going to school, they would be wearing masks.
The University of Washington's Institute for Health Metrics and Evaluation estimates that daily COVID-19 infections in Utah may not peak until mid-September, at more than 4,500, if the population returns to pre-pandemic behaviors despite increased numbers and lagging vaccination rates, considered the worst-case scenario.
However, if 95% of Utahns wear masks in public — the best-case scenario — that estimate drops to around 224 cases by mid-September. By mid-October, the institute estimates up to another 146 Utahns could be dead from the virus — a number that drops to another 51 if everyone wore masks.
Not being able to return to mask mandates has frustrated some local officials. Dr. Angela Dunn, now head of the Salt Lake County Health Department, called it "futile" to attempt to make mandatory her recommendation that children too young to be vaccinated wear masks to class when the new school year starts.
Salt Lake County Councilman David Alvord posted on Facebook that he's "had my county email light up with mostly opposition to bringing back the mask mandate on our schools" and said he's inclined to deny bringing back a requirement that face coverings be worn in schools if it came up for a vote.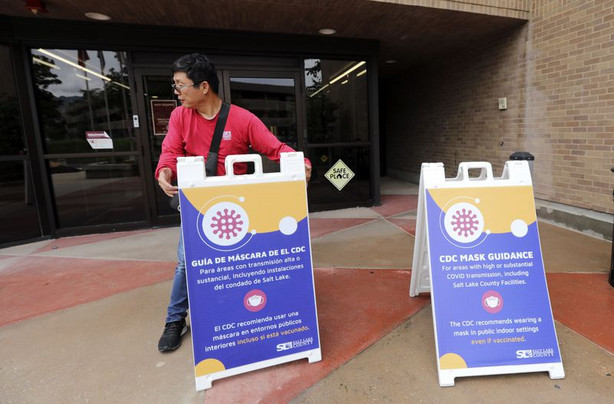 "Healthcare decisions should be made by individuals, and made by parents of children. I suppose if there was a worse virus, something like the bubonic plague, I may feel differently, but there again, we'd probably have everyone more willing to get the vaccine in that scenario," the councilman said.
Salt Lake City Mayor Erin Mendenhall was able to put in place a mask mandate for the city's 3,000 workers while they're on the job, as well as for members of the public, including children 3 and older, visiting city government facilities, but the Legislature has made imposing a similar mandate at the county level much harder.
Salt Lake County Mayor Jenny Wilson said in a statement she backs everyone masking up in county buildings.
"Although nothing is as effective at ending the COVID-19 pandemic as vaccines, we know that masks still help prevent the spread of the virus," Wilson said, adding she's supporting Dunn in recommending "that all wear masks while in public areas of our county buildings, whether vaccinated or not."
The Summit County Health Department issued a statement saying "all potential measures to mitigate COVID-19 as allowed by current legislation" are being considered in light of the latest CDC recommendations, pointing out the department is "severely limited" by lawmakers' actions.
Kim isn't expecting to see new mandates in Utah anytime soon.
"It's really so politicized here, I don't see much," Kim said. "Given the national Republican leadership's response to this, I'm a bit pessimistic. Maybe something. Unfortunately, these governments only seem to react when numbers get really bad."
×
Related Stories