SALT LAKE CITY — Another round of storms made its way across Utah Sunday, resulting in flash floods and flooded streets.
Multiple areas throughout the state measured over an inch of rain as of Sunday night:
2.83 inches in the upper Avenues area of Salt Lake City
2.76 inches in east Bountiful
2.14 inches in Stansbury Park
1.79 inches at the University of Utah
1.56 inches in east Farmington
1.11 inches at Olympus Cove
1.01 inches in Tooele
The National Weather Service issued multiple flash flooding warnings throughout the day for areas including Davis, Emery, Garfield and Wayne counties.
Earlier in the day, Enoch in southern Utah experienced a flash flood emergency, causing the city to issue a state of emergency. The mayor said 2.5 to 4 inches of rain fell in the space of two hours and more than 200 families were affected by the weather.
"This looked like the Mississippi River had come into our community," said Rob Dotson, the city manager of Enoch in Iron County.
The American Red Cross set up an evacuation center at a church at 61 N. 900 West in Cedar City for residents impacted by floods in both cities.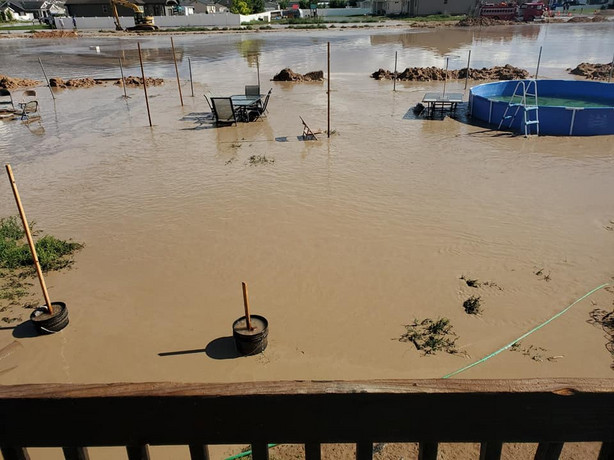 In Tooele County, 34 houses, three city facilities and three businesses were damaged after a flash flood at 6:30 p.m. Assistant County Manager Britany Lopez said 2.7 inches of rain fell in the area. Residents were encouraged to call 435-833-8155 if they need sandbags or want someone to come assess the damage at their home.
The county also closed Settlement and Middle canyons for the night.
Bountiful police warned of potential flooding on Facebook and directed residents to call 801-298-6299 for info about flooding and sandbags.
Stockton police in Tooele County told people to stay away from Soldier Canyon because of "major" flooding.
The agency said flooded streets were spotted in Salt Lake City and Orem, while severe thunderstorm warnings were issued throughout northern Utah.
"We are seeing way too many videos of cars driving through flood waters. We don't say this for kicks ... TURN AROUND, DON'T DROWN!" the agency tweeted.
8:10 pm - Heavy rain is just about everywhere in the Salt Lake Valley! You don't see this everyday. Heavy rain, flash flood and reduced visibility are threats in the near term! #UTwxpic.twitter.com/txRmg3ri6r

— NWS Salt Lake City (@NWSSaltLakeCity) August 2, 2021
The Utah Department of Transportation reported road weather or flooding across northern Utah and said both Little Cottonwood Canyon and Big Cottonwood Canyon were closed because of the weather.
Contributing: Tania Dean, KSL-TV
×
Photos