SALT LAKE CITY — Here are 10 stories you may have missed over the weekend. As always, click on the headline to read the full story.
1. 7 dead, several injured after sandstorm causes 20 vehicle crash in Millard County
A sandstorm in Millard County caused a crash on I-15 Sunday that left at least seven people dead and multiple others injured, the Utah Highway Patrol said.
2. 4-year-old boy reported missing from Hurricane found dead
A 4-year-old boy who had been missing since Saturday night was found dead Sunday, police said. Kache Wallis' body was found in his home Sunday after Hurricane police asked the public's help to locate the boy.
3. Target shooting sparked grass fire that forced evacuations near Huntsville, officials say
A grass fire that ignited near Huntsville in Weber County Saturday evening and forced the evacuation of several homes was started by target shooting, officials say.
4. Great Salt Lake water levels officially hit an all-time low
Water levels at the southern portion of the Great Salt Lake have reached a new record low and there's an expectation that water levels will continue to decline in the coming months, federal scientists said Saturday.
5. Greek Orthodox leader spends 6 days in Utah in 'unprecedented visit'
For the first time in almost 20 years, Utah's Greek Orthodox community welcomed Archbishop Elpidophoros, archbishop of the Greek Orthodox Archdiocese of America, in what was described as an "unprecedented" six-day visit.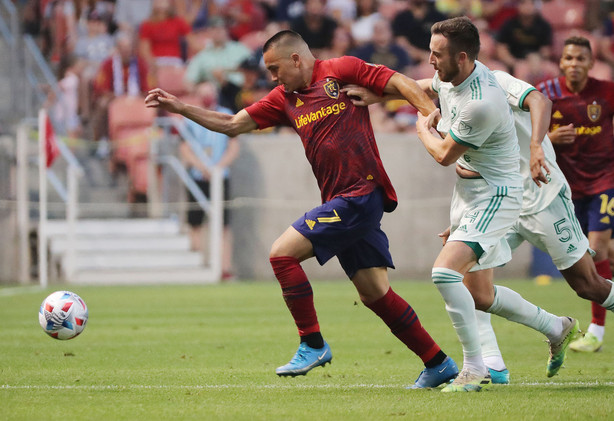 Sports
1. Bobby Wood's 1st MLS goal leads RSL to 3-0 victory over rival Colorado
Bobby Wood and Rubio Rubin each scored a goal, and Real Salt Lake went on to down the Colorado Rapids 3-0, walking away with a win for just the second time in the past seven matches Saturday night at Rio Tinto Stadium.
2. Utah Warriors give up 2 late tries, fall to LA Giltinis in Western Conference finals
Sama Malolo scored a try for the third straight week to give the Utah Warriors a late lead, but Ryan James scored two tries in the final 12 minutes to help the top-seeded Los Angeles Giltinis rally to the 17-13 victory Sunday at the Los Angeles Memorial Coliseum.
3. Utah Olympians: Herriman's Rhyan White advances to swim in primetime
White finished second to Smith in her prelim heat, and her time of 59.02 was comfortably among the top 16.
4. Utah woman who ran 5:25 mile at 9 months pregnant breaks Deseret News Half Marathon record
First, it was a 5:25 mile at nine months pregnant, followed seven months later with an Olympic Trials Qualification/performance in the 10K this past June. Now, just over a month later, Makenna Myler of Highland is the new record holder of the Deseret News Half Marathon with a time of 1:09.54.
5. 'Time to hit the refresh button': Why Utah State is where Blake Anderson needs to be
Anderson was the king of the roost at Arkansas State. There was no reason to leave — until there was.
×