Estimated read time: 11-12 minutes
This archived news story is available only for your personal, non-commercial use. Information in the story may be outdated or superseded by additional information. Reading or replaying the story in its archived form does not constitute a republication of the story.
LAS VEGAS — Blake Anderson didn't know he wanted to be here, but he is exactly where he needs to be.
The first-year coach of Utah State took a gamble after seven seasons at Arkansas State, where he led the Red Wolves to six consecutive winning seasons, including a pair of Sun Belt Conference championships in 2015 and 2016.
Everywhere he's been, the former Baylor quarterback and Sam Houston State wide receiver has won. He won at Southern Miss, where he helped the Eagles to a Conference USA title in 2011 as offensive coordinator. He won a junior college national championship at Trinitiy Valley in 1998, where he was first named offensive coordinator. He even won at Howard Payne, the tiny Division III college that won a Texas IA championship in 1994.
Anderson could've kept winning at Arkansas State, too, where his offenses broke 12 school records, including averaging nearly 500 yards per game one year. There was never any pressure to go elsewhere, barely more than a few bigger jobs to chase, and an $800,000 buyout that kept him plenty secure with life in the small town of Jonesboro, Arkansas (population 80,714).
He was one of the first coaches to popularize the "Fun Belt" life in the Group of Five south, with an explosive, up-tempo RPO offense that produced lots of points, the top-scoring offense in the Sun Belt in three of his seven seasons, and plenty of fun for coaches, players, fans and Red Wolves boosters.
Anderson was the king of the roost. There was no reason to leave — until there was.
"I had a blast," he said during his first trip to Mountain West Conference media days in Las Vegas. "It's always going to be a place that I will love. But for me, it was time to move; it was time for me, personally, to move on."
In 2017, Anderson's wife, Wendy, was diagnosed with cancer. After a very public battle with the disease that was chronicled by ESPN and most major media outlets at the time, she died in August 2019 a few days after her birthday.
Less than a year later in May 2020, Anderson lost his father to emphysema. In less than a year, Anderson had lost two of the most important people in his life (his mother healthily resides in his home state of Texas).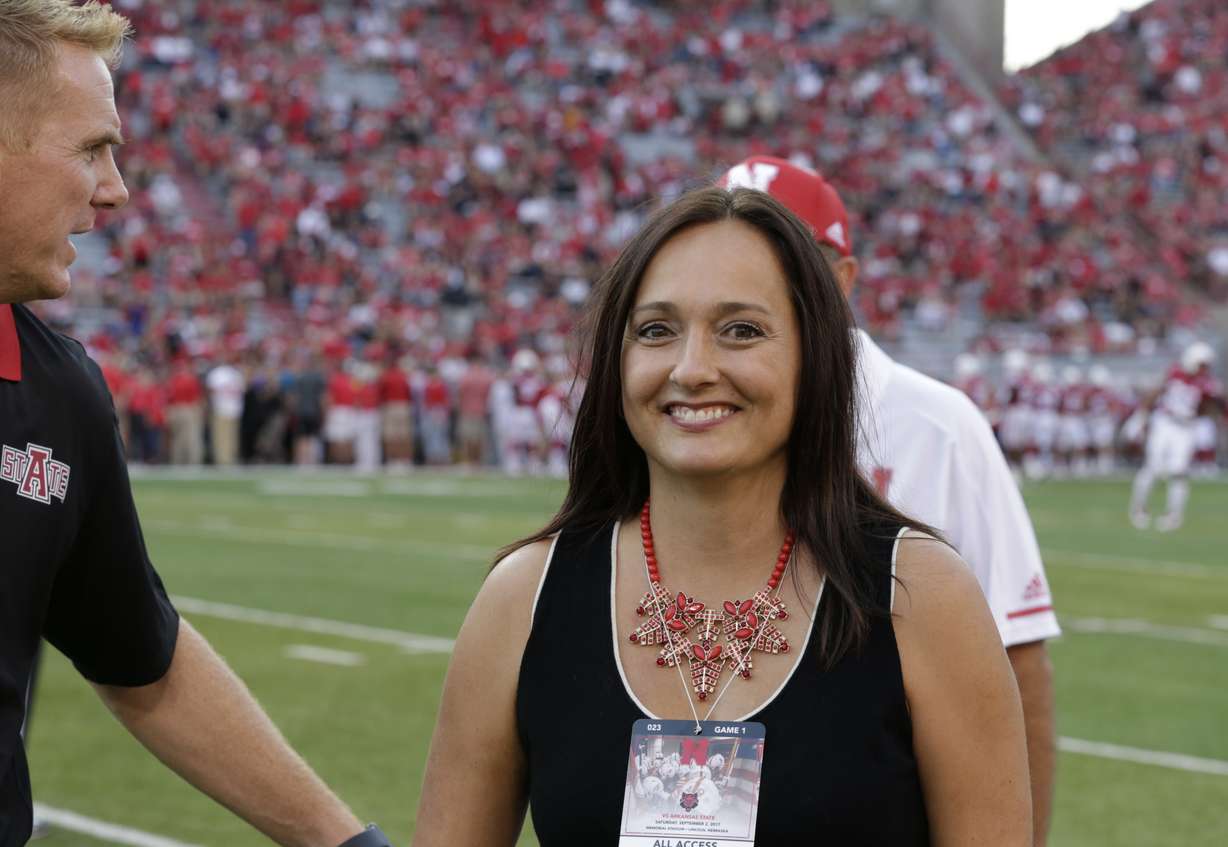 While Anderson was grieving both losses, everything in Jonesboro began to remind him of Wendy. The restaurant where he'd take her on dates; the church they attended every Sunday; the university where they spent so much time because of the nature of his dream job as a Division I football coach; even his home where they raised three children produced too many memories of the late wife he missed dearly.
Everywhere he went, it seemed, there was a reminder of her.
So when Utah State fired Gary Andersen less than two years into his second stint in Logan and a search firm began fanning the country for possible candidates, Anderson was willing to listen.
For Anderson, there was no reason to leave Arkansas State and everything he built since he took over the program in 2014, when he stabilized a program that had seen six head coaches in three years.
"We were successful at Arkansas State," Anderson recalled. "I felt like we had the pieces of the puzzle to build on to be successful."
But suddenly, there was every reason to go — off to a new adventure, to Logan, to the Mountain West and a time zone he hadn't visited since he was an assistant coach on Rocky Long's staff at New Mexico from 1999-2001.
"For me, there was a professional side and a personal side," Anderson said. "Having been through the battle with cancer with my wife, Wendy, and having lost her a couple of years ago, it was just time for me. It was time to hit the refresh button and start creating some new memories.
"Honestly, I kind of had to move away from some of the things that you see every day that just reminded me of the battle that we did lose. Part of it was a fresh start and getting away from that."
Moving on
Anderson doesn't want to be the coach known for his personal losses. He's quick to thank, and he's grateful for the flowers, the notes, the kind words and the condolences offered to him when he lost Wendy, and later his father. He graciously shared their story for all the world and was touched by Georgia fans who decided on their own to #WearPinkForWendy when Arkansas State visited Athens, Georgia.
He's shed tears in public, but almost certainly more in private. He knows the gift that his wife gave the world in her short time, and he's happy to share it.
But he's also a football coach, and coaching is what he loves to do. So when Utah State athletic director John Hartwell offered him a new job, Anderson packed up everything he owned and moved more than 1,500 miles west to a new life, a new town and a new adventure.
Growing up in Hubbard, Texas (population 1,586), Anderson understands the small-town life. He understands blue-collar communities and what a hometown university can mean to the people that live there.
In a lot of ways, Arkansas State and Utah State are similar — and more than just the seven times they've met on the gridiron, the most recent in 2016 when Anderson faced close friend Matt Wells, whose team he watched regularly on a late Jonesboro night but rarely got through the second half due to the time change.
Replace the never-ending skyline of the Wasatch Mountain Range with rice patties and soy bean fields, and the two could be identical.
"There's a very down-to-earth, roll-your-sleeves up mentality. A lot of farming and ranching community in the area, the same as Cache Valley," Anderson said. "There's a lot more similar than you might think. There might not be a prettier place on the planet to live than Cache Valley. But the type of people, the values — it's a true college town, a family environment — and those things have been very comforting."
Just as comforting for Anderson has been his new girlfriend, Brittany, whom he married in March, two days before the Aggies opened spring practices. The couple still hasn't had time for a honeymoon, but they've otherwise been perfect for each other, he says.
Anderson even legally adopted his new wife's two daughters, Collins and Ellison, as they set out to start a new life together in Cache Valley.
"God put an amazing girl in my path, and we were married in March," said Anderson, a devout Christian whose southern drawl is as distinct as the offensive schemes he drew up in his two years as North Carolina's offensive coordinator in 2012-13. "I wasn't expecting to; I didn't think I'd ever get married again when I lost Wendy. But I met someone who had just gone through losing her mother after I lost Wendy. We got each other, and it just made sense."
With Brittany and the rest of the family in full support, the two have started a new life in Cache Valley with a community that looks a bit like Jonesboro. And both communities have been supportive, he is quick to add — Arkansas State lowered his buyout to $150,000 when Utah State made an offer, which the Aggies paid.
"It was the right thing to do," Former A-State athletic director Terry Mohajir told The Athletic before he accepted the same job at UCF. "He'll always be a great friend."
Getting to work
The past four years of personal trials and professional successes haven't made Anderson less of a coach. In many ways, they've made him stronger. Iron sharpens iron, Aggie star kick returner Savon Scarver likes to say.
"I know how that feels, and for him to come to work every day and put all his love and energy into us, into being there for us, it's a real eye-opener of just how strong he is and what kind of person he is," said Scarver, a Las Vegas native who lost family members during the COVID-19 pandemic. "We're all there for him, and we know he's going to always be there for us."
The adverse conditions inspired many who didn't initially see eye-to-eye with Anderson and his new coaching staff, like senior safety Shaq Bond. The senior was initially skeptical at his third coach in four years, which is understandable.
They've grown to love each other, though.
"Coach Blake has been through a lot of adversity, outside of football, and the fact that he still comes every day and making sure that we're happy, it makes you want to play for him," said Bond, one of 14 "Super Seniors" taking advantage of the NCAA's free season of eligibility in Logan. "You know his story, what he's going on, and even what he went through. He wants to be here, and we're going to turn this program back around."
Anderson inherited a program in turmoil for a variety of reasons when he was hired. The Aggies had just gone through a turbulent 1-5 season, played amid a global pandemic, and were understandably attached to interim head coach Frank Maile, who has since taken a job at Boise State.
Before Anderson was hired, the team's leaders had made the decision to boycott Utah State's season finale at Colorado State. It had nothing to do with Anderson, Bond is quick to say; the Aggies just didn't feel like Maile was given a fair shot at the full-time job, and comments made by university president Noelle Cockett and athletic director John Hartwell in a team meeting made them believe it was for discriminatory reasons related to Maile's Polynesian heritage and religious background as a member of The Church of Jesus Christ of Latter-day Saints.
Few of the boycotting Aggie leaders belonged to Maile's church, but all were in agreement that whatever was said during a meeting with Cockett and Hartwell didn't sit right — whether intentional or not.
Anderson understands the issues, and he didn't try to change any minds. He wanted to recruit as many players back to Utah State as he could, but he also openly accepted that some players would choose to transfer or leave school early.
Bond was one of the first seniors to meet with Anderson after his hiring on Dec. 12. He came away still skeptical of the coach's intentions.
"I was definitely kind of hesitant of being buddy-buddy with the whole staff right away," he said. "The last couple we had, some of them treated it like a business, like using Utah State as a stepping stone. I didn't want to build a relationship too fast and then watch them leave again.
"It took me two weeks to start talking to the coaches, to understand the person they were and hearing their stories."
But eventually, everyone was on the same page. Anderson brought in his own staff — including offensive coordinator Anthony Tucker from UCF, defensive coordinator Ephraim Banda from Miami, and former Utah State quarterback Chuckie Keeton as running backs coach — and the players grew to embrace the new head ball coach and his new family in Logan.
Critical to the embrace was the one thing in college football that trumps all others: winning.
"Coach Anderson definitely came with a winning mentality," Scarver said. "You can hear in his voice how much energy and passion he has. He's ready to face any adversity, any time."
On to the season
Despite the challenges of last season and the skepticism surrounding the new hire, Utah State's cupboard was hardly bare.
The Aggies return nine starters on offense from the 2020 season, nine more on defense, and added several impact transfers like former All-Sun Belt quarterback Logan Bonner from Arkansas State; Red Wolves wide receiver Brandon Bowling, who had 878 yards and nine touchdowns in nine starts a year ago; and linebacker Justin Rice, who played for Anderson last year but was an All-Mountain West honoree prior to leaving Fresno State.
One of the most experienced teams in 2021 according to metrics used by Phil Steele and ESPN, the Aggies may be a ways off from returning to the 21st-ranked, 11-2 squad led by Jordan Love in 2018. But they have the experience to avoid a repeat of last year's 1-5 debacle, as well.
"I think part of that is we've got a very mature football team when you consider 14 Super Seniors and a lot of veteran guys on the squad already," Anderson said. "I think the down-to-earth nature of the staff and being open to the guys helped, too.
"I think it's going to move us in a direction where we have a chance to be competitive in Year 1, even though I have zero idea the talent we have on the field."
×
Photos
Related stories
Most recent Utah State Aggies stories