SALT LAKE CITY — Utah welcomed its newest citizens at a naturalization ceremony at This is the Place Heritage Park in Salt Lake City on Wednesday.
The ceremony took place in a brightly lit area next to the admissions office, with light streaming through the large windows behind the pulpit and an American flag next to it. Dozens of well-dressed and excited people sat in folding chairs, anxiously awaiting their certificates. For them, citizenship is the end of a long journey.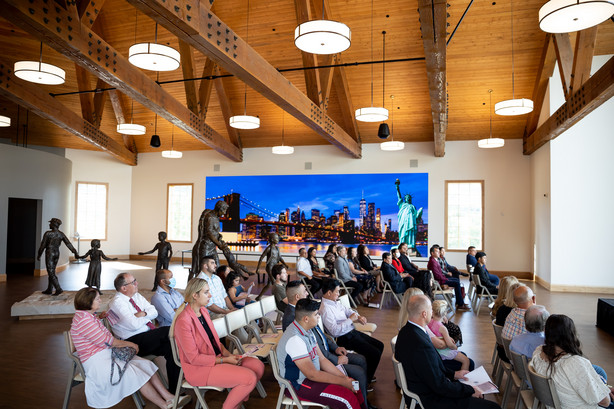 "This is my dream, to be an American citizen!" said Cromerr Lopez, who left Peru for the United States about 20 years ago.
"It's good, because it's a free country with liberty. Right now, my country is in a bad situation," Lopez said, referencing the Peruvian government, "I don't like it."
Lopez's parents legally immigrated before his mother's death, and his father petitioned for Lopez and his brother to join them in the U.S.
"The moment I came here, I knew it was for me!" Lopez said, "Everything works. The system, the people, the respect, the liberty ..."
Now that he is a citizen, Lopez says that he is most excited to be eligible to vote in U.S. elections.
"It's like peace of mind," Luis Chaparro said of receiving his citizenship. "I'm grateful that I finally had my dream come true."
"I was in the United States when I was 12, and I realized — my whole family realized — that it was a very good place to live; it's safe," Chaparro said, adding that his home city of Bogota, Colombia, was very dangerous at the time.
"When I decided I was going to leave Colombia, my first option was the United States. That's why I came here; looking for a safe place for my kids to grow up," Chaparro added. Chaparro came to the U.S. in 2008.
Chaparro moved to the U.S. with his wife and four children, and had two more kids before one of them died of leukemia and he got divorced.
"Then, I got married to a citizen and I started applying for documents ever since."
Asked about the immigration process, Chaparro said, "At many points, it's frustrating. It took a long time. There were too many questions. It makes you feel like 'I'm not gonna make it!'"
Grinning in front of a large photo of the Statue of Liberty, Chaparro concluded, "But finally after this whole trial, it was completed, you know? I know it's not easy, but in the end, it pays off."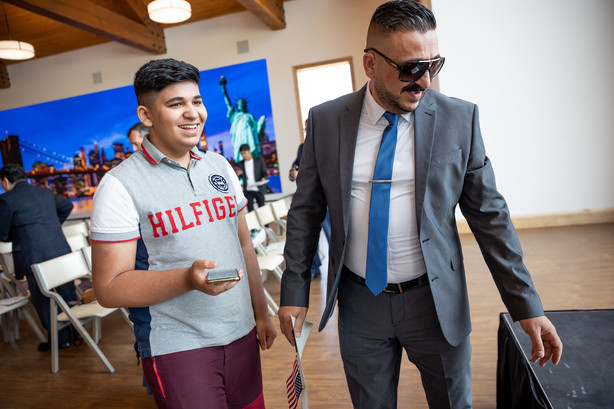 Love, too, was a common motivator for others of Utah's newest citizens.
Fermin Soriano Bautista, a teacher from Spain, came to the United States as part of a foreign exchange program.
"I was planning only to be here for the three years that the program was, but then I met her," Soriano Bautista said, smiling at his wife, Brittany.
"We taught at the same school," Brittany explained.
The pair fell in love, got married, and had two children.
"It's a lot," Soriano Bautista said of the immigration process, "You have to learn how to do it and be careful. They ask the same information several times."
Asked what citizenship means to him, Soriano Bautista said, "It means peace of mind, you know, because it's assurance in my job. It's good for them," he added, gesturing to his daughters.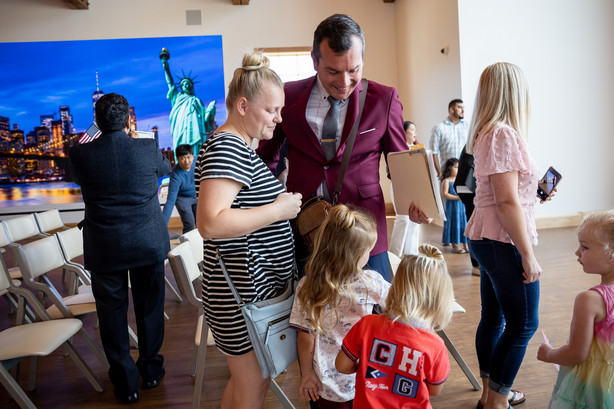 Daniel Whitehouse came to the U.S. from Sydney, Australia, for work in 2013, and his whole life changed.
"It was a limited time I was here for, but in that time I met my beautiful wife, Amy, who's here with me today, and the rest is history!" Whitehouse said, smiling. The two went back and forth between Australia and the U.S. before deciding to stay in America.
"It's been a long journey, so I am glad today is the day I become a U.S. citizen," Whitehouse said.
"Honestly, it was challenging," Whitehouse said of the citizenship application process. "You know, there were some times there where we weren't sure what to do ... There was a lot of waiting periods too, just a lot of time just in between waiting to hear when the next interview would be."
Asked how it felt to be a citizen now, Whitehouse looked at his wife and smiled, "It's amazing. I'm so proud today. It's a great day to become a U.S. citizen and I'm looking forward to spending my time with Amy here in the U.S. and building our life here!"
×
Photos