Estimated read time: 3-4 minutes
This archived news story is available only for your personal, non-commercial use. Information in the story may be outdated or superseded by additional information. Reading or replaying the story in its archived form does not constitute a republication of the story.
OGDEN — Avelo Airlines grabbed Utah headlines when it announced $19 fares from Ogden to Burbank, California.
We took one of those introductory fares (they're gone now) flights and can tell you how flying out of Ogden on a low-cost airline goes.
First, the price: They don't stick you with hidden fees. If your ticket says it's $49, that's all it will cost besides baggage, which is another story. Carry-on bags cost $25 extra and checked bags cost $20. Pay for these ahead of time or else they'll charge you another $10 to pay at check-in. The fee is per flight, not round trip. At these rates, we were still ahead.
Online booking was easy enough. Avelo flies from Ogden once a day departing at 2:40 p.m. (Burbank to Ogden 11:10 a.m.) until Sept. 13, then 8:20 p.m. (Burbank to Ogden 4:40 p.m.), starting Sept. 16th, and not every day of the week.
With a decent parking spot, we walked 180 steps to the terminal, which is small and easy to get through. Showing up an hour before departure, we immediately went through security, waited another 10 minutes in a holding area and then began boarding. There are no jetways so you walk out on the tarmac, up a series of handicapped-accessible ramps, and onto the Boeing 737-800. It's a higher entry, but it's not a little regional plane.
Avelo doesn't have first class, platinum, platinum plus, platinum exalted rewards, or the trove of "privileges" airlines give passengers to let those sitting in the front of the plane get on first. Avelo boards in zones starting with the rear of the cabin, which made boarding quicker than any we've seen. Charging for carry-ons made that scene where passengers go up and down the aisle trying to stuff a large carry-on suitcase into an overhead compartment go away. Everyone just walked onto the plane and sat down. We had to wait for the baggage loaders because we seated ourselves so fast. Flight attendants were professional, courteous and in uniform. It was during the announcements that we learned Avelo is pronounced "uh-VAY-loh."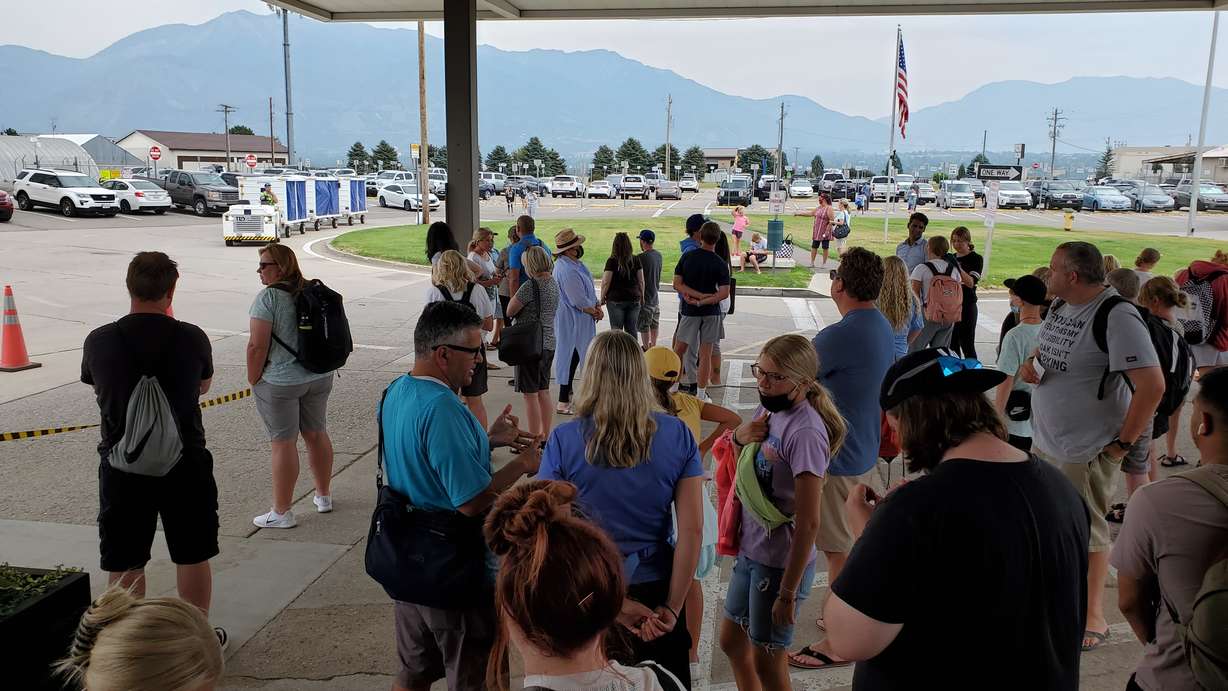 Once in the air, flight attendants passed out a sealed package with a hand wipe, 8 ounces of Niagara water and a Lorna Doone cookie. What the food lacked in glamour, it made up for in speed. Flight attendants used an open-box tray as opposed to an elbow-smacking beverage cart and didn't have to wait for each passenger to make up their snacking mind.
The flight was an hour and 50 minutes in the sky and landed in one of the easiest airports to get around. Suitcases arrived at baggage claim with typical speed.
Hollywood-Burbank airport is probably closer to where you're headed in the Los Angeles/ Southern California area. Parking shuttles are easy to find and catch.
On the return flight from Burbank, Avelo had two ramps for boarding from the front and rear of the plane simultaneously. Baggage claim in Ogden took longer but was delivered to the overhang area in front of the terminal. There looked to be enough cover for bad weather days.
Any cheap fare with enough add-ons isn't cheap anymore. You should be able to share a suitcase with your traveling companion, which will cut that add-on down. Checking bags wasn't bad, and Avelo allows small backpacks or laptop cases at your seat with no fee.
Parking at Ogden airport costs $5 for the same walking distance you'll pay $55 for at Salt Lake International, though SLC Economy is $10 a day with a shuttle ride. If you live near or north of Ogden you'll take an hour off your drive time.
To wrap up: Avelo is not just cheaper, which can get the attention of your budget manager, but some of its cost-cutting make it much faster with fewer headaches. It's worth checking to see if their schedule accommodates yours.
×
Photos
Most recent Utah stories