SALT LAKE CITY — In April 2021, a man walked into Roots Coffee & Co. and the owners greeted him with the warm, friendly interest they take in all of their customers. Something seemed familiar about the man, but they couldn't put their finger on it.
Ginalen Soto, 29, and McKenzie Packard, 26, asked the man about his life and talked to him about their brand new coffee shop, still only 3½ months old. The business partners told him about how they met each other a few years ago and immediately started traveling the world together.
The women have visited 16 countries and most of the United States together, sampling different flavors of coffee every place they went before deciding to open their own modern coffee shop in Salt Lake City.
As Soto and Packard traveled, they loved how, outside of America, they could sit down and just savor a cup of coffee rather than gulping it down as fast as they could to push through to the next work assignment.
"All over the world, people sit down and connect over a cup of coffee. It's a ritual, a tradition, a religion," Soto told KSL.com.
The friends wanted to bring this tradition home with them to Utah. They dreamed of a coffee shop in their home state that brought together all the flavors and cultural connections. They were in Chichen Itza in November 2020 when they received the lease to the space the store is now and decided that, even during a global pandemic, they wanted to go for it.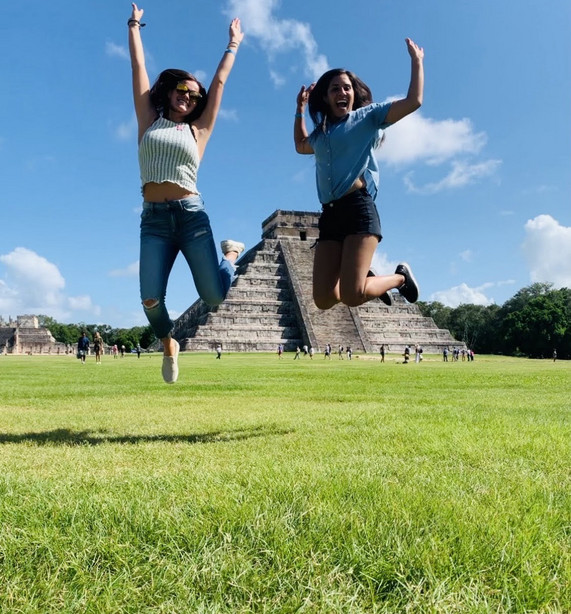 Roots Coffee & Co., named for the grounded connection that forms between people over a cup of coffee, would open Jan. 1, 2021, they determined. Even if society as a whole wasn't open by then, that was a risk they were willing to take.
The man listened to their story and occasionally pulled down his mask to smile at them, and the feeling of recognition just grew stronger and stronger. They asked him lots of questions. "Do we know you from somewhere?" "Have we served you before?" "Where are you from?"
He smiled and replied that this was his first time in the shop and that he was just here checking out the area.
He danced around giving any personal information for about 20 minutes when it finally struck them: He was celebrity entrepreneur and Camping World CEO Marcus Lemonis, from his shows "The Profit" and "Streets of Dreams with Marcus Lemonis," and his upcoming HGTV show, "The Renovator."
Lemonis gave them some advice about how to improve their store and told them that their reputation for customer service was what brought him in, but the flavors and company made him stay. His assistant came in, and they continued talking and taking pictures. When Lemonis left, they were just thrilled to have made the connection and to have met him.
Then, one day, customers kept walking in and heartily congratulating the co-owners.
"We thought it was a little strange, but we said thank you," Soto said. "We had no idea."
---
The biggest thing is to know that someone of his stature and his caliber really believes in what we're doing. It's just amazing that he thought, 'These ladies have got something, and I want to help them pursue it.'
–Ginalen Soto, co-owner of Roots Coffee & Co.
---
What the customers knew and the owners didn't was that Lemonis had just announced that he awarded them a $10,000 grant to give them further opportunities to grow their business. When they saw his announcement at the end of the day, they were speechless.
"Having him in our corner is a dream come true for a small business in Utah," Soto said. "The biggest thing is to know that someone of his stature and his caliber really believes in what we're doing. It's just amazing that he thought, 'These ladies have got something, and I want to help them pursue it.'"
In October 2020, Lemonis established the Lemon-AID Foundation, dedicating $50 million to help small businesses and underserved communities. So far, the foundation has awarded almost $3 million.
"My goal is to keep Main Street, USA, alive and well during the economic troubles that COVID-19 has brought to our small business owners," Lemonis said in a press release. "Helping talented entrepreneurs, particularly women and minorities, who simply haven't had the same resources and guidance available to them as many of us have. This foundation is here to build a bridge of knowledge and opportunities for those individuals in need of a chance."
Soto and Packard will use the money to open a second location near their hometown, Spanish Fork.
"Coffee is a way to actually get to know the person. We know every single one of our customers by name and about their lives," Soto said. "We want to be able to meet more people, come home to our hometown and be able to show people what we've learned around the world."
The connection people have over coffee is particularly important now that things are opening up after the isolation of the pandemic, she added.
"People walk into the coffee shop and feel this positive, over-the-top energy, and say, 'I haven't talked to anyone for the past year.' And then they just talk about their lives as if you've been there the entire time. It's like magic," Soto said.
×
Photos