Estimated read time: 3-4 minutes
This archived news story is available only for your personal, non-commercial use. Information in the story may be outdated or superseded by additional information. Reading or replaying the story in its archived form does not constitute a republication of the story.
DRAPER — Between the warm weather and the upcoming holiday weekend, more families are spending time playing in the water this summer. But after five drownings in just one week this month, safety experts are concerned. Drowning remains the second leading cause of unintentional death for children ages 1 to 14.
One Draper mother shared the sobering reminder she received earlier this month.
With this summer's heat and recently lifted COVID-19 restrictions, the Jensen family is happy to be back in the water. "We go to the pool almost every single day, between that and the waterpark," Stacy Jensen said. "I feel like we didn't do a ton of swimming last year with COVID."
But just a couple of weeks ago, Jensen was reminded of an important lesson. "We were getting our towels and getting ready to go, and my youngest came up to me and asked me to take off her life jacket," she recalled.
But before they left, the older kids asked for a couple more minutes.
"Can we just do one more dive? And I said, 'Absolutely!'"
Little 5-year-old Savannah followed their lead and also jumped in, without her life jacket. "I threw my phone real quick and was getting ready to jump in," Jensen said.
That's when Savannah's older sister and a friend helped her. "They were able to get her to the side and get her safe, and I pulled her out," Jensen said.
Jensen is grateful something worse didn't happen that day. "But I was glad that I was aware and watching right there so that I could be able to get her to safety," she said.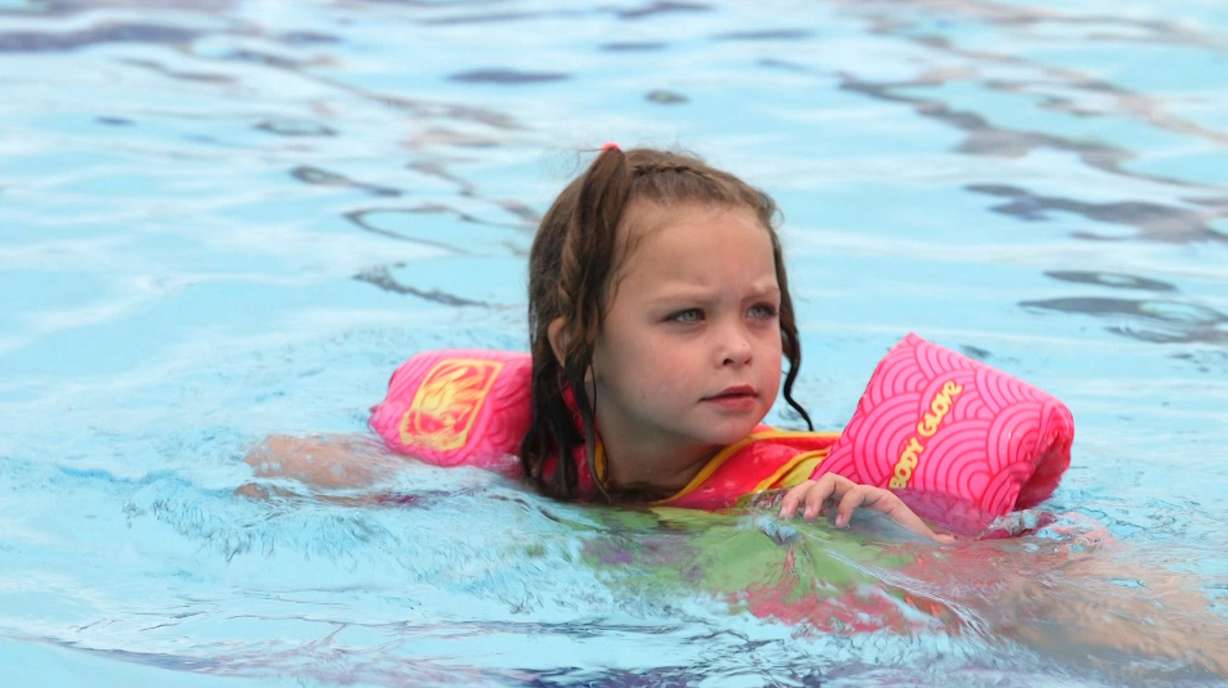 Jessica Strong, community health manager at Intermountain Healthcare's Primary Children's Hospital, said adult supervision was critical even when a lifeguard is on duty.
"Drowning can happen very quickly and in just a small amount of water," she said.
Strong said drowning isn't loud. "Oftentimes, it's very silent. You know, the person can't breathe, and so they're not going to be calling out for help," Strong explained.
She urged parents to take turns being the designated water watcher and to wear something that indicates who is on duty. "Whether that's a lanyard or a funny hat so that it's clear who is watching the children," she said. "Everybody takes a turn so that you still have time to chat and socialize, but there's also supervision."
Find a life jacket with the right buoyancy and protection, and avoid water wings, Strong said, which can easily deflate or fall off. She said parents needed to look for a U.S. Coast Guard-approved life jacket. Strong said puddle jumpers were fine since they wrap around the body and clip closed preventing a child from taking it off.
"I made the mistake that I took my daughter's life jacket off before we left the pool and if I were to do it again, then I would have left her life jacket on," Jensen said.
"First thing when you get in and first thing when you get out because you just never know," Jensen warned. "Accidents can happen so quickly."
Strong encouraged parents to learn CPR and put their kids in swim lessons. If a child falls into rushing water, she said parents should call 911 instead of jumping in after them. Though this may be counter-instinctive, Strong said this was critical in preventing multiple drownings.
She said kiddie pools, bathtubs, or even buckets with a little water can be dangerous. "Make sure you're emptying out those water containers when you're done using them," she said. "Toddlers are top-heavy. They can fall in head-first to these containers and may not be able to get out of the water by themselves."
×
Photos
Related links
Related stories
Most recent Your Life - Your Health stories