Estimated read time: 5-6 minutes
This archived news story is available only for your personal, non-commercial use. Information in the story may be outdated or superseded by additional information. Reading or replaying the story in its archived form does not constitute a republication of the story.
SALT LAKE CITY — Unless there's a big surge in vaccinations over the next several weeks, it's looking unlikely that Utah will reach Gov. Spencer Cox's goal of seeing 70% of adults in the state have at least one dose of the COVID-19 vaccine by July 4, the governor said Thursday.
And to emphasize the importance of getting vaccinated, Cox said the vast majority of all new COVID-19 cases, hospitalizations and deaths over the past three months are occurring among those who are not vaccinated.
About 64.3% of Utah adults have had at least their first COVID-19 vaccination shots as of Thursday, Cox said during a PBS Utah news conference.
"We're close, we're within shouting distance of 70%," he said.
The good news, Cox said, is that Utah's not doing any worse than the national average, which is around 65%. But the bad news is that Utah isn't doing any better, he added.
Cox pointed out that since March 23, when vaccination eligibility opened up to all Utah adults, there have been 28,233 total COVID-19 cases and 1,013 breakthrough cases. That means 96.8% of new confirmed COVID-19 cases have been among unvaccinated people.
About 95% of hospitalizations and 98% of deaths over that time have been among unvaccinated people, the governor added.
"Short story: Vaccines work," Cox said.
"They work at the rates we were told they were going to work. They're incredibly successful and we need people to get vaccinated."
State officials have previously said the 70% goal by the Fourth of July is somewhat arbitrary, and they'll continue pushing the importance of vaccines whether or not the state gets to 70% in that timeframe.
A letter that was sent out to 10,000 businesses this week urging them to support employees who want to get vaccinated with paid time off or other access measures should help boost vaccinations, Cox said.
---
Utah Gov. Spencer Cox provided a COVID-19 update at a news conference Thursday morning on PBS Utah. Watch the replay of the event below.
---
369 new COVID-19 cases Thursday
There has been a small increase in COVID-19 cases over the past month in Utah, and case trends have reached another plateau, Cox said. The state had been seeing a rolling average in the low 200s range for new cases per day, but that average is now back up to 270 to 280 new cases a day.
"Nationally, COVID cases are no longer falling," he said. "The good news is that as always, vaccines work to protect us."
Last week, the TriCounty Health District in eastern Utah said it has experienced a recent COVID-19 outbreak that was attributed to low vaccine rates in that district's jurisdiction of Daggett, Duchesne and Uintah counties. Just 28.5% of people in that health district have received at least one dose of the vaccine — the lowest rate of any Utah health district, according to health data.
Cox said Thursday he had spoken with a hospital manager in Vernal who said all the new cases reported recently have been among unvaccinated people.
The governor said he has also spoken with people who recently lost loved ones to COVID-19, after they refused to get vaccinated against the disease.
"Completely preventable, they didn't have to die," Cox said. "They're dead now because they refused to get vaccinated."
Utah's number of COVID-19 cases increased by 369 on Thursday, with no new deaths and 6,496 vaccinations reported since Wednesday, according to the Utah Department of Health.
The rolling seven-day average number of positive cases per day is now at 288. The positive test rate per day for that time period calculated with the "people over people" method is now 7.6%. The positive test rate per day for that time period calculated with the "test over test" method is now 4.9%.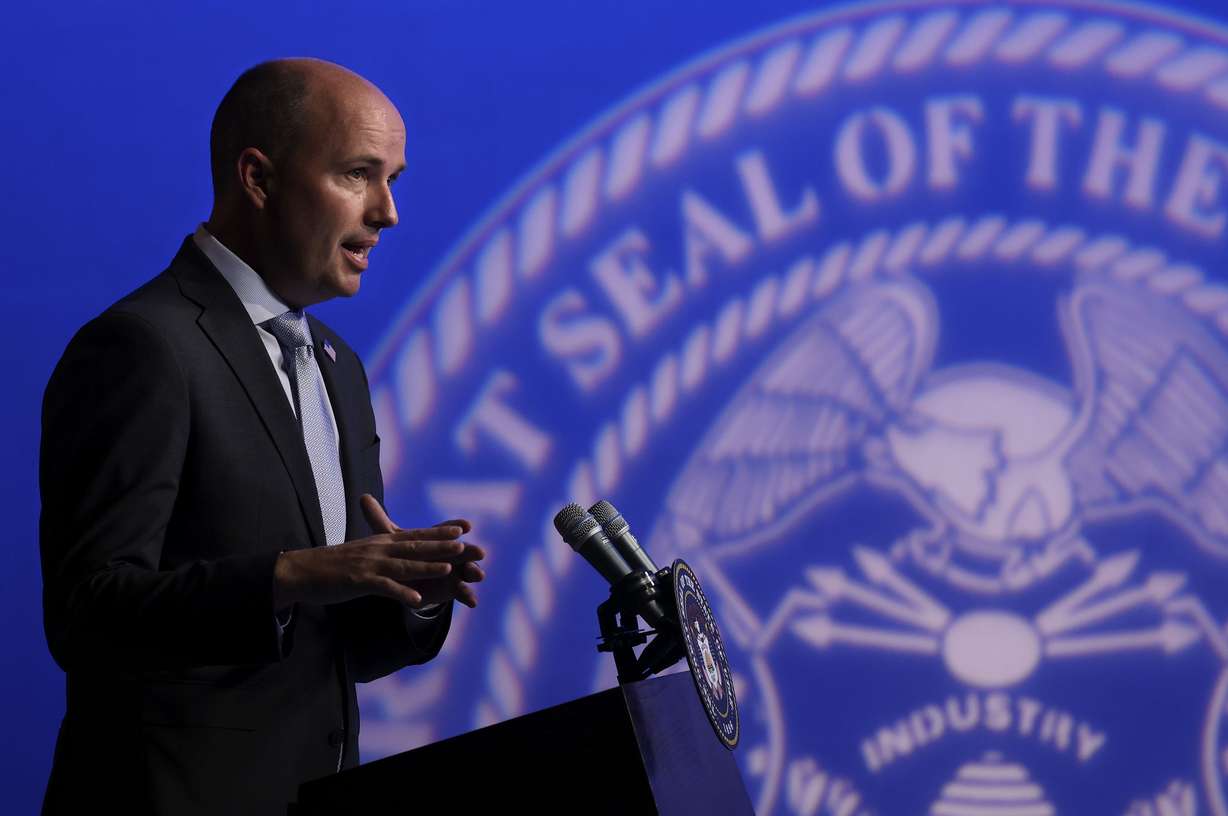 There are now 173 COVID-19 patients currently hospitalized in Utah, including 66 in intensive care units, state data shows. About 80% of ICU beds in Utah are now occupied, including about 83% of ICU beds in the state's 16 referral hospitals, according to the health department. That's above the state's ICU utilization "warning" level, indicating that the state's ICUs are more full than health officials would like to see.
About 57% of non-ICU hospital beds are occupied as of Thursday, health data shows.
A total of 2,767,967 vaccine doses have been administered in the state, up from 2,761,471 Wednesday. A total of 1,559,018 Utahns, or about 48.6% of the total state population, have now received at least their first vaccine dose. A total of 1,331,326 Utahns, about 41.5% of the population, is now fully vaccinated, according to the health department.
Among Utahns ages 12 and older, who are currently eligible to receive the vaccine, about 60.1% have at least a first dose and 51.4% are fully vaccinated. State data shows 3,202,528 vaccine doses have been shipped to Utah so far.
Since mid-March, when vaccine eligibility opened up to most Utah adults, there have been 1,013 breakthrough COVID-19 cases, meaning cases that have been confirmed in people who have already been vaccinated, Cox said. Of those, there have been 108 hospitalizations and three deaths, the governor said.
The new numbers indicate a 0.09% increase in positive cases since Wednesday. Of the 2,751,868 people tested for COVID-19 in Utah so far, 14.9% have tested positive for COVID-19. The number of total tests conducted since the pandemic began is now at 5,031,002, which is an increase of 6,724 since Wednesday, according to state data. A total of 3,742 of those were tests of people who had not previously been tested for COVID-19.
Thursday's totals give Utah 410,746 total confirmed cases, with 17,204 total hospitalizations and 2,324 total deaths from the disease.
×
Photos
Most recent Utah stories