Estimated read time: 9-10 minutes
This archived news story is available only for your personal, non-commercial use. Information in the story may be outdated or superseded by additional information. Reading or replaying the story in its archived form does not constitute a republication of the story.
SALT LAKE CITY — After less than a decade, the College Football Playoff is going to expand.
OK, not officially.
But the path has been set for the playoff to triple in size, from four teams to 12, as announced by a recommendation from the working group that will present its proposal to officials for ratification or decertification later this summer.
The proposal won't go into effect immediately, and there are still a lot of approvals left to be sought. But the working group's recommendation of a 12-team playoff felt like a significant moment in a years-long battle to improve access to college football's highest levels and crown a true national champion.
"The earliest, and I repeat that, the earliest that any final decision could be made by the board would be in September," College Football Playoff executive director Bill Hancock said during a media conference call Thursday afternoon. "It certainly could be later, but the earliest is September.
"We're very excited about where we are, couldn't be happier with the working group's work, what they've done so far, and no matter what happens next, college football will thrive, CFP will thrive, and frankly it's been heartening to see how many people care about this great game that we all love so much."
There are some things to like from lesser and/or smaller leagues and programs — like half of the field being a guaranteed conference champion — and other things preferred by top conferences (read: the SEC) — like no cap on the number of teams any given conference could enter.
But how will the new proposal — assuming it is passed — affect the three Football Bowl Subdivision schools in the state of Utah? All three come from different starting points — a Power Five program, a Group of Five contender, and an independent team that sits outside the current power structure — and would therefore be affected in different ways.
Let's take a look at some of the advantages and disadvantages a 12-team playoff presents to Utah colleges.
CFP Expansion
BYU
Under the four-team playoff model, the Cougars had no direct path — no access, essentially — to the highest level of college football's postseason.
And while emerging as a strong candidate for the expanded playoff may still seem unlikely, the path has opened up. Despite the challenges of 2020, BYU emerged as a team on the fringe of the top-10 nationally before its lone loss of the season at Coastal Carolina, which finished the regular season ranked 12th nationally.
With a win over the Chanticleers, the Cougars likely would've had that position — and with it, a probable berth in the hypothetical 12-team playoff of the 2020 season.
One important note is that BYU — like all independent teams that eschew a conference in favor of national scheduling — would not be eligible for a top-four seed and first-round bye, since the Cougars (like the Notre Dame Fighting Irish) will not be eligible for one of the six spots guaranteed to the highest ranked conference champions. Notre Dame athletic director Jack Swarbrick answered that question directly regarding the Fighting Irish.
"We cannot qualify for a bye," Swarbrick said succinctly. "It's limited to the four highest ranked conference champions. I look forward to never hearing again about how we played one less game or don't have a conference championship."
It's true that BYU — like Notre Dame, UConn, New Mexico State or any other school that participates in college football without a conference home — would be giving up some things to support an expanded playoff field.
But the tradeoff isn't a zero-sum game, either, Swarbrick added. For BYU, that means that a 12-0 record (or maybe 11-1, depending on the schedule) is significantly more likely — even probable — to launch it into the playoff discussion, rather than hoping for a New Year's Six bid that may not materialize simply because of conference tie-ins.
"From my perspective, it was an appropriate trade-off to get a model that I thought was the right one for college football," Swarbrick said. "Even though we don't play in a conference, I recognize the importance of strong conferences and providing opportunities to the G5. We wanted to do that.
"And then finally, as I said somewhat sarcastically earlier in this, I do think it's helpful to us to be able to say, look, Alabama put its position at risk in its title game, or Oklahoma put its position at risk in its conference title game. We're doing the same thing in the first round. We are on par in that regard, other than not enjoying a potential 1 through 4 seed."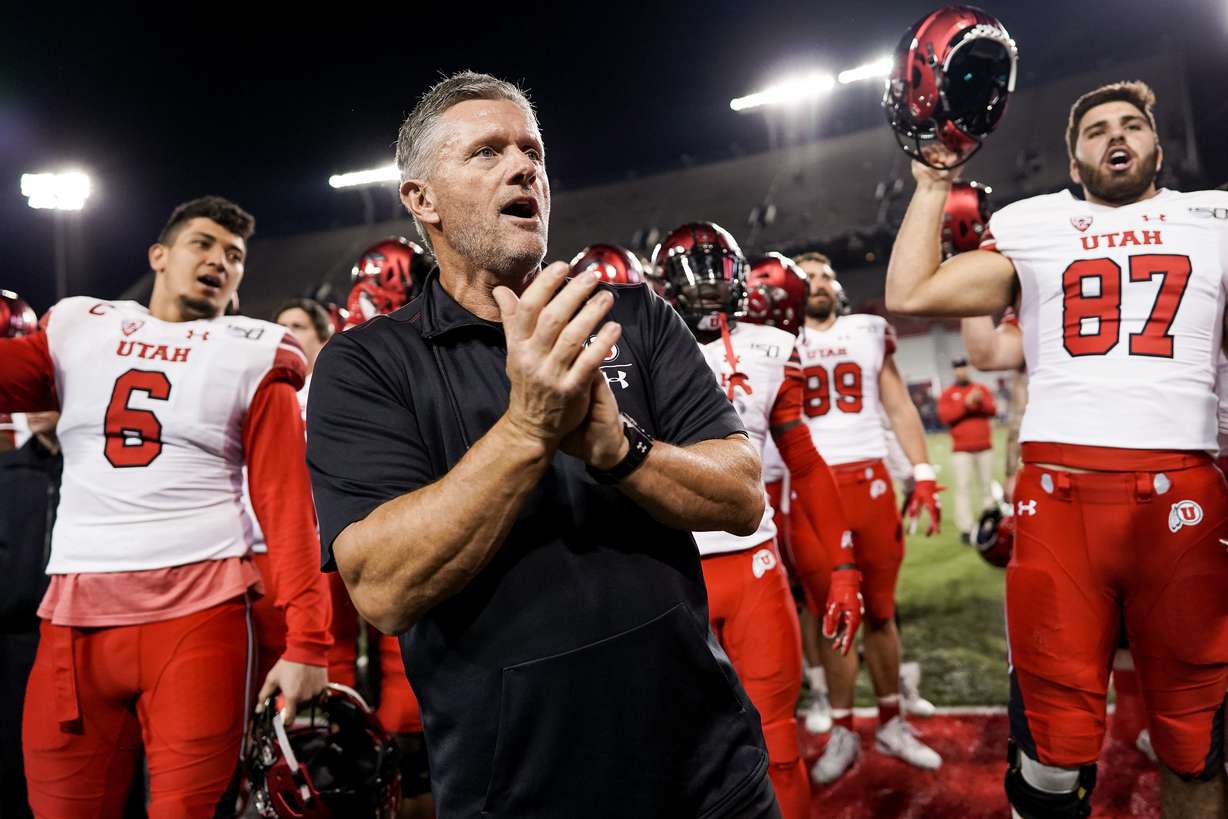 Utah
Right or wrong, the Pac-12 has been viewed as the weakest of the Power Five conferences for years — and sometimes, even a half-step away from the American Athletic Conference.
The west side of the country has often been the left-out coast when it comes to the playoff, with only two berths in the seven years since the field expanded to four teams. Beyond issues of fairness, that's alienating a large swath of the country from a sport that has made great strides in becoming a national pastime.
Expanding to 12 teams could change that, though. If the goal of the bowl system and playoff committee is to make the regular season matter, then tying automatic berths to conference championships — at least in six cases — places a heavier onus on qualifying for those league title games.
The practical application, especially for Power Five programs, is that any conference championship could (in most cases, but certainly not all) qualify a team for the playoff. So no matter how "down" a team may be or how horrible a nonconference schedule they faced, any team that puts it all together in October and November can make a run at the postseason.
"The practical effect of this will be that with four or five weeks to go in the season, there will be 25 or 30 teams that have a legitimate claim and practical opportunity to participate," Big 12 commissioner Bob Bowlsby said. "That should make for an extraordinarily good October and November."
Of course, there's no guarantee that any conference title would automatically earn a spot in the playoff. Oregon won the Pac-12 championship a year ago, but was ranked No. 21 in the final CFP rankings and would've been passed over the six conference champions list — even by two G5 teams.
But if nothing else, there's significantly less chance of that happening again — and adding six at-large berths will also help, too. More spots equates to more chances for a spot, for teams from every conference — including one perceived as "weaker" than its P5 counterparts.
"When we did the analysis of this, one of the things that jumped out was in the current model, in the last five years ... in two of the years, you've got three non-ranked opponents that wind up playing in the playoff, and you've got five others ranked in the 20s in the first poll that wind up in the playoffs.
"We think that's a model that keeps a lot more teams alive a lot longer into the season and generates interest."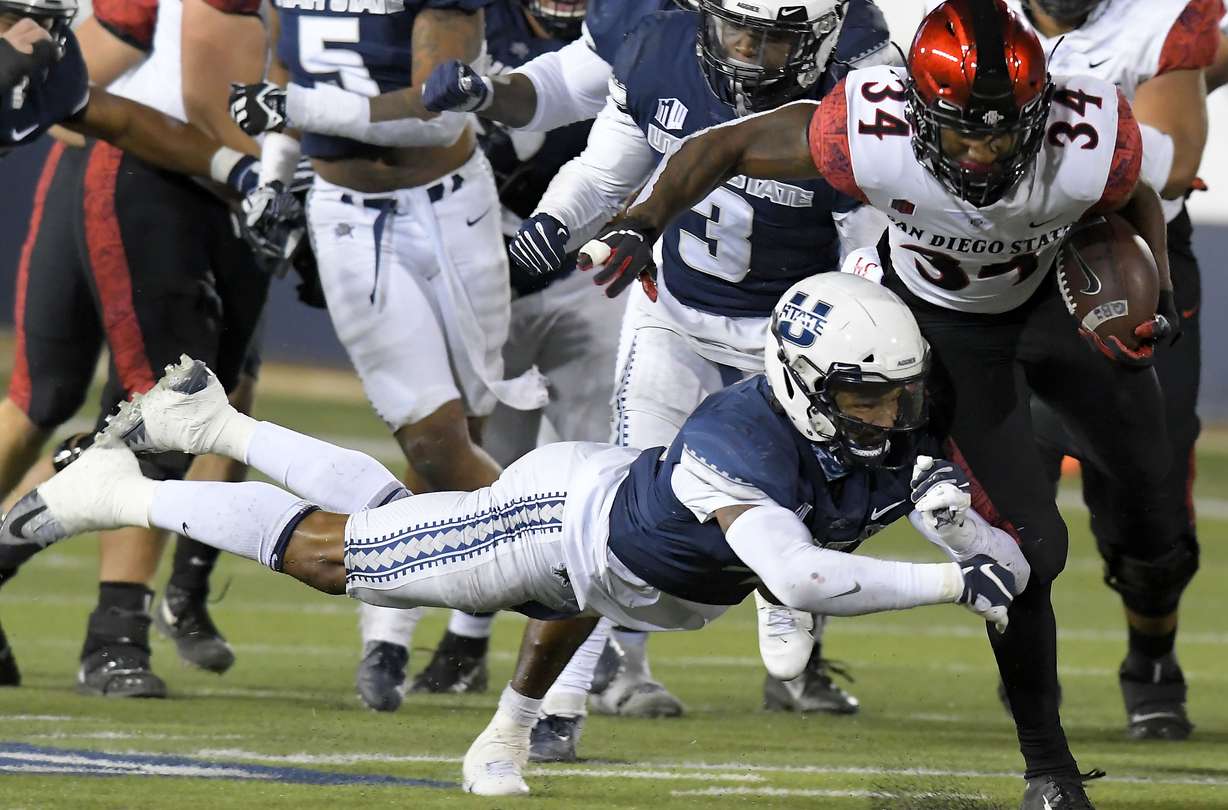 Utah State
This may be the local team that stands to gain the most with the playoff expansion, though first-year Aggies coach Blake Anderson has a lot of work to do before his team is in any position to compete for a playoff berth.
It's not impossible, but Anderson's first step is to get the Aggies back to a bowl game. Those still remain in place — in some ways, even relevant — despite taking eight more teams from bowl season and adding them to the playoff field. Meanwhile, the Group of Five conferences can also share in the revenue provided to expand access to them to college football's top level — something they haven't had before.
So it was important to keep the bowls involved, while also shifting focus to crowning "one true champion" through a legitimate playoff that isn't just an invitational. And there's still time for the plan to change, Mountain West commissioner Craig Thompson said.
"I think certainly the history and the commitment to bowls have made to the process and giving them an opportunity to continue to be relevant in the system," Thompson said. "It's something that, again, all these points are going to have an opportunity to be discussed. These are the recommendations of four people. There's seven other commissioners that will get to weigh in next week in Chicago and then some, and ultimately the board will make a determination. But simply to keep the bowl system in some terms relevant and to recognize those people that want to participate in the semifinals and quarters.
There's no perfect model, and the Group of Five will still likely be at a significant disadvantage compared to their Power Five counterparts when it comes to playoff qualification.
But by the math alone, a 12-team playoff presents more opportunities for inclusion. Indeed, in a hypothetical model using the most recent CFP rankings of 2020, both American champion Cincinnati and Sun Belt co-champion Coastal Carolina would've earned a berth in a 12-team bracket.
Remember, the six conference title berths are guaranteed to the highest ranked champs each year — with no stipulation between Power Five and Group of Five. Win your conference — and impress enough to be ranked ahead of at least four other champs of the 10 FBS conferences — and you'll be in.
"Twelve obviously finds a halfway point between those conference champions that could have access, the six best, and then six of the most highly rated teams," SEC commissioner Greg Swankey said. "Now, there's going to be intersection between highly ranked teams and conference champions, but ultimately that is one of the opportunities that 12 presents.
"I think it's also important to note you're going to have teams that might be conference champions ranked outside the 12, and one of the potential conversation points going forward is that 12th ranked team not being a participant. That seemed really difficult to do at eight. Not that it's not going to be problematic at 12, and when you look at basketball, it's problematic at 69 on the men's side and 65 at the women's side."
×
Related stories
Most recent College stories