LOGAN — It's not Blake Anderson's fault he's taking over a program in the midst of controversy.
Anderson would have been named the Utah State head coach no matter what was or wasn't said last week in a Zoom call between athletic director John Hartwell, university president Noelle Cockett, and the Utah State football leadership council. He was Hartwell's chosen man — someone the athletic director said, "checked all the boxes."
But that Zoom call — where players reportedly left feeling like interim coach Frank Maile was being discriminated against due to his faith and Polynesian heritage — cast a cloud over his first weekend with the Aggies.
"We've all read the reports here recently, and just some of the issues that maybe they felt like weren't listened to," Anderson said Monday at his introductory news conference. "I can't affect the past. I can only affect the future."
But the wounds are still fresh for the Aggies — the wounds of a COVID-ridden season and the wounds of feeling like their interim coach, whom they heavily supported, hadn't been given a fair shake.
Anderson knows it'll take time to build trust between himself and the players, and for them to get the sour taste out of their mouth; that's fine with him. In his first team meeting, he told the players he wanted them all the back — he wanted the chance to earn their respect.
"I was the fifth head coach in five years (at Arkansas State). Those guys didn't trust me until they knew I wouldn't leave right after the very last game of the season," he said. "So I understand this process can take a while. And we're OK. We're gonna be patient."
But the situation in Logan is a bit different than the one he took over at Arkansas State.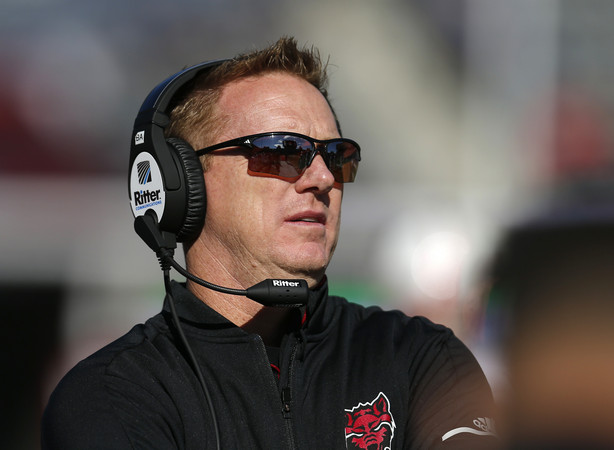 The Red Wolves program was seen as a launching pad for up-and-coming coaches. The three coaches that preceded him all left for marquee jobs after winning Sun Belt titles. Hugh Freeze left for Ole Miss, Gus Malzahn became the head coach at Auburn, and Bryan Harsin took over the Boise State program. It's not easy on players to keep replacing coaches, but the bedrock of the program was solid.
The Aggies, meanwhile, just limped to a 1-5 record that saw a number of top-end players chose to transfer.
"But I like the first step, I like the way the body language and the energy in the room, and I like the response that I've gotten from them," Anderson said of his first team meeting. "So I think we're on as good a first step as we could be considering the circumstances, but we're not gonna let this define us. We're going to define what that program is going to be on how we act every day."
So what does Anderson want the program to look like? He said he wants it to be "blue-collar" and predicated on speed. That means an uptempo offense and fast athletic players all around.
"What we do — offensively, defensively — is fun to watch, fun to be a part of, fun to play. Recruits are going to enjoy what we do, but the fans in the stands are going to enjoy it as well," Anderson said. "I will tell you right now, don't go get something to drink in the middle of a series or you are going to miss the whole thing. You better go during media timeouts because we're gonna play faster than anybody else in the country on offense."
Arkansas State had a top-20 offense in the NCAA in three of the seven years Anderson was there.
Anderson introduced the beginnings of his staff on Monday, too. Dave Roberson (director of player personnel), Kyle Cefalo (wide receivers coach), Nick Paremski (special teams coordinator) and Ethan Morriss (undefined role) have all followed Anderson to Logan from Arkansas State. Anderson also hired former Utah State quarterback Chuckie Keeton to either be the running backs or tight ends coach.
"The way the kids are gonna respond to him, the way the community responds to him and Aggie nation responds to him, is one of the biggest steps of us getting right back where we all want to be," Anderson said of Keeton.
Anderson said there were three things that he wants to be the pillars of the program: faith, family and fun. And he seemed to put an extra emphasis on faith.
"I'm a Christian before I'm anything else. I love the Lord. I feel like God put me in coaching," Anderson said. "He built me that way to do exactly what I do, and I go to where I don't really go to work; I go, I just go to the office. I love what I do. I'm about affecting the lives of young men and the staff around me in a way that honors God.
"So we're gonna talk about faith, we're gonna be about faith, and the guys that want to be a part of that environment are the guys are gonna say 'yes' to us in recruiting," he continued, "because they want to be around that environment every day."
Those comments — along with him saying the staff needs to have someone with "Polynesian and Mormon ties" — seem more noteworthy in light of what Aggie players have accused the university leaders of saying last week. When the Utah State players voiced support for Maile to be the permanent coach, they said Cockett and Hartwell's "primary concern was his religious and cultural background."
The university's board of trustees is conducting an independent review of the matter.
But for Anderson, that is in the past; he's looking toward the future.
×
Related Stories