PROVO — At the end of the night, the scoreboard said something else, but it might as well have read one thing.
Mullets 1, Mormons 0.
In the first-ever game between Coastal Carolina and BYU, a top-20 matchup scheduled on just three days' notice that Coastal Carolina students dubbed "Mormons vs. Mullets" in an ode to Notre Dame-Miami of the 1990s, the Chanticleers crowed like the loudest, baddest rooster in the barnyard.
CJ Marable ran for 132 yards and two touchdowns, and No. 18 Coastal Carolina handed BYU its first loss of the season, 22-17, in the first-ever matchup of two top-25 teams Saturday night at Brooks Stadium in Conway, South Carolina.
BYU's Tyler Allgeier ran for 106 yards and a score in a game highlighted by its top quarterbacks in Coastal Carolina's Grayson McCall and BYU's Zach Wilson. But the passing game was an after-thought as the Chanticleers out-gained the Cougars, 281-165, on the ground.
McCall completed 10-of-15 passes for 85 yards for the Chanticleers (10-0).
"They earned the win. I'm proud of our boys, their effort and their fight," BYU coach Kalani Sitake said. "I don't want to take anything away from Coastal Carolina. They made more plays, and earned the win."
With 55 seconds left and no timeouts, Wilson had one final chance to make up a 5-point deficit. But just like the first play of the game, when Neil Pau'u had a touchdown pass called back by a holding penalty on Isaac Rex, the Cougars (9-1) couldn't barely get out of their half of the field thanks in large part to a hold on Brady Christensen, and BYU's dreams died on the 1-yard line with Dax Milne's final touch on Wilson's last-ditch Hail Mary attempt.
For all the hemming and hawing, BYU had a chance at the end. It never would've happened had Milne, who caught six passes for 106 yards and a score, not stepped out of bounds with 3 seconds left Coastal 18-yard-line.
But the Chanticleers made one more play.
"We had a set up for the play. There's a chance we could've got it in," Sitake said. "We would like to have that in the end zone, but they were playing a certain defense and we didn't have the play.
"Credit to Coastal Carolina; they made a big stop."
Bracken El-Bakri made 11 tackles for BYU, and Khyiris Tonga added 10 stops and a pass breakup for the Cougars, who struggled to contain the Chanticleers' spread option all night.
Even as McCall struggled to throw, the redshirt freshman who ran for 68 yards was athletic enough to make plays in a pistol formation with plenty of short, quick decisions — a fullback dive, a short sweep, or a quarterback run — that kept BYU's defense constantly off balance.
"They did a really good job doing shifts and motions to get the box they needed, and pull guys out," said BYU linebacker Isaiah Kaufusi, who had seven tackles. "That was really unique; we also have to make adjustments, and then they run the dive option. They had a great game plan, and a unique offense to play."
Wilson completed 19-of-30 passes for 340 yards, including a 41-yard touchdown to Milne that gave BYU a 14-13 edge in the final moments of the half.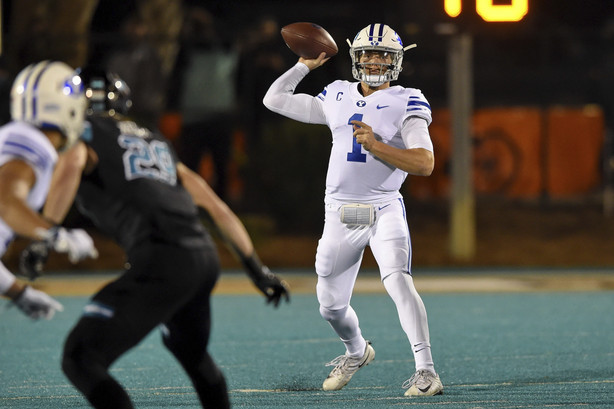 The junior from Corner Canyon had a chance for more just before the half, but his Hail Mary attempt was picked off at the goal line and as the Chanticleers tried to run it back, pandemonium ensued.
The benches cleared after Coastal Carolina bandit Jeffrey Gunter came up to be a second blocker on Wilson after the half-ending interception. With Wilson on the ground, the 6-foot-4 transfer from North Carolina State shoved him to the ground again. When Wilson tried to get back up, Gunter again shoved Wilson in the back and forced him to the ground.
"I didn't want anything to start," Kaufusi said. "Maybe it looked like I was going out to start something, but I was just trying to protect my quarterback. I've got a lot of respect for him, and as soon as the play was dead, I ran out there to make sure I could protect Zach."
That sparked the anger of the Cougars, who extended the lead on Jake Oldroyd's 29-yard kick on the first drive that also included a late-hit penalty by Gunter.
A scuffle broke out at halftime of the BYU-Coastal Carolina game. pic.twitter.com/hpDXTgabCR

— SportsCenter (@SportsCenter) December 6, 2020
And yet the fire was short-lived.
The redshirt junior made up for it by recovering a fumble to set up a field goal for the home team in the third quarter to pull within one, 17-16.
Marable returned the lead to the Chanticleers with another long drive, capping a 13-play, 85-yard sprint over 6:06 to go up 22-17 to start the fourth quarter. Coastal Carolina never trailed again.
For all the chippiness and indecision, the Chanticleers moved a much bigger BYU team in the trenches. Anchored by 5-foot-9 center Sam Thompson, Coastal Carolina out-gained the Cougars by 116 yards, allowed just one tackle for loss, and out-possessed the first top-25 visitors to Brooks Stadium in the program's four-year FBS history to 37:51 to 22:09.
"It's always tough to lose, especially in that fashion, where we have a chance to win and come up short," Kaufusi said. "A lot of different emotions, feelings, all good — it's good for guys to feel these. It's just part of the game.
"I love my team, man. I love these guys. I love what we stand for, who we stand for. The pandemic has taught us to not take things for granted. It's a blessing to be out there with my guys, my brothers. They've changed my life."
BYU has one more game scheduled in the regular season, a Senior Night sendoff against San Diego State on Dec. 12. Kickoff at LaVell Edwards Stadium is scheduled for 8 p.m. MT.
Scoring summary
First quarter
0:10 — CC: CJ Marable, 6-yard run (kick failed)
Second quarter
13:50 — BYU: Tyler Allgeier, 42-yard run (Oldroyd kick)
04:00 — CC: Reese White, 1-yard run (Biscardi kick)
01:45 — BYU: Dax Milne, 41-yard pass from Zach Wilson (Oldroyd kick)
Halftime — BYU 14, Coastal Carolina 13
Third quarter
12:28 — BYU: Jake Oldroyd, 29-yard field goal
06:32 — CC: Biscardi, 41-yard field goal
Fourth quarter
11:35 — Marable, 2-yard run (run failed)
Final — Coastal Carolina 22, BYU 17
×
Photos
Related Links