Estimated read time: 6-7 minutes
This archived news story is available only for your personal, non-commercial use. Information in the story may be outdated or superseded by additional information. Reading or replaying the story in its archived form does not constitute a republication of the story.
SALT LAKE CITY — As urban tourism and the convention market slowly make their way back to pre-pandemic levels, Salt Lake County tourism officials want travelers to know that it is more than a city-meets-outdoors destination.
Yes, the county is throwing out everything you may have thought you knew about Salt Lake City and Salt Lake County. With a new brand campaign launched Thursday with the slogan "West of Conventional," county officials want you to think of it as a place where differences blend.
Building off the dynamic of outdoors next to urban life, the new "intersection" brand focuses on other differences: It's a "meeting place" where history and new development meet and where "traditional outlooks mingle with progressive ideals."
"We are different. We're a city of juxtapositions," said Kaitlin Eskelson, president and CEO of Visit Salt Lake, a private, nonprofit organization that promotes Salt Lake County tourism. "We have the urban and the mountains. Some of our taglines are a little bit 'hallowed ground,' a little bit 'breaking new ground.' Things that shouldn't really go together miraculously do here in Salt Lake. And that's so different from what our competitors are able to offer."
The county and Visit Salt Lake worked with Wisconsin-based marketing agency BVK to develop a new brand that centers around the bonds found in Salt Lake City. Stephanie Barkow, the senior vice president of insights and planning for the agency, said the goal of the project was to find something that presented travelers with what they are seeking out of a destination but also represent what Salt Lake City and Salt Lake County have to offer.
They conducted an "extensive competitive communications audit" of other cities in and near the intermountain West, like Albuquerque, N.M.; Boise, Idaho; Denver; Portland, Oregon; Reno-Tahoe, Nevada; and Tucson, Arizona, that Salt Lake City competes with when it tries to bring in conventions and leisure travelers. This audit reviewed what other markets had and how those markets advertised themselves so they could find a brand that differed from the competition.
Barkow said there was "a ton of overlap" when it came to "recreation meets urban lifestyle" messages from the different cities.
"We knew we needed to find something that was nuanced, that was different and that really helped cling to what Salt Lake is all about," she explained.
To get there, researchers with BVK had to take a few steps. They interviewed residents with all sorts of backgrounds and found that, of course, residents do highly value the region's beauty; however, they were also quick to mention their appreciation of how "open-minded and inclusive and vibrant and worldly and forward-looking" the area is, Barkow said. The people they spoke to viewed it as a place where people come together despite the different backgrounds.
Inspired by what they heard from residents, BVK market analysts then started what's called a traveler perception study. They interviewed nearly 1,000 regional and distant travelers from an equally diverse set of backgrounds to see if it was clear to outsiders that Salt Lake was what Salt Lakers viewed their community as.
---
Salt Lake is so much more modern and fresh, open-minded and vibrant than people realize. It is a place that empowers open minds and unconventional thinking for a better way.
–Stephanie Barkow, BVK's senior vice president of insights and planning
---
Researchers found that outsiders have the perception that Salt Lake area is beautiful and home to many outdoor activities. They also view it as a safe place and a great place to raise a family. But the interviewed outsiders didn't pick up other details that residents are most proud of.
"They didn't recognize the vibrancy (Salt Lake City and Salt Lake County) has, the rich cultural scene, the arts scene, the entertainment," Barkow said. "So what was happening is they were choosing to go to other places that had all of the things ... because they thought they would have a richer experience in those destinations."
From there, they took the other parts of the traveler survey: what the outsiders look for when they travel somewhere. They found that Salt Lake City and Salt Lake County have what travelers want but the perception of it lags behind reality.
"Salt Lake is so much more modern and fresh, open-minded and vibrant than people realize," she added. "It is a place that empowers open minds and unconventional thinking for a better way. It's a place that's multifaceted and fresh."
A new tourism brand concept was born.
Along with the new brand conception, Salt Lake County and Visit Salt Lake officials unveiled a new logo Thursday that features a salt crystal design. It represents the many facets of Salt Lake County, which aligns with the new targeted brand approach. Salt Lake County officials said they believe it's a brand campaign that's broad enough to fit different tourism sectors in the region.
Thursday's announcement comes at a pivotal time for urban tourism. The COVID-19 pandemic decimated the tourism industry across the globe, including Utah. While tourism in rural parts of the state — especially places near national parks — has already rebounded and even thrived, tourism in urban Utah is slowly getting back on track.
The exact economic damage to Salt Lake County tourism from the pandemic is still being calculated but estimates are that it's at least in the hundreds of millions of dollars. The loss of conventions in 2020 alone resulted in an estimated $357 million blow to the county. Lags in Salt Lake County's tourism industry also mean lags for the state as a whole since the county brought in more than one-third of the state's entire tourism spending in 2019, when tourism resulted in $10 billion for the state.
But Eskelson and Salt Lake County officials believe there was a silver lining from last year's experience. Visit Salt Lake had time to review Salt Lake City and Salt Lake County's tourism brand and see how it could be improved. They wanted something "big and bold" for when leisure and business travel rebounds, which is expected to happen as early as this summer as more people have received the COVID-19 vaccine and there are fewer restrictions tied to the coronavirus in place.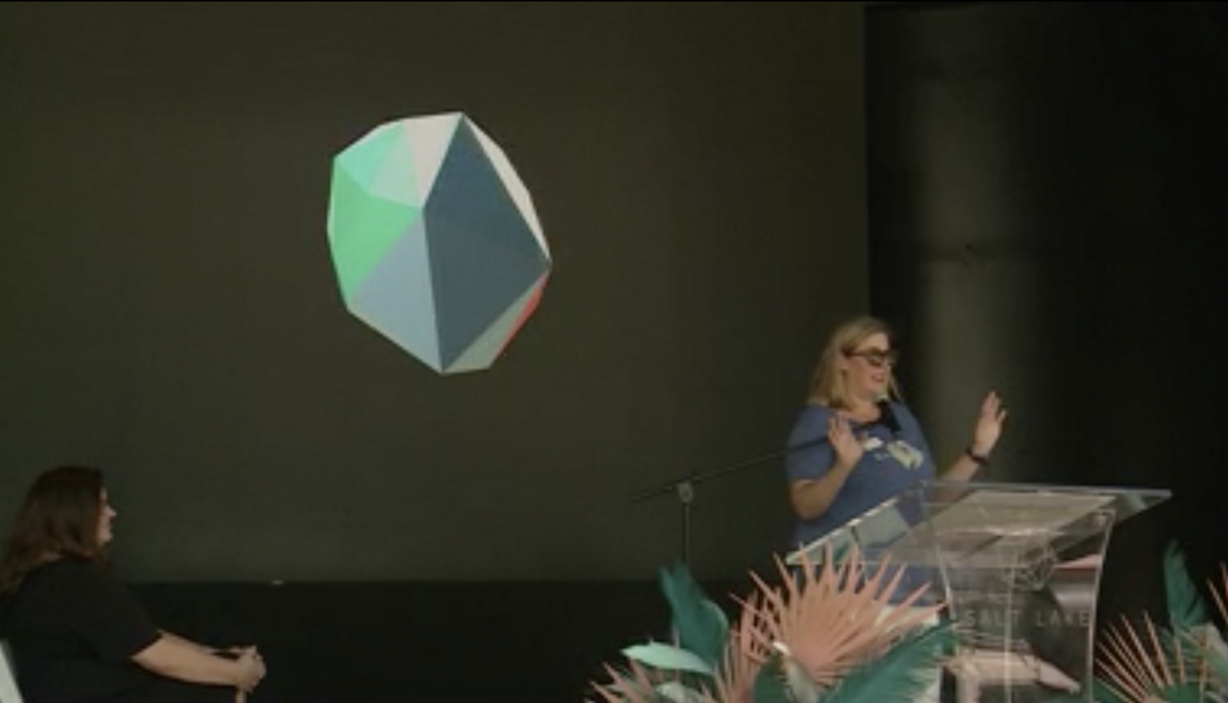 Salt Lake County Deputy Mayor Erin Litvack explained that they picked Thursday to release the new brand to help the region gain market share just as the travel economy rebounds. The new brand will be promoted immediately locally, regionally and nationally through mostly digital and social media methods, according to Eskelson.
The county also plans to unveil 10 new murals across the county and use a mobile salt cave at various conventions to help promote the new brand throughout the summer.
"This brand is a key piece to our recovery," Litvack said. "It feels a little bit of a rebirth — if you will — of our industry. The new visitor economy is upon us and we will secure our place in it. It is the perfect opportunity to up our game in how we attract visitors."
×
Related stories
Most recent Business stories