SALT LAKE CITY — The first round of the NBA playoffs are beginning to wind down, and could wind down even further Wednesday night with a potential closeout game between the Utah Jazz and the Memphis Grizzlies (7:30 p.m. MT, NBATV). But the NBA draft is just getting started.
According to the NBA, 353 players have registered for the early-entry deadline to declare for the draft, including 296 college players. That list includes five players from the state of Utah: Utah State's Neemias Queta and Justin Bean; BYU's Matt Haarms; Utah Valley's Fardaws Aimaq; and Southern Utah's John Knight III.
Players can withdraw from the draft until Monday, July 19 at 3 p.m. MT. The NCAA allows all players to retain their collegiate eligibility until the final withdrawal date of Wednesday, July 7.
Neemias Queta, Center, Utah State (Barreiro, Portugal)
Few players in Utah have done as much over the past three years than Queta, the 7-foot, 245-pound center from Barreiro, Portugal.
A relative unknown prior to signing with Craig Smith's Aggies, Queta exploded onto the scene in 2018-19, leading the team with 10 double-doubles and averaging 11.8 points, 8.9 rebounds, 1.8 assists and 2.4 blocks per game en route to Mountain West freshman of the year honors and an NCAA Tournament berth.
He followed that up with a sophomore season where he improved his field goal percentage to a career-best 62.4% for 13.0 points per game, in addition to 7.8 rebounds in an all-Mountain West second-team and all-Mountain West defensive team season.
After the COVID-19 pandemic canceled the season prior to the Aggies' official NCAA Tournament bid, Queta returned for a record-breaking junior season en route to Mountain West first-team and defensive player of the year honors, averaging 14.9 points, 10.1 rebounds and 3.3 blocks per game.
Queta departs Utah State as the Aggies' all-time leader with 219 blocked shots and 2.5 blocks per game, and ranked in the top-10 in field-goal percentage (.594), double-doubles (30), games with 10 or more rebounds (37), rebounds (777) and rebounds per game (9.0). His 1,113 career points ranks 29th in program history.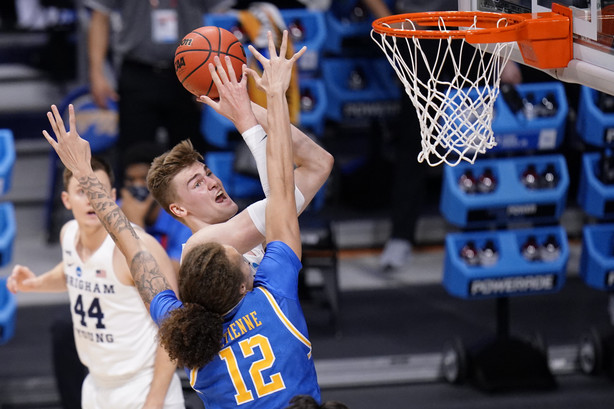 Matt Haarms, Center, BYU (Amsterdam, The Netherlands)
After playing three seasons at Purdue and graduating with a degree in political science, Haarms moved to Provo for one season with the BYU basketball team before opting to begin his professional career.
The 7-foot-3, 250-pound big man averaged 11.3 points, 5.0 rebounds, 1.1 assists and 1.9 blocks per game while leading the Cougars to a 20-7 record and the program's first NCAA Tournament berth in five years.
In his lone season at BYU, Haarms was named West Coast Conference defensive player of the year by the league's 10 coaches, the first BYU player to receive such an award since Jackson Emery in 2011 (in the Cougars' final year in the Mountain West). In a career-high 23-point performance against Portland, Haarms went 9-of-9 from the field, making the most consecutive baskets without a miss since All-American Kresimir Cosic in 1971.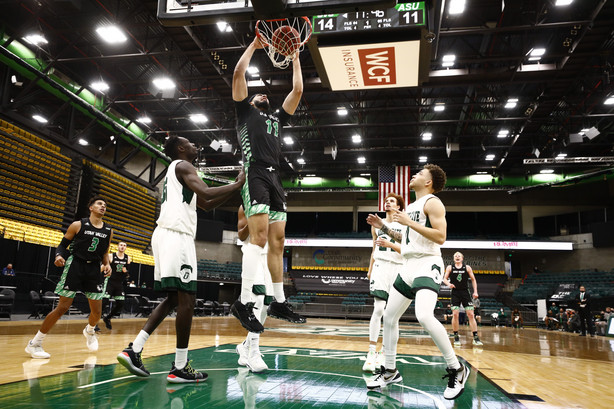 Fardaws Aimaq, Center, Utah Valley (Vancouver, British Columbia)
In his first eligible season since transferring from Mercer, Aimaq set the standard on the glass — not just in the state of Utah, but nationally. The 6-foot-11, 245-pound behemoth from Vancouver averaged 15.9 points and a nation-leading 15.3 rebounds per game, leading the Wolverines to an 11-11 overall record and 9-4 mark in Western Athletic Conference play that tied for the Wolverines' first league title since 2014.
The first NCAA Division I player to average 15 or more rebounds per game in a single season since 1980, Aimaq was named WAC Player of the Year, first-team all-WAC and WAC defensive player of the year before rolling in honors from the NABC District 6 first team to a finalist for the Lou Henson mid-major player of the year award and Lefty Driesell defensive player of the year award.
Show me a true-blooded Aggie pic.twitter.com/xtFFtkvcFc

— Justin Bean (@justinbean34) March 30, 2021
Justin Bean, Forward, Utah State (Moore, Oklahoma)
Bean has already publicly said he'll be back in Aggie blue next season, saying in a video on Twitter that he "can't imagine playing for anyone else" and he plans to "run it back" next season.
But just being in position to be considered an NBA prospect is a massive leap for the 6-foot-7, 210-pound forward from Moore, Oklahoma.
Bean was serving a two-year mission for The Church of Jesus Christ of Latter-day Saints in Reno, Nevada, when he caught the attention of Utah State's coaching staff in 2015-17 and was offered a chance to walk-on when he returned. The son of former Idaho State standout Gordon Bean took the opportunity and ran with it, all the way to second-team all-Mountain West and all-tournament team honors as a junior in 2020-21.
A do-it-all-player in every sense of the word, Bean shot 51.8% from the field for 11.4 points, 7.7 rebounds and 1.9 assists per game, while leading the squad with 38 steals in 29 starts as a junior in 2020-21. Alongside Queta, the duo formed one of the most formidable frontcourts in the Mountain West, scoring in double figures 20 times, with 16 double-doubles — tied for the seventh-best mark in Utah State hoops history.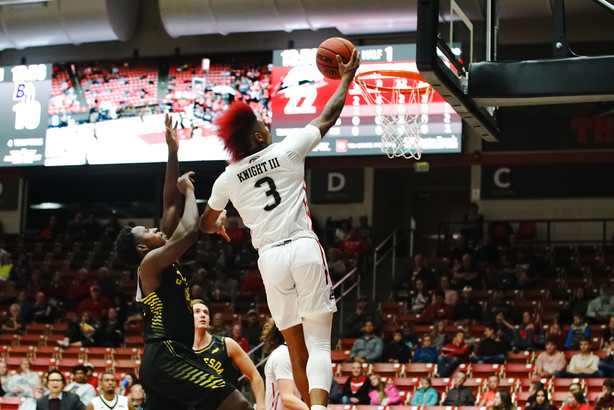 John Knight III, Guard, Southern Utah (Jackson, Mississippi)
Knight's career has taken him from Southwest Mississippi Community College to Utah State to Cedar City, where he's thrived under head coach and NABC District 6 co-coach of the year Todd Simon and helped the Thunderbirds to a Big Sky regular-season title — the program's first since the 2000-01 season, when they competed in the Mid-Continental Conference.
The 6-foot-3, 205-pound senior was the team's second-leading scorer all year, averaging 14.4 points, 4.2 rebounds and 4.4 assists per game for the Thunderbirds en route to a 20-4 season, including a 12-2 mark in league play.
×
Related Stories