Estimated read time: 4-5 minutes
This archived news story is available only for your personal, non-commercial use. Information in the story may be outdated or superseded by additional information. Reading or replaying the story in its archived form does not constitute a republication of the story.
CEDAR CITY — One of the first things you notice when you watch the Southern Utah basketball team are the shorts. Suffice it to say that John Knight III and Harrison Butler's style choices would make John Stockton proud.
"That's just their style, I mean everyone's got their own little flair," senior guard Dre Marin said. "However they play their best that's all I care about."
With that as the case, expect those shorts to stay short.
The team from Cedar City holds the best record in Utah at 9-1 and is currently the only team in the state that ESPN is projecting to make the tournament (albeit as the assumed Big Sky tournament champion). For a program that spent the better part of two decades in a perpetual tailspin, that is a big deal.
How bad were things when Todd Simon took over the program five seasons ago?
Southern Utah had seen just one winning season in the last 15 years before Simon took over — a stretch that included winning just four Division 1 games in 2015-16. Support was minimal, at best, and the SUU team that made the 2001 NCAA Tournament was nothing but a distant dream.
There wasn't much to build on, but that also gave Simon a blank slate to work with.
"For me, it was more about: let's build a solid foundation, let's not compromise on our culture or how we do things and how we build these teams and have some longevity," Simon said.
Sure, Simon brought in some immediate high-level transfers, but there was never going to be a quick fix. The culture around the program had to change. So Simon did some simple things to make things feel bigger. He had graphics put up in SUU's multipurpose practice court, got the administration to revamp his office to create an open space for players and pushed a redesign of the locker rooms. The thought process was simple: If we look like a bigger program, maybe we'll start playing like one.
Last month in back-to-back games, Southern Utah beat Montana, a program that has long been one of the classes of the conference, on its final possession. In both games, the Thunderbirds drew fouls and knocked down game-winning free throws. If anything shows the difference between SUU now and from three years ago, it was those two games.
"At the start, there was an expectation to lose," Simon said.
Expectations that mostly became self-fulfilling prophecies.
It was a team so used to losing — and rarely even being competitive in those losses — that they were often defeated before the ball went up. Southern Utah won six games in Simon's first season in 2016-17. But then things turned around: 13 wins in his second year, 17 in his third, and going 17-15 last season — the program's first winning season since 2006-07.
That growth has attracted more talent like Illinois transfer Tevian Jones who is averaging 19.2 in SUU's first 10 games.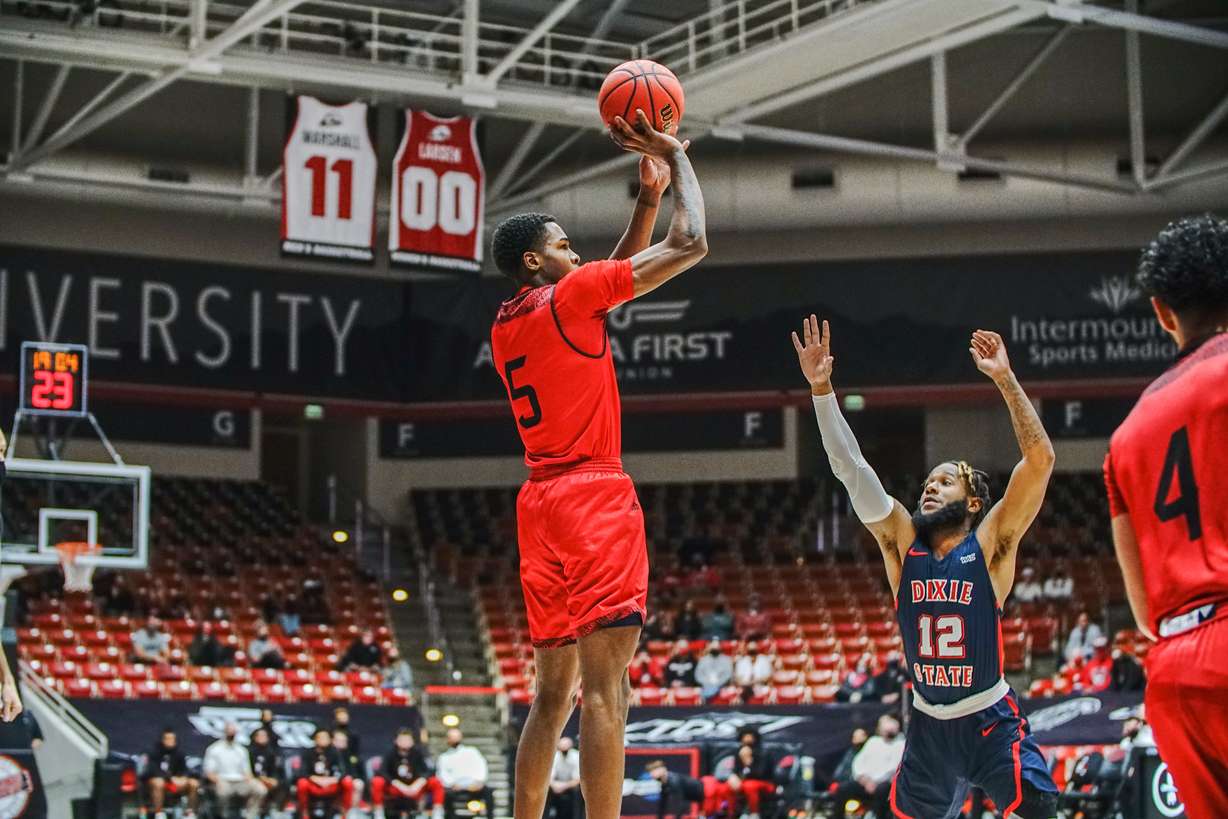 Jones, a junior, said SUU might have been in his top ten out of high school, "but not something I would seriously be considering." But now, he gets to be a major impact player on a team with championship aspirations. Check that, championship expectations.
"I would say the biggest thing is just our expectations for ourselves," said Marin, who has seen the program slowly grow into a legitimate Big Sky contender. "We're trying to build this thing up. And it's brick by brick and you take some losses. Now, we go into games and we're expected to win. We talk about winning championships now — like all the time."
Those talks will only get more real with strong performances at Eastern Washington, the conference's preseason favorite, this week in games on Thursday and Saturday.
But being a part of that growth has been special for native Utahn and Westlake High grad Maizen Fausett.
"I thought maybe I could change something or help the culture and I'm hoping I've been able to do that," said Fausett, who is averaging 13.6 points and 6.6 rebounds.
Fausett initially committed to SUU in 2015 and then left for a two-year church mission. When he got home, SUU had a new coaching staff — one that featured someone he knew well. Former BYU assistant John Wardenburg, who coached Fausett at Westlake during his senior year, has been with Simon through the entire rebuild.
A rebuild that isn't finished.
"It's really cool to be part of something that hasn't really been done before," Marin said. "You get to be one of the first guys to start laying down the foundation. It's been really cool and it's been a fun ride."
But Marin is quick to point out: "We're not done yet."
×
Most recent Sports stories