LOGAN — What was largely expected has become official: Neemias Queta's time at Utah State has come to an end.
The 7-footer from Barreiro, Portugal announced Monday that he will forego his final season of eligibility with the Aggies and enter the NBA Draft.
"I'm declaring for the draft because I feel ready to take my game to the next level and fulfilling a lifelong dream of being an NBA player," Queta told ESPN.
The 7-foot-2, 245-pound center recently wrapped up his junior season with the Aggies, when he averaged 14.9 points, 10.1 rebounds and 2.7 assists per game en route to a 20-9 record and a third-straight NCAA Tournament qualification. Queta also set the school's all-time blocked shots record and leaves Logan with 219 stuffs — including 97 in 29 games as a junior.
Queta penned a heartfelt letter to Utah State fans as he announced his intentions Monday, thanking them for "the most amazing three years of my life."
"Coming from Portugal to Utah as a 19-year-old young man, I never could've expected all of the amazing events that would unfold over the next three years," Queta wrote. "From winning back-to-back Mountain West championships, two NCAA Tournaments and building lifelong friendships along the way, I've loved every minute of it.
"I would like to thank my coaches for believing in me, teaching me and encouraging me to be the best that I can be, every day. I would like to thank my family and friends in Portugal who have supported me since day one. I would like to thank all of my teammates who have become my brothers throughout this journey. Most of all, I would like to thank God; I am so grateful to him for putting me in this situation."
Forever a Aggie!!! pic.twitter.com/WQHmIlVxrO

— Quetão 🔥🤷🏿‍♂️ (@nemi1599) March 29, 2021
Queta also flirted with the NBA draft after his freshman and sophomore seasons, but eventually returned to the Aggies each time. After his freshman year, he opted to re-join Utah State standout Sam Merrill to form a veritable 1-2 punch that led to the Aggies' second straight Mountain West Tournament title.
A year ago, with Merrill off to the NBA, Queta returned to lead the Aggies back to the NCAA Tournament after the 2020 event was canceled. Utah State earned an at-large berth in the tournament where the Aggies' season ended at the hands of Texas Tech.
A two-time All-Mountain West selection and Mountain West defensive player of the year honoree, Queta is one of four finalists for the Naismith Defensive Player of the Year award.
The NBA announced later Monday that the draft will be held Thursday, July 29 at 6 p.m. MT (ABC, ESPN). Other important dates surrounding the draft are the following:
NBA Draft Combine: Subject to evolving public health conditions, the draft combine is scheduled for Monday, June 21 through Sunday, June 27. Each day will be broadcast on an ESPN network, with coverage including five-on-five games and strength and agility testing.
NBA Draft Lottery: The lottery order will be decided Tuesday, June 22, at 6:30 p.m. MT on ESPN.
NBA Early Entry Application and Withdrawal Deadlines: The deadline for an early entry player to apply for this year's draft is Sunday, May 30 at 9:59 p.m. MT. The deadline for an early entry player to withdraw from the NBA Draft is Monday, July 19 at 3 p.m. MT.
Queta is projected as the 76th-best prospect, according to ESPN. A rim-protecting 7-footer is hard to pass up, though the evolution of the modern NBA game has called some of Queta's contributions into question by several NBA analysts.
Still, the center who shot 56% from the field has done everything he can to impress NBA scouts over the past three seasons. In each of his three years at Utah State, Queta improved his scoring — by nearly 2.0 points per game per year — as well as his overall rebounding, shooting up from 8.9 boards per game as a freshman to 10.1 as a junior.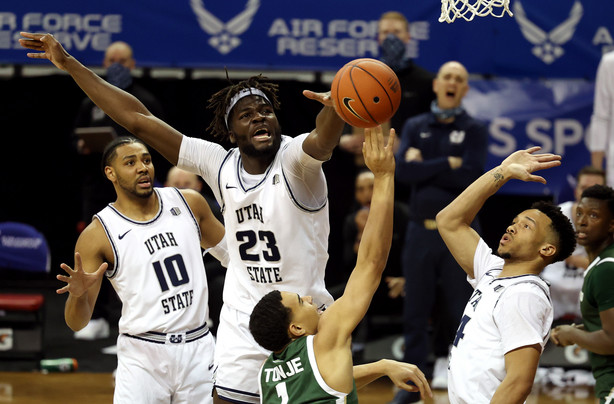 He made similar jumps in free-throw percentage and assists, while lowering his turnovers, and more than tripled his 2019-20 steals total with 31 this past season as a junior.
In short, Queta has done everything he can to improve in the college game. Another year likely won't make much of a difference in his overall draft stock.
Add to all that a new coach — Utah State's Craig Smith was introduced at the University of Utah on Saturday afternoon — and the timing finally feels right for Queta to take a jump at the professional ranks.
When Smith took the job at Utah — he was introduced Saturday before he was able to meet personally with several of his former Utah State players — he immediately snuffed out talk of the Portuguese center's move to Salt Lake City and insinuating the prospect's pro potential.
"That's not something we are going to do," Smith said. "That's not a road we will go down.
"We had an unbelievable group of young men at Utah State for the last three years," he later added. "It was incredible, the growth that they made — and we're gonna do the same thing at the University of Utah."
×
Related Stories