OREM — The NCAA ranks the top 250 rebounders in America from the country's 357 Division I college basketball programs — a hefty sample of collegiate hoopers nationally.
Over the first month of the 2020-21 season, none have performed better than a certain near-7-footer from Vancouver, British Columbia, who plays in Orem.
Utah Valley forward Fardaws Aimaq ranks as the top rebounder in the country, pulling down an average of 14.5 boards to go with 15.5 points over the Wolverines' first five games of the season. Officially, that's No. 2 in the nation — but the top rebounder, Elyjah Goss of IUPUI, has only played in one game to set his 16 boards per game average.
So with all due respect to Goss, we're making a judgment call: no player in Division I college basketball has put in quite the production on the glass over multiple games than Aimaq. Or better stated, no player has put in a higher effort than the first-year eligible Wolverine who transferred from Mercer.
Because while rebounding is a skill of athleticism like any other in basketball, a huge component of the game is simply an effort play.
"Not a lot of guys want to rebound," Aimaq told KSL.com this week. "It's a tough thing to do; you've got to be physical and do the little things that people don't want to do. It's not very appealing, but if that's what it is. I'm fine as long as it gets the job done."
Of course, size helps in being able to pull a loose ball or missed shot off a 10-foot rim. With that in mind, Aimaq's 6-foot-11, 245-pound frame certainly helps — as it did when he set a program record for rebounds with 20 in a single game on Dec. 12.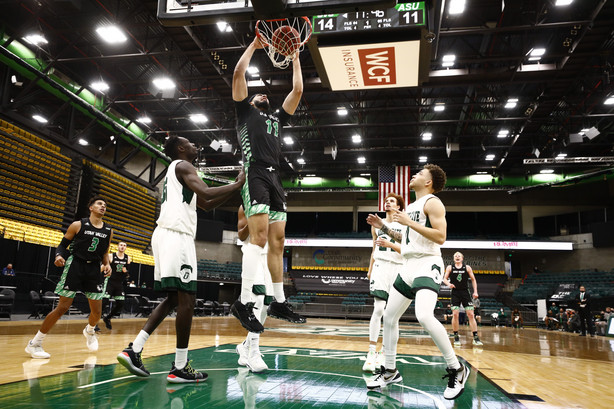 In that regard, the Wolverines (2-3) are built to board. UVU has six players that stand 6-foot-6 or taller, including Aimaq and Evan Cole, the 6-10 graduate transfer from Georgia Tech who is averaging 5.7 rebounds in three games.
Cole had a double-double with 31 points and 10 rebounds in the Wolverines' 75-67 loss Dec. 15 at Utah, the team's last game since temporarily pausing the program due to a rise in COVID-19 infection rates.
Utah Valley will end its long layoff, which included three canceled games this weekend against in-state rival Weber State. Tipoff in Ogden is set for Saturday at 2:30 p.m. MST on Pluto TV in a game that was just scheduled on Tuesday.
In its most recent game, UVU shut down its bigger Pac-12 foe on the glass, out-rebounding the Utes 34-29 with a 28-23 advantage on the defensive glass.
It doesn't make up for the loss. But in games that are often decided by a single possession, a missed shot or an extra rebound, that edge can have a significant impact on the Wolverines' slate as they prepare to open Western Athletic Conference play on Jan. 8.
"We have some really strong rebounders that play with some desire and heart. Evan Cole goes after every rebound. Fardaws, the same thing," said UVU head coach Mark Madsen, a nine-year NBA veteran who is beginning his second year as a collegiate coach. "I guarantee that every team we play this year will scout us to keep Daws off the boards. But no one can keep him off the glass.
"If he gets into foul trouble, that could hurt him. But he goes hard; he goes every time, and he goes with relentless energy."
The same goes for Cole, who Madsen said lost nearly 20 pounds this fall but still has the motor and effort to be among the top rebounders in the league.
"He attacks the basket and wants the ball in key moments," Madsen said. "I was proud of Evan; he lost 10-15 pounds the last 2-3 weeks, but his strength is coming back."
But again, rebounding isn't always about size. It's also about positioning, about skill, and about finding the effort and desire to crash the glass even when it's not the easy play.
"A lot of it doesn't come down to how high you can jump or athleticism," Aimaq said, "but at the end of the day, it's how physical you play and how hard you can hit that person before they can jump."
Madsen was crucial in bringing Aimaq, who averaged 5.0 points and 5.3 rebounds in 29 games at Mercer in 2018-19. Under the tutelage of the "Mad Dog," he's becoming an even bigger beast on the boards.
With one game left in nonconference play and the WAC regular season just a week away, the Wolverines are just getting started, too.
"I haven't gone home for the break because I've just been here trying to get ready for this game and conference play. I just wanted to stay ready, and I'm excited to get back on the court," Aimaq said.
"It's the first time this season we'll have everybody available. Everybody's ready to go and ready to play."
×
Photos
Related Stories