SALT LAKE CITY — On paper, there's a lot to like about Muirfield Village, the golf course designed by the legendary Jack Nicklaus that is home to The Memorial Tournament every season, one of the crown jewels on the PGA Tour that is not a major championship.
Among those who probably like it the most — again, on paper — is Tony Finau.
Especially now.
The course recently received a complete overhaul, led by Nicklaus, the PGA Hall of Famer who has designed more than 300 courses in his post-playing career — including some in Utah — with a new precision air system under the greens that helps control moisture and keeps them firm and fast.
Only two holes — the 12th and 14th — have gone unchanged, according to Golf Digest, as Nicklaus and Co. worked to alter tees, build new greens, and narrow or reroute fairways. In total, the adjustments added 153 yards to the course, bringing the total yardage to 7,609 — close to 700 yards longer than when it opened in 1974.
"It wasn't hard for me to do at all," Nicklaus told golf media in the days leading up to Thursday's opening round. "You just go do it. I've seen how the course has played over the years, recognized things I didn't really like, and when we started talking about redoing the greens and the fairways to get rid of all the Poa annua, I decided now was the time to make changes that would result in a more enjoyable golf course for the members while still challenging the pros."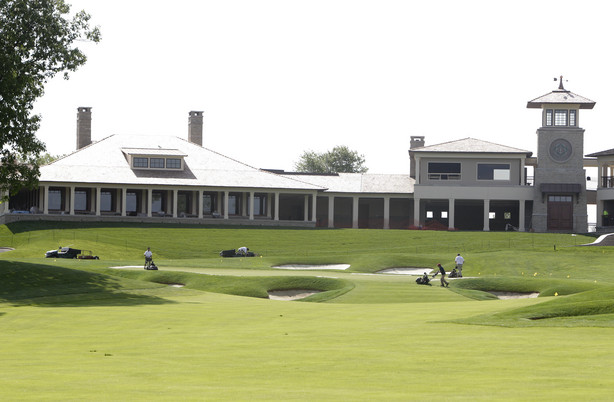 It's also another reason for long-drive boomers to like the course — Finau among them.
Certainly, Finau liked the course a year ago when he jumped out to an early lead before falling to eighth place, well behind champion Jon Rahm.
In a span of 72 hours, Finau — who will tee off Thursday at 5:56 a.m. MT with Matt Kuchar and Jimmy Walker — learned the best that Muirfield Village can offer, as well as how quickly things can change in Dublin, Ohio.
"It was good, and then it wasn't good," Finau said after last year's Sunday finish. "I ran into some speed bumps on the back nine.
"Man, this golf course can get you in a heartbeat. You just try and put your best foot forward every hole, every shot and try and play as well as you can."
Ranked No. 13 in the World Golf Rankings, Finau was on a tear through the early part of the 2021 season. The Rose Park native has two second-place finishes and placed in the top 10 of each of the three majors on the calendar, including tied for eighth at the PGA Championship in late May.
But he's also struggled with consistency. The 6-foot-4, 31-year-old West High graduate has missed the cut in three of his last eight starts, and finished tied for 20th in his most recent bid at the Charles Schwab Challenge last weekend.
If wins is the end goal — and maybe it isn't as Finau has collected just over $3.5 million in winnings since the season started in September — then Finau hasn't won on tour since the 2016 Puerto Rico Open.
"If nothing else, I like that he broke that pattern last week at Colonial simply by making the cut," said Jason Sobel, who writes for The Action Network and GolfBet while also mentioning Finau is +2200 to win this weekend. "Finau is the type of player you probably don't feel very comfortable using at a major or another big-time event, but he usually shows up and plays well, so you really don't want to waste him at a smaller one, either. All of which makes this tourney a logical matchup, as he's finished 13th or better in four of six career starts here."
Both Sobel and PGA Tour writer Rob Bolton expect Finau to contend at The Memorial. But how far is to be determined.
Bolton sees the field coming down to drivers, which explains why he selected the average driver of 304.5 yards, but also why he projects Bryson DeChambeau to take the tournament title.
"I'm thankful to be able to roster these big boys," Bolton wrote. "Should be more bonus points tallied in driving, too."
---
The Memorial pres. By Nationwide
Tee times
Thursday, June 3
7:56 a.m. ET — Matt Kuchar, Jimmy Walker, Tony Finau
Friday, June 4
12:56 p.m. ET (No. 10) — Matt Kuchar, Jimmy Walker, Tony Finau
×
Related Stories