SALT LAKE CITY — Tony Finau's week of good golf started with a 59 at Victory Ranch in Utah.
It ended with a top-10 finish at The Memorial.
Finau carded a 6-over-par 78 Sunday to finish with a four-day total of 2-under 286 at The Memorial Tournament at Muirfield Village in Dublin, Ohio.
The Salt Lake City native led the field after the first two days, and was just four shots off the lead and tied for second before Sunday's final round.
But that round started going the opposite direction in the final round.
Finau was 6-over 42 on the front nine, including a triple bogey on par-4, 449-yard sixth hole — his third-straight fixture above par. He pulled back birdies on three of the first four holes on the back, but trailed by as many as eight strokes after a double bogey on No. 14 en route to his eighth-place finish.
The mark is Finau's third top-10 finish on the PGA Tour in 2020, and first since finishing second at the Waste Management Phoenix Open in January.
Jon Rahm won the event, posting a four-day total of 9-under 279. With his first win of 2020 and $1.6 million of the $9.3 million purse, the former Arizona State golfer who won the Pac-12 title in Salt Lake City in 2016 will move to No. 1 in the World Golf Rankings for the first time in his career.
Ryan Palmer finished second at 6-under, one shot ahead of Matthew Palmer and two shots better than Jason Day and Matt Wallace.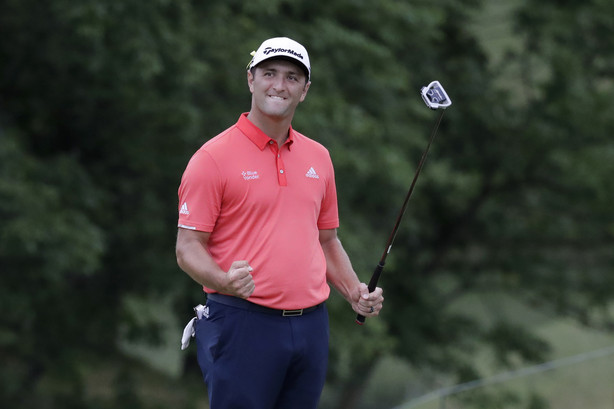 Though it fizzled late, Finau's weekend couldn't have started much better.
The West High graduate shot 65 on Thursday to open with the lead and finished with 3-under a day later to maintain his lead in a round of golf that rivals any he's had in his professional career.
The hot spell began with his second sub-60 round away from the PGA Tour when he visited his friends near Kamas before departing for Ohio, the Rose Park native alluded.
"I don't know how many times I've been 14 under through 16 holes on a good golf course," Finau told the Associated Press after Friday's round. "But it told me I was in good form and just told me how good I am at scoring. So I think I definitely carried some of that right into this week, and that confidence I think is pretty cool."
Saturday nearly as well, with a pair of double bogeys starting on the par-3 12th hole that set in motion the unraveling.
"It was good, and then it wasn't good," Finau said Saturday. "Man, this golf course can get you in a heartbeat. You just try and put your best foot forward every hole, every shot and try and play as well as you can. The greens are firm. There's enough wind up there to think about. They're fast.
"A little disappointed in my finish, but look, I'm in a good position going into tomorrow."
His positioning only lasted three holes, though. By the time Finau walked off the par-4, 449-yard sixth hole with a 3-over 7, he was looking as many as 10 shots up the leaderboard at Rahm.
Former BYU golfer Zac Blair shot a two-day 154, missing the cut by seven shots.
Also during the tournament, legendary golfer Jack Nicklaus revealed on CBS' telecast of the event that he and his wife had previously tested positive for COVID-19.
Nicklaus said his his wife Barbara showed no symptoms of the virus that has infected millions of Americans, while he had a sore throat and a cough. The couple who lives in North Palm Beach, Florida, said they were homebound from March 13 until around April 20, when "we were done with it."
"It didn't last very long, and we were very, very fortunate, very lucky," Nicklaus said. "Barbara and I are both of the age, both of us 80 years old, that is an at-risk age. Our hearts go out to the people who did lose their lives and their families. We were just a couple of the lucky ones."
Contributing: Associated Press
PGA Tour
×
Photos
Related Links