Estimated read time: 5-6 minutes
This archived news story is available only for your personal, non-commercial use. Information in the story may be outdated or superseded by additional information. Reading or replaying the story in its archived form does not constitute a republication of the story.
SYRACUSE — There appears to be a growing number of ticks being reported in Utah — from Antelope Island to wildlife in Utah's mountains.
"The past five or six years we've been getting more reports of people or dogs going home with ticks," said Wendy Wilson, assistant park manager at Antelope Island State Park.
Park officials receive calls every so often after a visitor tells them that they found ticks during or after their trips.
"It seems like that's picking up," she added, noting that isn't just the number of people reporting ticks, but that some people have reported multiple tick bites.
But while there are winter and spring conditions ideal for ticks, experts aren't exactly sure if the rising number is tied to a spike in ticks or just a spike in people seeing ticks. Either way, they say Utah's current climate conditions may have helped ticks, but it will eventually become troublesome for all species of ticks if it continues.
Utah's milder, drier conditions over the winter and into the spring were beneficial to ticks over the past few months, said Dr. Scott Bernhardt, an assistant professor in Utah State University's biology department.
"If you have milder winters, you have the ability for those insects, those arthropods, to survive better and therefore we'll be able to see higher numbers," he explained.
This is a trend spotted across Utah. Biologists with the Utah Division of Wildlife Resources said tick interactions with wildlife are the worst following drought years because ticks survive and produce better in low snowpack years, which is what happened this winter. Summit County Environmental Health Director Nathan Brooks told KPCW last week that the climate conditions seem to have made ticks more aggressive this year, as well.
The American Dog and Rocky Mountain Wood ticks are the most common species that Utahns encounter, according to USU-Extension. They can cause issues for humans and pets — and even some of Utah's wildlife. For instance, the Centers for Disease Control and Prevention lists a handful of diseases tied to ticks. That's why the Utah Department of Health handles most tick information in the state.
Bernhard said it's unclear right now if the rising documentation of ticks at places like Antelope Island is the case of more ticks or if it's tied to rises in outdoor recreation since the COVID-19 pandemic reached Utah in March 2020. For example, there were nearly 300,000 more visitors to Antelope Island between 2019 and 2020, according to Utah State Parks. That increase could also result in more reports because it might mean there were more people able to encounter ticks.
The biggest reason why it's difficult to tell if there's any change in the number of ticks in the state is there really isn't a surveillance program with data that shows trends like the state has with mosquitos, he explained. That's something that he's working to help change. He plans to help the state health department with a statewide survey to better understand the population of ticks, which will be replicated in future years to figure out trends.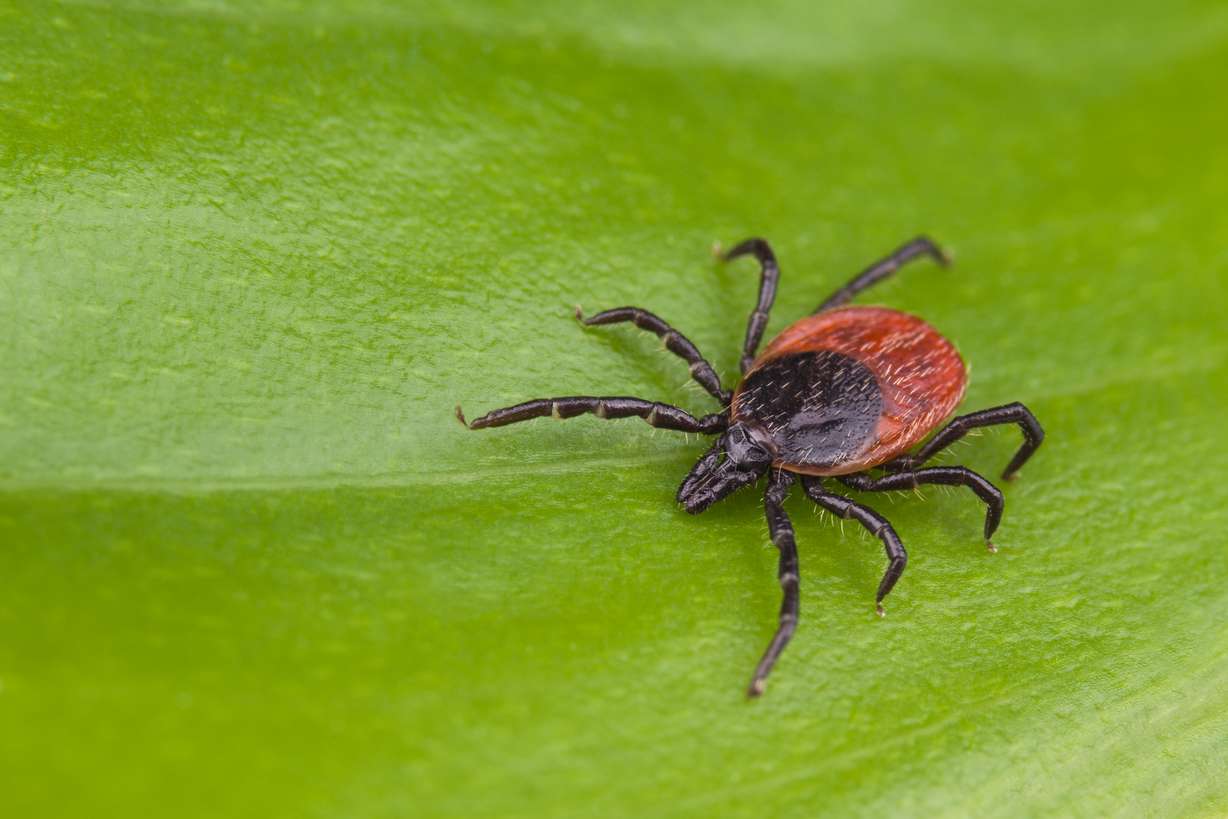 Ticks aren't just a nuisance or problem for humans and pets but even wildlife, especially moose. Faith Heaton Jolley, a spokeswoman for the Utah Division of Wildlife Resources, said ticks are found on all sorts of big game but a single moose can get up to 10,000 ticks.
DWR biologists say there really isn't a given reason why moose are more affected; however, it can lead to energy loss due to drained blood that could impact a creature more than disease typically would. Higher tick counts normally correlate with reductions in survival rates, pregnancy and calf recruitment.
But there is some good news out of the growing reports of ticks in Utah. Bernhardt said most of the ticks studied in Utah haven't carried Lyme disease, which he said is the most troublesome of diseases that can come from tick bites. The other thing is that it can take three to five days from bite to the transmission of disease, which is why he said it's important that people do regular body checks to ensure they haven't been bitten during or after an outdoor adventure, especially after camping.
"It's all about trying to prevent the possibility of disease transmission, and it actually takes a substantial amount of time. ... We're talking about days before any type of infection can actually take place," he said. "If you remove a tick, you remove really any possibility of the disease being transmitted to an individual."
Still, experts say it's important that people who recreate in Utah prepare for ticks. Bernhardt said people going outdoors should also use insect repellent and wear long pants or long shirts if possible to reduce the likelihood of being bitten by ticks.
"We don't want you to not come, so really it's just a matter of being prepared when you come. Just know that they're here in a natural setting. ... They're a natural part of the ecosystem," Wilson added. "Just be prepared. Wear light-colored clothes so you can see them easier."
Tips to remove ticks can be found here.
As for the climate's impact on ticks, the state's drying conditions ultimately pose issues for ticks. All parts of Utah are experiencing drought conditions and those conditions are extreme for about 90% of the state, according to the U.S. Drought Monitor.
"Over time, drought conditions are really, really devastating to tick populations," Bernhardt said, "and you'd see then a major decline over time."
Contributing: Mike Anderson, KSL TV
×
Related stories
Most recent Outdoors stories