SANDY — Real Salt Lake played to a disappointing 1-1 draw with Minnesota United FC on Saturday night, but that wasn't the most disappointing thing about the tie.
In the world of Major League Soccer, where every point in the regular season matters, earning a point isn't a bad thing. Sure, a home draw can often feel like dropping two — but a point gained is always a point gained.
At least, that was RSL coach Freddy Juarez's argument after the match — and he's right, by simple definition of the rules and regulations of soccer.
It's a long season, and Real Salt Lake (2-1-3, 9 points) is bracing itself for the marathon and not the early-season sprint. There's some merit to such a philosophy; when the "dog days of summer" hit and teams need to accumulate a spot in the playoffs by September, RSL will need all the experience, posturing and playoff positioning it can get.
"We've still only dropped one game," Juarez said. "A lot of positives. I thought our outside backs were very good today, and there were a lot of good performances on the field. For the fans and for us, we want the three points. But we continue to battle, and we've got to keep that in the positive side."
But RSL is also winless in four matches, dating back to a late 2-1 home loss to San Jose on May 7. The club won't get another chance to snap that skid until at least June 18, when it hosts fellow Rio Tinto Stadium habitant Vancouver Whitecaps FC at 7:30 p.m. MT.
The break is the result of the FIFA-approved international break, which includes Sunday's U.S. men's national team friendly against Switzerland that features RSL goalkeeper David Ochoa and the United States' match with Costa Rica on June 9 at Rio Tinto Stadium. The break can also be a good thing for a club that has been going hard since preseason in January.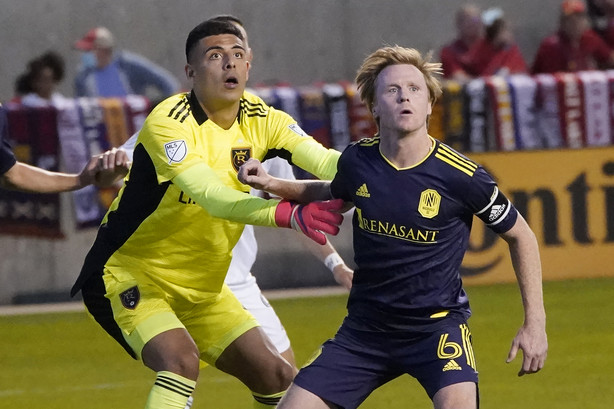 "It's nice to get a little bit of a break," said RSL defender Andrew Brody, the former Real Monarchs standout who has been a bright spot in his full debut season with Salt Lake. "It'll be nice to rest the legs a bit, and obviously watch some international soccer."
Of course, it's not just three weeks to put the feet up and down mimosas while gorging on the world's game. It's also three weeks of training, a lot of self-scouting, and long-term planning that hasn't been possible as the team has simply fought to prepare for each opponent, one after another.
It's three weeks to sit and think about the good of the first six games of the season — like a 1-1 draw on the road with FC Dallas — and the bad, like the "unlucky" goal by Niko Hansen that helped Minnesota steal a point from Sandy.
Ideally, it's also three weeks to fix whatever is in need of fixing to solve RSL's late-game woes. Because there is something, players admit.
"It's kind of a repeating story that we keep doing to ourselves: We go up 1-0, and we don't ever kill the game off and get that second or third goal. It always comes back to bite us," said defender Aaron Herrera, an RSL Academy product now in a leadership position and unafraid to speak his mind publicly. "We've really got to figure that out, how to go up a goal and continue to push the play and keep the game on our terms. We have to just end the game, honestly."
Again, it's not time to panic, Herrera admitted. The season is still fairly young.
"We're dropping points. But we're still not losing," he added. "We've only lost one game so far this year. We're one step away from being able to put in that kill shot and win the game.
"In my mind, we should be 6-0 right now; it hurts that we're dropping points. But we've just got to figure some things out to take it to the next level."
When the team gets back together for game-week training, the ranks will also be bolstered. Former U.S. international Bobby Wood is scheduled to arrive as early as Wednesday to join RSL's forward group, and the club recently finalized the long-rumored signing of Argentine winger Jonathan Menéndez from Atlético Independiente, who should provide competition for several spots (at the very least), club officials admit.
"It's good to get them at this break," Juarez said. "It adds a little buzz and excitement, but they were brought in for a reason. My message to them and the team is they are coming into compete. If they win the spot, they win the spot. If not, we have a good team coming in. We don't need to make wholesale changes for any of them.
"They're all more than welcome, and we're excited to have these two players come in."
The 27-year-old Menéndez has spent almost the entirety of his pro career in his native Argentina, mostly with Independiente in the greater Buenos Aires area and Club Atletico Talleres in Cordoba. He totaled 20 goals and 10 assists in 70 matches with the two clubs, and brings a "dynamic and fearless" element to RSL's attack, Juarez said, a one-on-one attacker who is adept at breaking down opponents and getting behind the opposition's back line.
He also signed a three-year contract with Real Salt Lake using targeted allocation money, a deal worth a reported $1.3 million by ESPN that can be bought down well under MLS's salary cap using the league spending mechanism.
And Menéndez might not be the last player added during the transfer window, RSL general manager Elliot Fall admitted Saturday night.
"We're still in contact with some players, and still discussing things," Fall said. "We'll see how those play out."
×
Related Stories