Estimated read time: 6-7 minutes
This archived news story is available only for your personal, non-commercial use. Information in the story may be outdated or superseded by additional information. Reading or replaying the story in its archived form does not constitute a republication of the story.
SANDY — Rubio Rubin has scored countless goals in his professional career spanning the globe, from Denmark to Norway to Mexico and (finally) the United States.
None were as emotional as the two he scored Saturday afternoon for Real Salt Lake.
Rubin had two goals, and Damir Kreilach added a goal and two assists as Real Salt Lake rallied from a 1-0 first-half deficit to thump Western Conference rival Sporting Kansas City 3-1 in front of a reduced-capacity sellout crowd of around 10,000 fans Saturday afternoon at Rio Tinto Stadium.
David Ochoa earned the second win of his MLS goalkeeping career, and started a new tradition by punting a ball signed by the entire team into the supporters' section following the win.
After one of his goals, Rubin's father stood up in his seat at Rio Tinto Stadium, and proudly boasted, "That's my son" for all to hear. It was the first time in his professional career the 25-year-old forward from Beaverton, Oregon, has played in front of his parents.
"It was very emotional before the game; I think I was more nervous today than last week against Minnesota," said Rubin, the son of Mexican and Guatemalan immigrants. "It's just a special moment to be able to have them there. I saw a picture on the internet of my dad in tears, and I had to get off. It was emotional to see that. We've bonded … and it was a special moment between a father and a son."
It was also special for Real Salt Lake; in his first two matches with the club, Rubin already has two assists and two goals.
Turns out, good things really do come in pairs.
"Amazing. I'm so happy for him, for all our attackers," RSL coach Freddy Juarez said. "It's not easy to come to a club where people put trust in you. It's a lot of pressure. But we knew their qualities, and we feel like their skillsets help what we want to do as a team.
"There are team goals, and then there are great individual goals like Rubio had (on his second goal) with all those cuts before he shot. It's great to be able to deliver when family comes and watches you."
The former U.S. international had two goals to go with two assists a week ago for RSL, but the game changed with the introduction of former Real Monarchs standout and MLS debutant Andrew Brody. On an afternoon where Juarez was forced to make an early sub, Salt Lake had plenty of firepower to dispatch Sporting and improve to 2-0 on the young 2021 season.
And Bobby Wood isn't even here yet.
With Rubin on the field, RSL is creating a scoring chance every 12 minutes in two matches. Obviously, that rate is likely to dip — by his own admission. Scoring comes in ebbs and flows.
But he's found a groove with his new club and appears to be the attacking answer the Salt Lake side needs. Whether dishing to forward partner Anderson Julio or dancing into the penalty area and leaving defenders' ankles in his wake, Rubin has been exactly what RSL needed when he signed from second-division San Diego Loyal in the offseason.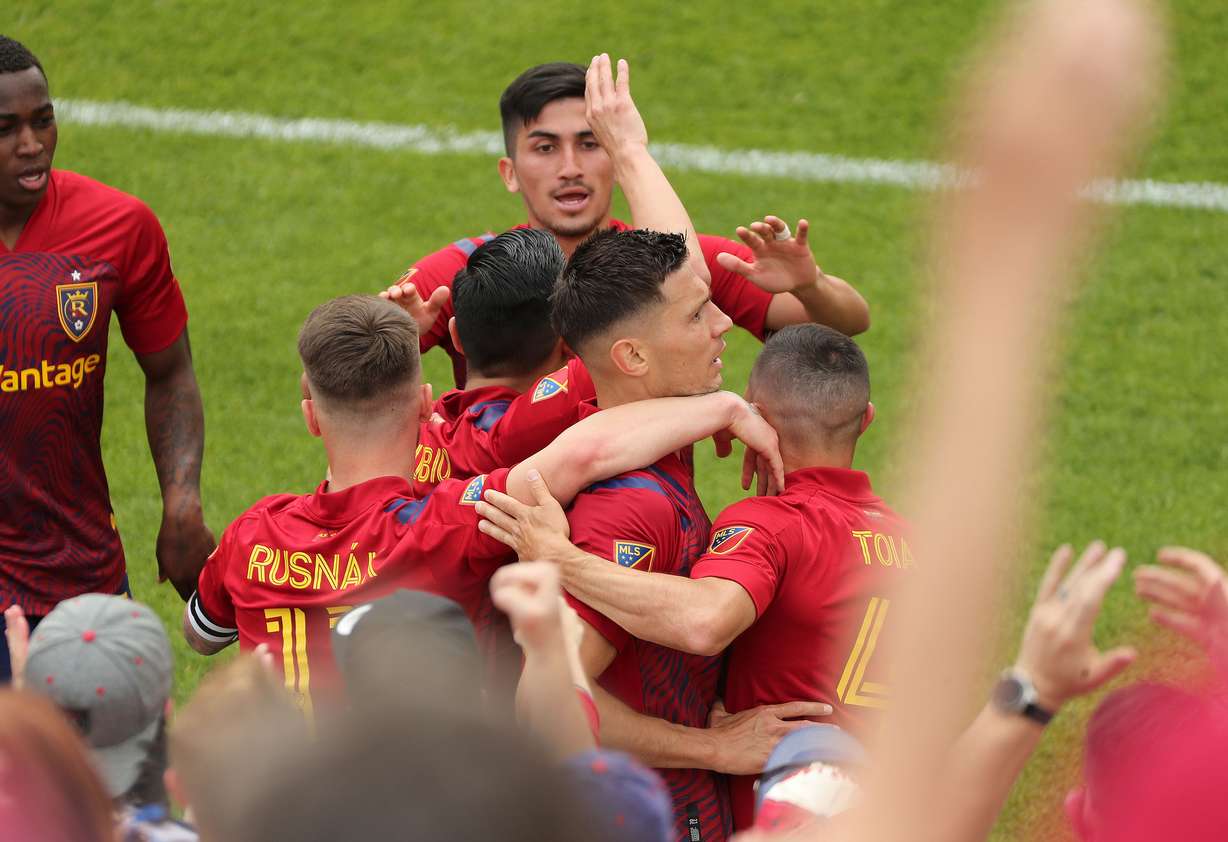 "I knew they were tired playing at elevation, and I was a little more fresh," Rubin said of his second goal. "I had nothing to lose; we could at least get a corner out of it.
"My mindset was to go to goal, and at least get a shot off. Luckily it found the back of the net, and I'm just happy about that."
Kansas City struck first through Alan Pulido, who finished off a buildup from Khiry Shelton in the 17th minute to send the visitors ahead early. Shelton played an easy pass to teenage phenom Gianluca Busio, who dummied the ball and laid it off for Pulido to finish inside the far post for his first goal of the season.
It was the only shot on goal through the first 30 minutes for Sporting, who had just 34% of possession in the time.
Equally concerning was RSL defender Aaron Herrera coming off in the 30th minute with a knock. The veteran fullback ran straight to the tunnel and into the locker room to receive medical treatment for a left quad injury as Brody made his MLS debut as a first-half substitute.
Brody's sub wasn't a concern, though.
Brody needed just five minutes to tally his first MLS assist, striking a well-placed cross from the right side that caromed off a rising Kreilach's head for the equalizer in the 35th minute.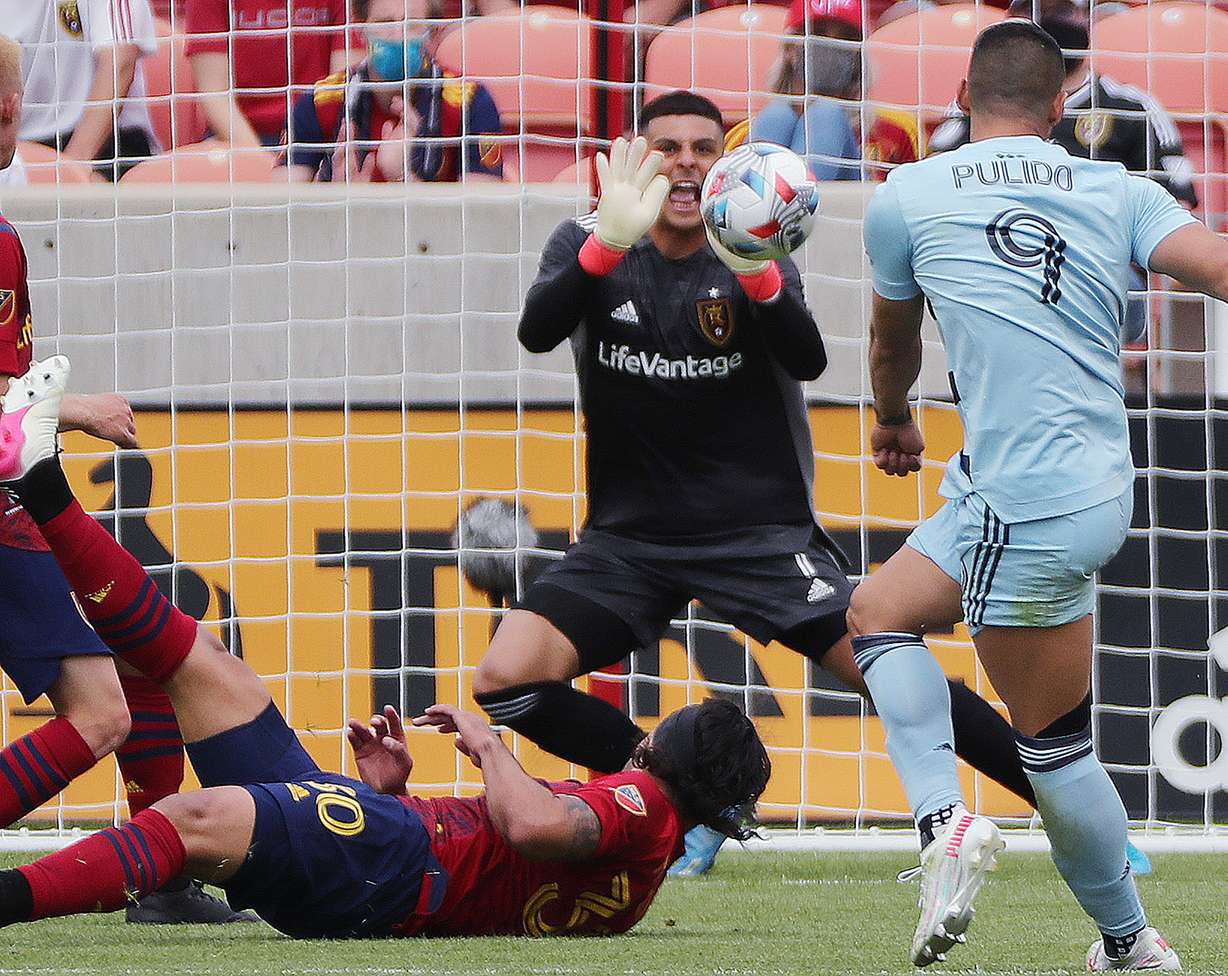 The former Real Monarchs standout created another chance three minutes later, but Kreilach was just behind the play that would've put RSL ahead before the 40th minute.
"I saw Pablo on the ball, so my biggest thought was to get out wide and put it in a dangerous area," Brody said. "I saw Damir in the back, and I know he's a great target out there.
"He's an unreal finish, and it really changed the game for us."
The RSL Academy product's job — like that of any reserve on the squad — is to bring energy and be ready when his number is called. He certainly did that Saturday, and it changed the match.
"On the bench, you recognize stuff in the game, spaces you can exploit," Brody told RSL sideline reporter Samantha Yarock at halftime. "The biggest thing is just to be ready when you're called. Freddy called my number, and I was ready for the moment."
It's never easy to make a sub in the first half, but Herrera couldn't continue. As it turns out, replacing the attack-minded fullback with a former RSL Academy forward and winger was just what Salt Lake needed.
"Knowing Brody since he was 15, that's always been his strength," Juarez said. "He's like an eel, slithering as he gets going. I can't imagine being a winger and trying to close him down. He has an amazing work engine, where he's constantly going.
"It wasn't the game plan, but we know what his tendencies are — and he delivered. It's tough to go into a game, and then to make an impact (off the bench). Unbelievable by Brody."
Kreilach set up the second goal for RSL, taking a pass from Pablo Ruiz and finding Rubin just off the far post for the new striker's first goal in a Claret and Cobalt kit.
Rubin, who had two assists in his club debut a week ago at Minnesota, scored in front of his parents — who were watching their son for the first time in the former U.S. international's professional career.
Rubin added his second goal of the match with a one-on-three chance in front of goal, burying a ball inside the near post off an assist from Kreilach in the 77th minute.
That put the hosts up 3-1 moments before Rubin retired for the day.
Real Salt Lake returns to Rio Tinto Stadium next Friday, May 7 when the club hosts the San Jose Earthquakes. Kickoff is scheduled for 7:30 p.m. MT on KMYU.
×
Photos
Most recent Real Salt Lake stories