Estimated read time: 5-6 minutes
This archived news story is available only for your personal, non-commercial use. Information in the story may be outdated or superseded by additional information. Reading or replaying the story in its archived form does not constitute a republication of the story.
SANDY — Four weeks into the 2021 MLS season, Rubio Rubin can still do Rubio Rubin things for Real Salt Lake.
Ditto for Chris Wondolowski and the San Jose Earthquakes.
Rubin scored what should be a frontrunner for MLS goal of the year in the first half, but Wondolowski responded with two in the final 10 minutes to help San Jose snatch all three points with a 2-1 win over RSL in front of a reduced-capacity sellout crowd of 10,448 people Friday night at Rio Tinto Stadium.
Rubin has had a foot in all five goals for Real Salt Lake (2-1) in three matches this season, with three goals and two assists. But Wondolowski scored the 167th and 168th regular-season goals of his MLS-record 16-year career to rally the Quakes (3-1) to victory.
It was 80 minutes of what RSL fans have come to expect during the 2-0 start to the season — goals, pressure, and fun. But in the final 10 minutes — and without a second goal, Wondo did Wondo things, scoring his 12th goal all-time against RSL.
"I think it was just a lack of concentration at the end. We knew what Wondo brings, and he ended up beating us today," Rubin said. "We have a good team. We showed for 80 minutes that we can compete with the best. We just have to use this as a learning lesson, and move on from this. Sometimes you have to grind our a win. Hopefully this helps us develop and learn from it."
Rubin opened the scoring in the first half, chesting a headed pass from Damir Kreilach that came off a throw-in, then casually flipped over in the center of the box and banged home a bicycle kick that put RSL up 1-0 in the 43rd minute. The high-flying first-year RSL forward scored his third goal in as many weeks for Salt Lake, adding to his tally from last week's brace during a 3-1 win over Sporting Kansas City.
Each of Rubin's goals scored, all at home, have come off his preferred right foot (he also has two assists from the opener in Minnesota). One day, he might want to score from his left. His bicycle goal was the first such marker for RSL since Javier Morales hit a bike against the Portland Timbers in 2013, according to club historians.
In just three matches, Rubin is proving to be the goal-scoring forward Salt Lake has been lacking. He can score, pass and dictate games, as needed. The same thing Kreilach sees on the training ground is what fans and media are seeing on match day.
"Rubio is so important for us. He's showing us week by week his quality and determination," Kreilach said. "He's putting it all on the field every single week.
"It didn't surprise me at all, but at the end of the day, it was an unbelievable ball. All he has to do is keep going to push us as a team."
Even his coach, the normally reserved and stoic Freddy Juarez couldn't help but smile.
"I try to keep calm when we score goals, but I couldn't help myself with that goal," he said. "When you're a fan of the game, those moments just make you a fan. You have to applaud it. Great effort from Rubio; we have a great goal-scorer on our team, and someone who is very exciting.
"It was nice to see that from him and the energy from the guys. I wish it would've been the game-winner; it would've been even more special."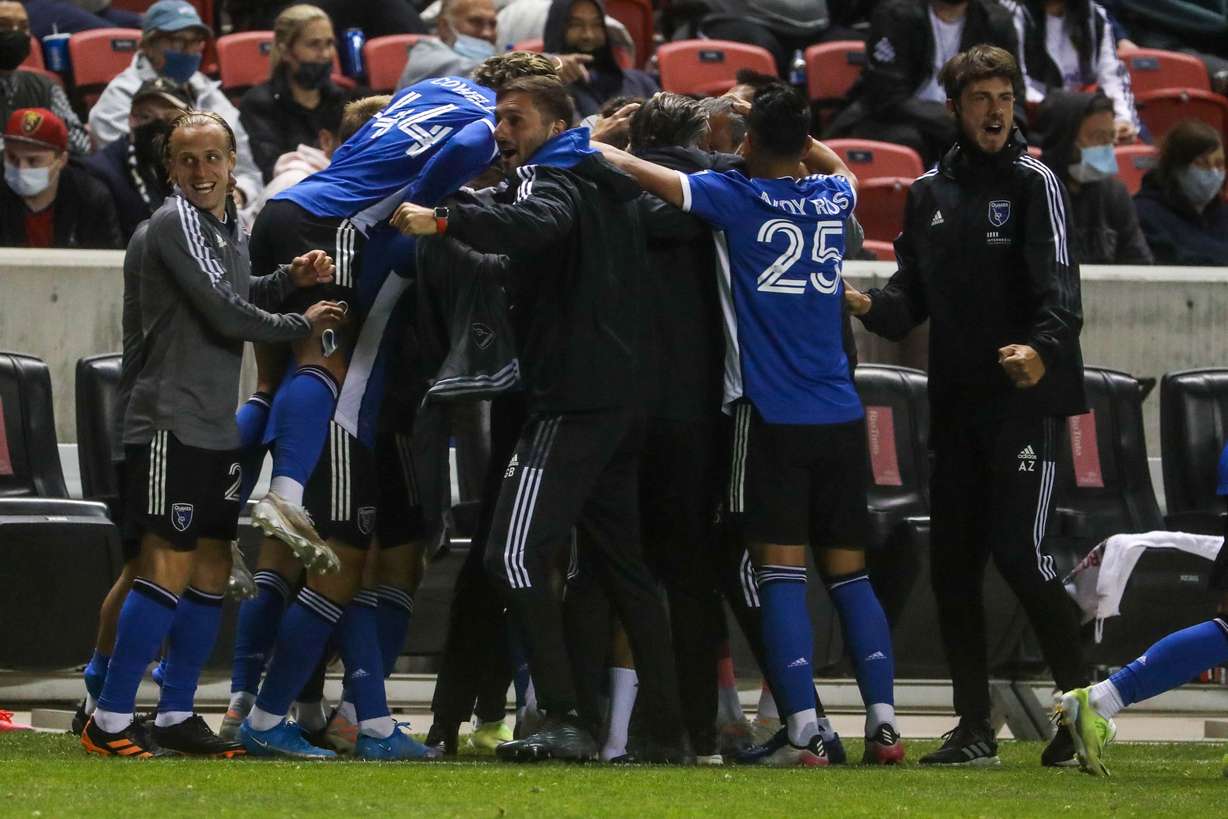 But the 1-0 advantage wouldn't hold.
Rubin was replaced around the 80th minute in favor of Douglas Martinez Jr. Wondolowski scored four minutes later, a second-half sub's goal worthy of MLS's all-time leading scorer. RSL fans and club officials wanted an offside call. But the official never relented in awarding the equalizer to the former U.S. international, seconds after RSL goalkeeper David Ochoa spilled an initial shot in the 83rd minute.
Five minutes later, the 38-year-old striker from Danville, California, did it again, vaulting the Earthquakes to the top of the Western Conference with three wins in four matches.
For 80 minutes, RSL were the dominant side in a battle of two teams ranked in the top-three in the Western Conference in the season's first month. The hosts showed that quality over 80 minutes, despite a disheveled lineup that included several new faces and the first all-RSL Academy product backline of mainstays Justen Glad and Donny Toia joined by newcomers Erik Holt and Andrew Brody, who earned his first career MLS start a week after assisting in his league debut at right back.
The club even managed to hold down the blistering tandem of Cade Cowell and Jackson Yueill, who led the Earthquakes in their 2-0-1 start to the season. But they couldn't hold down the fort for the full 90 — especially not with Wondo coming off the bench.
Lessons to be learned now, rather than later.
"We're using it as something we'll show video on, and something we can show the group how to get better from those moments. You never want to lose at home, and I thought the guys gave a heck of a performance," Juarez said. "They gave them an amazing goal that will probably be up for goal of the week.
"But it was 3-4 minutes, and we got a little unlucky in the end. But I believe that the energy the group brought today, if we bring it consistently, we're going to be very hard to beat ... We'll be in the hunt for playoffs."
It's OK to be disappointed now. But it's also early in the season, and RSL hosts second-year side Nashville SC next Saturday, May 15 (7:30 p.m. MT, KMYU).
"We have a good team. Fans saw it. People saw it through 80 minutes," Rubin said. "We can't let it completely kill us.
"We're gutted right now, and it's OK to be disappointed. But once tomorrow comes, we have to move on and be better for the next game and the rest of the season."
×
Photos
Related stories
Most recent Real Salt Lake stories