Estimated read time: 4-5 minutes
This archived news story is available only for your personal, non-commercial use. Information in the story may be outdated or superseded by additional information. Reading or replaying the story in its archived form does not constitute a republication of the story.
WEST JORDAN — Police say Dzenef Beganovic, 24, has been buying and selling catalytic converters since August.
But when he purchases a converter, he doesn't bother to verify whether it's been stolen, according to investigators.
"Several undercover controlled transactions were conducted with (Beganovic) who purchased catalytic converters which had clear indications showing they were stolen property, such as rough angled cuts, pry marks, paint transfer and hesitation cuts," police wrote in an affidavit.
On May 6, Beganovic was arrested for investigation of engaging in a pattern of unlawful activity and theft by receiving stolen property.
His arrest was part of a multiagency crackdown led by the Utah Attorney General's Office on catalytic converter thefts — a problem that has skyrocketed around the Wasatch Front and across the nation.
Converter thefts in Utah have risen nearly 600% since 2018, according to the attorney general's office. Nationally, the thefts have gone up a dramatic 6,000% during that same time.
Nate Mutter, the attorney general's assistant chief of investigations, says in 2019 there were approximately 100 catalytic converter thefts reported in Utah. That number jumped to 650 during 2020 and was already at 350 after the first four months of this year.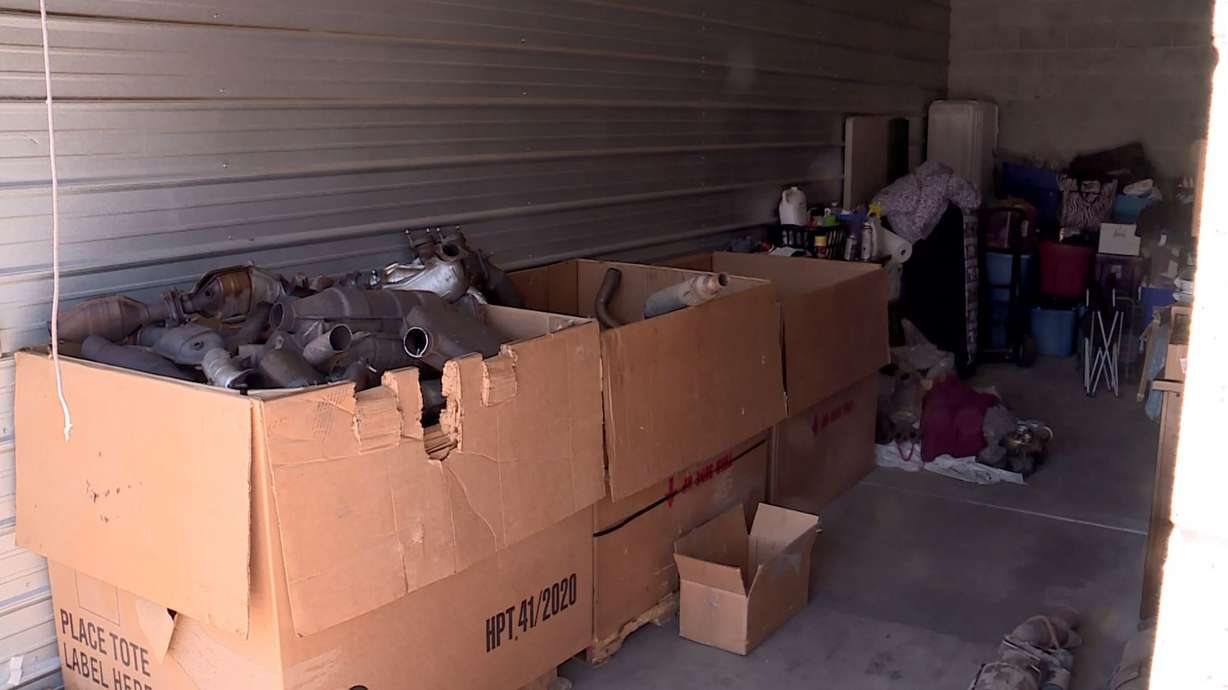 Catalytic converters are used to help reduce the toxicity of a vehicle's emissions. A car will still run without it, but will sound exceptionally loud. The converters also contain several precious metals that can be sold at recycling yards for quick money.
With the right tools, police say a catalytic converter can be cut out from the bottom of a vehicle and taken in less than two minutes.
In March, a Duchesne man was arrested and accused of cutting out and stealing $45,000 worth of catalytic converters from an auto shop in Murray on two separate occasions.
Scrap metal dealers will buy catalytic converters for an average of $200 to $400, Mutter said, or a person can sell one on the street for about $100. But car owners typically have to pay about $1,800 to have them replaced, and insurance doesn't always cover them.
To address the problem, the Crimes Against Statewide Economy Task Force — led by the attorney general's office and State Bureau of Investigations — partnered with West Valley City, West Jordan, Sandy and Unified police to crack down on both the people who steal catalytic converters and those who buy them illegally. Officers conducted an undercover operation targeting scrap metal dealers, recyclers and individuals selling stolen catalytic converters online.
Police say Beganovic was found dealing converters on Facebook Marketplace. Undercover officers met him in a parking lot in March where Beganovic is accused of purchasing three catalytic converters from the officers for $240.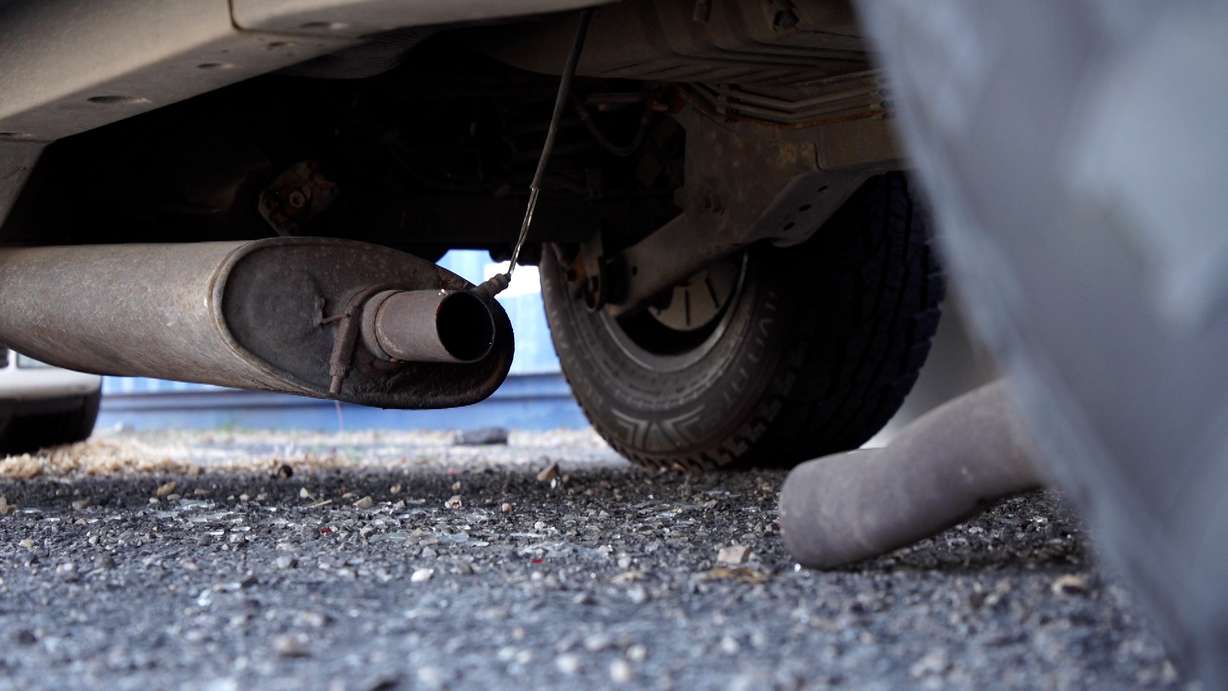 "This price is well below market that any reasonable person can receive from legitimate scrap metal facility in the state of Utah," the officers noted in a search warrant affidavit. "Dzenef never once asked where or how (undercover officers) became in possession of the three catalytic converters."
Officers made several more undercover transactions with Beganovic until they received enough evidence to obtain a search warrant on a storage unit where they discovered Beganovic had 40 converters, the affidavit says.
When confronted by police, Beganovic "admitted that he has been buying and selling catalytic converters since August of 2020, operating under a business licensed to his name. With each transaction, suspect never asked where or how the converters were obtained, how they obtained more converters and paid well below market value price, which is indicative when purchasing stolen property," according to the affidavit.
Two others were also arrested during the operation for illegally selling converters, Mutter said, and approximately 125 stolen converters in total were recovered.
The operation also focused on scrap metal dealers from Utah County to Weber County and west to Tooele County.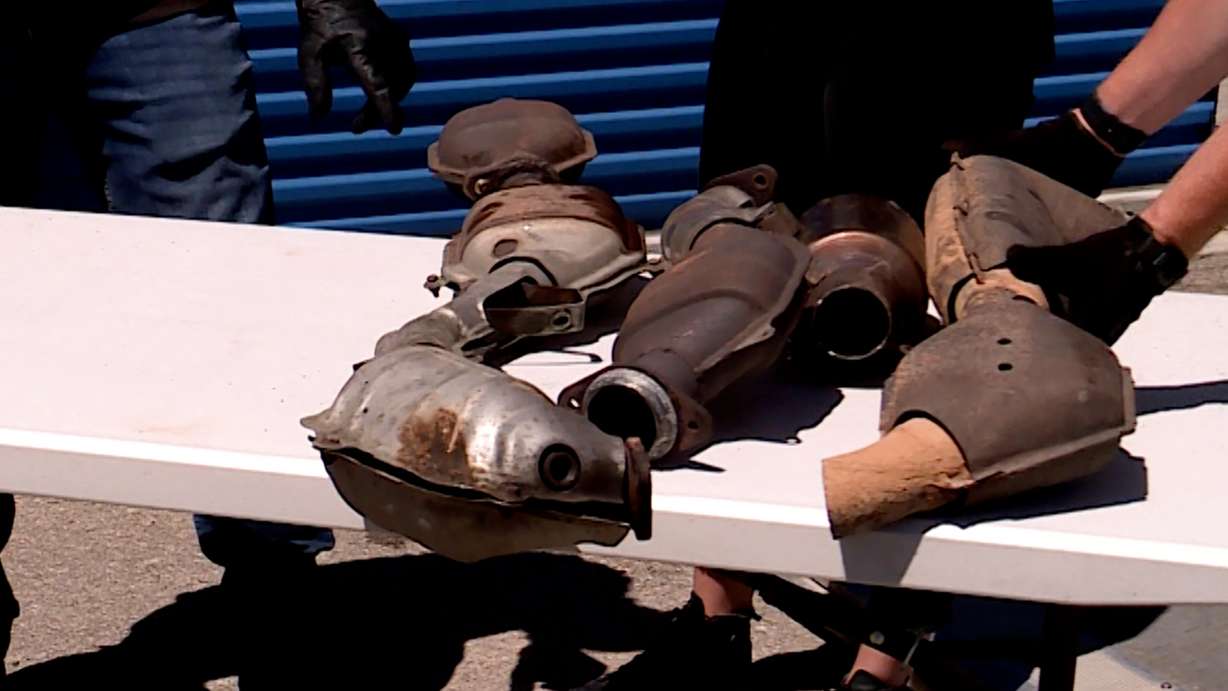 From April 26 through April 30, police conducted "spot checks" on registered scrap metal and metal recyclers that buy catalytic converters. The investigation found that many legitimate scrap metal dealers and recyclers were not complying with state laws regarding the purchasing of precious metals, the attorney general's office stated.
In fact, Mutter said of the registered scrap metal dealers that were inspected, only four — or approximately 30% of those checked — were in compliance.
Scrap metal dealers are required to follow certain rules when purchasing catalytic converters, such as taking a picture of the driver's license or ID of the person selling the converter as well as a picture of that person's license plate. A first-time violation can result in a $750 fine, while a second violation is a $2,500 fine. Mutter said both citations and warnings were issued during the recent operation.
He said the goal is not to "come down" on scrap metal dealers, because law enforcement needs their help to stop people from stealing catalytic converters. Mutter said if businesses do their part, police hope it will discourage some would-be thieves and also help identify those stealing catalytic converters.
×
Photos
Related stories
Most recent Utah stories