Estimated read time: 3-4 minutes
This archived news story is available only for your personal, non-commercial use. Information in the story may be outdated or superseded by additional information. Reading or replaying the story in its archived form does not constitute a republication of the story.
SALT LAKE CITY — A swastika was discovered scratched into the door of the Chabad Community Center Synagogue in Salt Lake City Sunday morning.
Rabbi Avremi Zippel tweeted photos of the vandalism and said, "We will not cower in fear."
Zippel told KSL that he was "a bit shaken up" and that "swastikas in 2021 are not something we expect to deal with." He said he isn't surprised by such a brazen act, but he is hurt.
"A swastika is not a political statement; a swastika is an image of hate," Zippel told KSL TV. "A swastika represents one thing, and one thing only: that is, death to the Jews."
Salt Lake City police received a call about the vandalism at 8:30 a.m. Sunday morning and arrived shortly after to investigate the scene at the edifice located at 1760 S. 1100 East, Salt Lake City Police Lt. Lisa Pascadlo said.
Surveillance footage shows an individual inscribing the swastika on the synagogue door at approximately 2:00 a.m. Sunday morning, but the video is dark and getting a good description of the suspect will be difficult, Pascadlo said. The incident is being investigated as a hate crime, which Pascadlo said could result in a charge of vandalism with a hate crime enhancement.
"It was chilling to watch the video," Zippel said. "I think it was a deliberate act; whoever did this was in full control of their faculties, and knew precisely what they were doing."
The investigation is ongoing and anyone who saw anything weird in Sugar House on Saturday night is invited to call the Salt Lake City police at 801-799-3000.
Two days ago, the FBI issued a warning to all local synagogues about potential threats in light of current events in Israel and Palestine.
The email told synagogues to "remain vigilant of suspicious or threatening activities at Jewish affiliated houses of worship, businesses, or within your respective organizations" and to consider extra patrols during services.
"Someone wants to come over here to our building and deface it and put some graffiti on the walls, now that's hurtful," Zippel said. "But to put something like that, to scratch it into the front window of the synagogue, is hateful, despicable and cowardly — in every sense of the word.
"Our attitude is one that we will always rise above hatred. We will never give it the space and attention that it demands, and that it wants. We will live to fight another day, and bring light to a world that so much needs it."
Government officials responded to the vandalism with support for Utah's Jewish community and condemnations of hatred.
Salt Lake County Mayor Jenny Wilson voiced her support for Utah's Jewish community and said, "Hate and bigotry have no place in our community."
Utah Senator Mitt Romney said: "By extending his hand of fellowship to a Rabbi and synagogue, our first president marked the way to be taken by all Americans. Those who commit acts of vandalism against Jews or their places of worship in Salt Lake City or anywhere else only disgrace their own souls."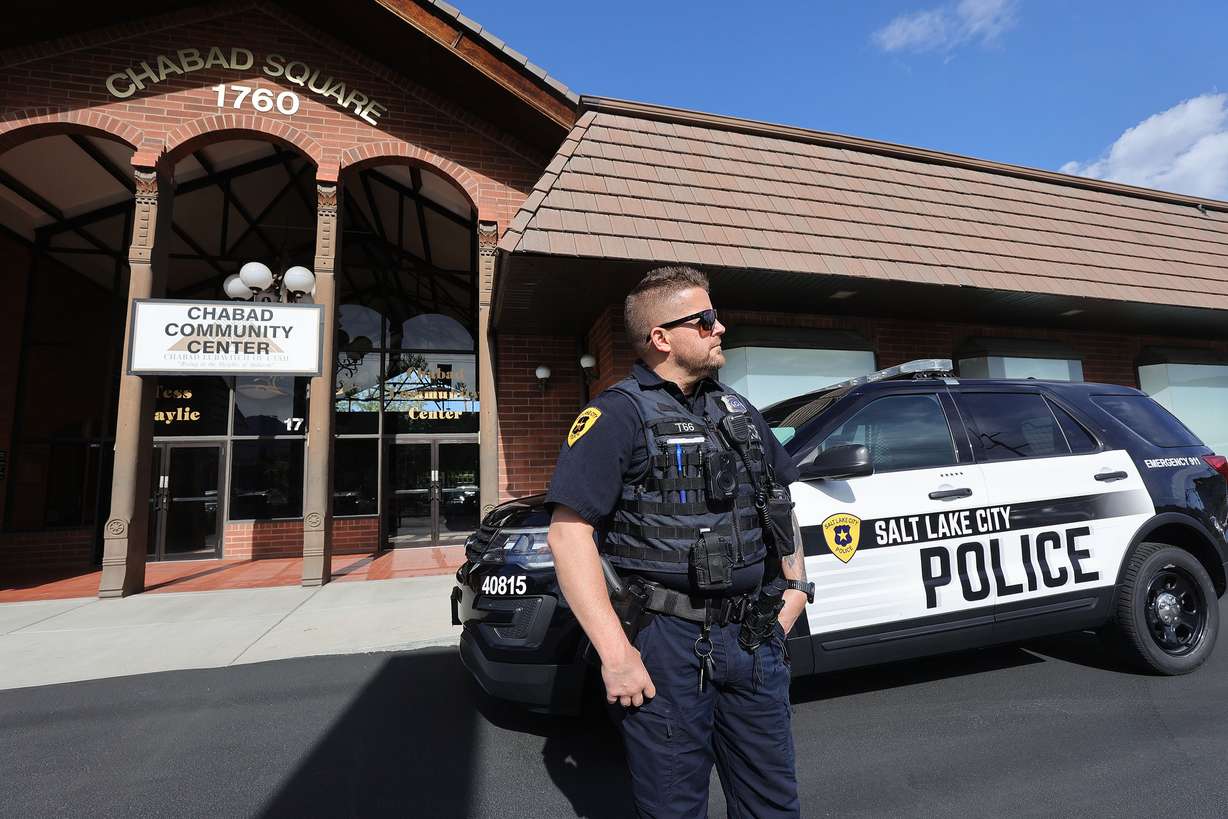 Salt Lake City Mayor Erin Mendenhall also responded to the vandalism, saying, "Standing with you @UtahRabbi and Salt Lake City's Jewish community against this act of hatred and intimidation."
The antisemitic vandalism comes the same week that tensions have risen to their worst level in years on the Gaza strip between Israel and Palestine, where airstrikes are continuing between the nations and over 150 have died since Monday. The conflict sparked over a court case about Palestinian evictions from disputed territory in East Jerusalem.
Zippel took aim at the act of ethnic hatred as he followed his initial tweet with the statement: "But tell me more how this is about a land dispute …."
Contributing: Tania Dean, KSL TV
Related
×
Photos
Related stories
Most recent Utah stories