SALT LAKE CITY — Just a few moments into the game — 24 seconds, but who's counting? — Mike Conley felt the leather of the basketball and found Joe Ingles near the 3-point line.
The veteran point guard dished to the open Australian, who stepped back and drained a 23-foot jumper for Utah's first points of the game during a 14-4 spurt early against the Oklahoma City Thunder.
Swish. Like butter.
Just like old times, too.
If this is what one All-Star guard returning from injury can do for the Utah Jazz, imagine what two will do?
Still missing Donovan Mitchell, who did not make the trip while he continues his recovery from a low-ankle sprain, Conley made his return to the Jazz starting lineup with 10 points and three assists in 16 minutes Friday to lead the No. 1 team in the Western Conference to a wire-to-wire 109-93 win over the Thunder at Chesapeake Energy Arena in Oklahoma City. It snapped a two-game skid in Utah's first game in three weeks with something close to a full-strength squad.
"It felt great to be out there, just to get your game, timing and the feel of the game a bit," said Conley, who played under a minutes restriction and did not enter the game in the second half. "I think that's important for me, going into the last game of the season and the playoffs."
Glad to have this guy back 😁#PhotoOfTheGame | @Verizonpic.twitter.com/E70D1d3H6B

— utahjazz (@utahjazz) May 15, 2021
But his mere presence — in warmups, in the lineup, the starting five, and on the court — provided a boost to his teammates after nine games without the All-Star point guard.
Bojan Bogdanovic led the Jazz (51-20) with 22 points and three assists, and Rudy Gobert added 16 points, 18 rebounds and two blocked shots.
Jordan Clarkson pumped in 18 points and three assists off the bench for Utah, which assisted on 23 of 40 made baskets in the Thunder's ninth consecutive loss. Georges Niang chipped in 11 points, three rebounds and two assists for the Jazz.
"It was great to have him back," Gobert said of Conley. "We missed him; we miss Donovan too, and hopefully we get him back Game 1 of the playoffs. But it's still one game at a time. Tonight was a good win for us; now we're going to go to Sacramento, play our game, do what we do, and try to get another one."
Svi Mykhailuk had 19 points off the bench to lead the Thunder, and Theo Maledon and Gabriel Deck added 18 points apiece for Oklahoma City (21-50).
With the win, Utah pushed its lead over the Phoenix Suns to 1.5 games to top the west, with one game to go. The Jazz can clinch the No. 1 seed in the playoffs with a win Sunday against Sacramento, or if Phoenix drops either of its final two games against San Antonio.
Conley had 8 points and two assists to help the Jazz to a 30-20 first-quarter advantage, netting a plus-13 while leading a positive plus-minus across the starting lineup. Gobert led all starters with plus-15 in the first quarter — and only one negative number among the nine players who saw time in the quarter.
One thing about a good point guard, which many would argue Conley has been, is not just that they get buckets themselves. They make their teams better.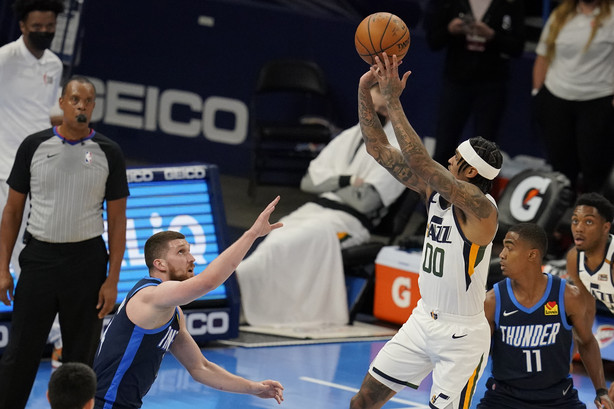 "That position is a challenge, similar to losing a quarterback in football. Everything goes through the point guard," Jazz coach Quin Snyder said before the game.
"That's the guy who gets the ball where it needs to be," he added. "And on defense, too; that's what is unique. The combination of leadership and everything is impactful beyond the minutes."
With their quarterback back, the Jazz had little trouble dispatching one of the bottom teams in the west — even as Conley played limited minutes and none in the second half.
Utah never trailed, pushing the lead as high as 29 and cruising to the finish.
"Any time you get a player of Mike's caliber that's been out for a while, you get him back and you're reminded what type of player he is and how good he is," Snyder added after the game. "I think everybody wants to play with Mike, and it's good to have him out there. His conditioning improves, he'll get in an even better rhythm on both ends."
Some of it could be the opponent. Easily eliminated from the playoffs, the Thunder entered Friday at 21-49 with a team that saw all of its veterans shipped out for prospects and future draft picks.
But Utah played differently with Conley on the floor, different than they have since he first suffered the hamstring tightness that kept him out since April 26. The Jazz have been good at times since then, and objectively awful in a few moments, too. With their point guard and a (more) normal lineup, they were able to play the way they've wanted to play.
Mitchell will return soon enough. But Conley provided a level of normalcy that allowed his teammates to simply play their roles — spacing the floor like Bogdanovic, protecting the rim like Gobert, or being the ultimate "Flame Thrower" like Clarkson.
With the return of Conley, so came Utah's consistency — in spacing, in shooting, in finding the extra pass or the open man to drive the lane.
"He's so smart, and his decision-making is so good that he creates shots for everybody," Gobert said. "For me, it's just a matter of getting open on the screen and getting that little advantage. Then he's able to pick the defense apart.
"We just go from here to there offensively when he's out there."
The Jazz never trailed and led by as many as 17 en route to a 61-47 halftime advantage, shooting 52.4% from the field and 43.8% from 3 before the break while out-scoring the Thunder 26-20 in the paint.
Conley didn't play in the third, but Clarkson hit a buzzer-beating 3-pointer to push Utah's lead to 92-66 before the final frame. The next stop is Sacramento, where the Jazz will have a chance to tie up the No. 1 seed in the playoffs Sunday (7 p.m. MT, AT&T SportsNet RM) — and will know exactly what they have to do by tipoff, after Phoenix plays the Spurs on Saturday.
One player knows exactly what he has to do, though. For Conley, it's about making up for lost time.
"We've been very transparent. They (the medical staff) know I want to play, and they're always there to protect me from myself," he said. "I've given into the process and the scheduling, and I think we came into a good agreement to not push it too much this game. Hopefully we'll give it a few more minutes in Sacramento."
×
Photos
Related Links
Related Stories