SALT LAKE CITY — In the final home game of the NBA regular season in Utah's capitol, one team needed to win while another could scarcely afford to lose.
Guess which one took the dub?
Former Weber State star Damian Lillard poured in 30 points with six assists, and CJ McCollum added 26 points, four rebounds and four assists to help Portland shrug off a slow start and pull away from the Jazz 105-98 in the regular-season home finale Wednesday at Vivint Smart Home Arena.
The duo from Portland (41-29) that averages close to 52 points per game was lethal while two of Utah's top playmakers could only sit and watch the Blazers' fifth consecutive victory.
Jordan Clarkson scored 29 points to lead the Jazz (50-20), and Joe Ingles added 14 points and four assists for a Jazz side that has been without two of its top-four scorers since April 26.
"We're doing a good job right now holding the anchor down," said Clarkson, who remains among the league's best in bench production. "But we definitely miss those guys."
With the win, Portland moved up to fifth in the west — 1.5 games ahead of the seventh-place Los Angeles Lakers and a spot in the four-team play-in tournament.
Rudy Gobert had 15 points and 20 rebounds for Utah, another double-double in a sea of much more prestigious accolades for the two-time NBA defensive player of the year. But Gobert could only do so much, and ditto for Clarkson, a front-runner for NBA sixth man of the year.
When McCollum struggled early, Lillard found his groove. When Lillard went cold midway through the first half, Carmelo Anthony came off the bench to score 8 of his 18 points that helped the Trail Blazers recover in the first half.
Dame and CJ lead the way in the @trailblazers 5th straight win... as they stay at #5 out West! #RipCity@Dame_Lillard: 30 PTS, 6 AST@CJMcCollum: 26 PTS pic.twitter.com/eIV2oHFxSF

— NBA (@NBA) May 13, 2021
By the middle two quarters, both of Portland's stars started to click — Lillard from deep in the Dame Time Zone (DTZ) and McCollum with his well-known mid-range game that gave the Jazz fits.
"He made a lot of really, really tough shots tonight," Gobert said of McCollum. "I don't think he had one open shot tonight, and he made them.
"You have to give them credit when credit is due."
Credit where credit is due, because Utah eventually found its offense — though 41% from the field and 30% from the 3-point line will rarely blow any team away. What the Jazz couldn't do was force the stops they needed, especially across the second and third quarter.
"I think maybe the biggest thing for us was trying to stay out of the half-court game, and I thought we fouled and that slowed the game down," Jazz coach Quin Snyder said. "We weren't able to push the ball, whether a make or a miss, and that's what we've done well. I think that's what we did well early.
"Sometimes you make or you miss. I thought we got good looks, and they just didn't go in. We've just got to keep grinding."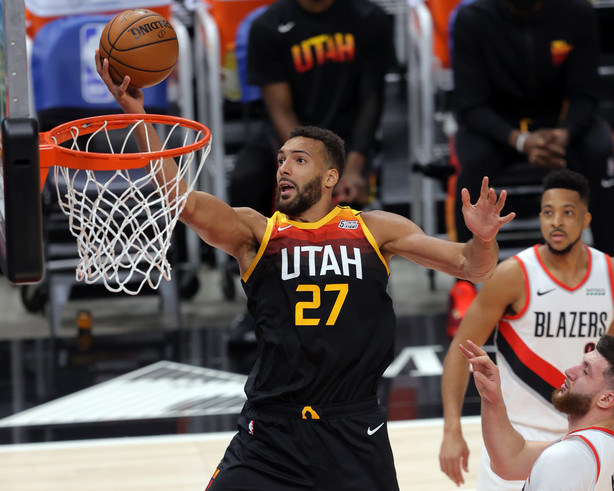 Portland also had its stars for Wednesday night's contest that was vital for a team scrapping to avoid the NBA's play-in tournament.
Two of the Jazz's biggest stars — Mike Conley and Donovan Mitchell — sat on the bench, recovering from a pair of injuries that should be well enough in time for the postseason. Mitchell won't rejoin the Jazz for the rest of the regular season, as he'll remain in Salt Lake City during the weekend road swing to continue rehabilitation on an ankle injury suffered April 16.
At least, the Jazz hope so, as they continue to watch the scoreboard and cling to a one-game lead over Phoenix in the Western Conference standings.
Utah got into a track meet with Portland, a team sprinting to the end of the regular season that connected on 12 of its first 24 3-point attempts. Utah, which connected on just 27% from deep, was built for endurance — the first team in the NBA to 50 wins, and for good reason.
But in the Jazz's regular-season home finale, Portland started slow before cruising past the home side, handing the Jazz their second consecutive loss after ending last week on a high note over Houston.
Utah jumped out to a 16-4 lead on Georges Niang's 25-footer for three midway through the first quarter, connecting on the team's first seven shots from the field.
Lillard had a game-high 11 points in the first quarter to pull the Trail Blazers within seven, 31-24, at the break. The Jazz shot 59% from the field early, including 4-of-9 from 3-point range while assisting on seven of 13 made field goals.
Portland took its first lead with a 7-2 spurt on Norman Powell's trey with just over five minutes remaining. Were it not for back-to-back buckets by Clarkson, including a triple with 4:28 left in the half, the Jazz would have trailed for the final 5:15 of the half. Utah struggled to adjust to the Trail Blazers' sudden deviation into the half-court game, and when the contest got physical, even less.
JC: 29p | 4r | 3 3pm | 3a
Rudy: 20r | 15p | 2a | 1s | 1b
Joe: 14p | 4a | 4r | 3 3pm
Bojan: 12p | 4r
Georges: 11p | 3 3pm | 2r | 1s
Royce: 8r | 3r | 2p
Trent: 5p | 4r | 1a | 1s
Jarrell: 5p | 1a
Fav: 4r | 3b | 2p
Miye: 3p | 1r#podiumpostgame | @podiumhqpic.twitter.com/CKHQOPdF23

— utahjazz (@utahjazz) May 13, 2021
"We've got to get stops first, and just try to push the pace," Gobert said. "Whether it's the wings or myself, whoever has the ball, we've got to push the pace.
"But we've got to give them credit. They made everything harder for us, and they played very physical. It was just harder for us to do what we wanted to do."
The Blazers scored on 14 of their first 18 possessions and held Utah to just 36% shooting in the second quarter en route to a 59-56 halftime lead, led by 17 and 16 apiece from McCollum and Lillard, respectively.
Defense feeds offense and offense feeds defense, but Utah could scarcely find either.
"At the beginning of the third, I was looking more to get to the foul line, and I couldn't get any calls," admitted a visibly frustrated Bojan Bogdanovic, who had 12 points and four rebounds. "I didn't get what I wanted, but I was out of the game, wasn't in the right place.
"JC was the only who came out offensively with the right mindset."
Portland pushed its lead as high as 10 on a 6-0 spurt sparked by Lillard midway through the third quarter, and the Blazers pushed the lead as high as 16 in the fourth to pull away for good.
"Obviously, you're not going to have your best game every night. I just think we're competing, and as much as anything, that's what I want to see. I think we're doing that," Snyder said.
"Even tonight, with the ball not going in the hall, we hung in there. We cut it from a double-figure game to nine, and just couldn't quite get past that point tonight. To a man, we just need to keep competing … and try to control what we can control."
Utah ends the regular season with back-to-back road games, beginning Friday at Oklahoma City (6 p.m. MT, AT&T SportsNet).
×
Photos
Related Links
Related Stories